New Vehicles and New Ideas at Mobility Roadshow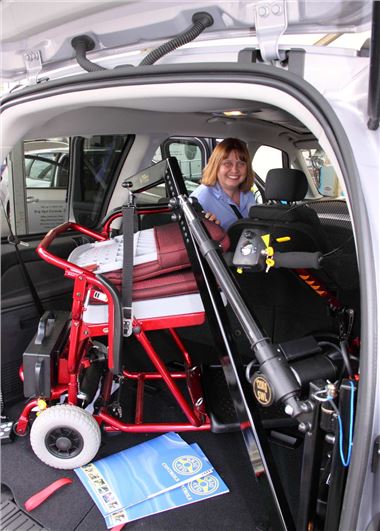 The Mobility Roadshow at Peterborough Arena, East of England Showground, 21st to 23rd June presents an excellent array of exciting new mobility innovations and vehicles.

There will be many new 'first view and drive' opportunities for visitors when the show opens at 10 am on Thursday, 21st June.

Since the first Mobility Roadshow in 1983, recognising the need for people with disabilities to have equal opportunities to 'try before you buy', the premise of test driving pre-adapted and wheelchair-accessible vehicles has always been the cornerstone of this event. Whether you're a Motability customer or a private buyer, you'll find a variety of marques and models with different adaptations to test drive for comfort and safety at this event -- whether as disabled driver or passenger.

In the Motoring Arena will be the first adapted new Vauxhall Zafira Tourer available to test drive. Ford has chosen the Roadshow to host one of the first UK Ford B-MAX displays.

Sirus Automotive is launching a new wheelchair passenger-up-front vehicle, based on the fuel-efficient 1.3 Fiat Qubo, which the company says will be the most affordable currently on the market. Also launching
is another new wheelchair accessible vehicle, the Lewis Reed SEAT Alhambra, a 'good-sized' five passenger seat vehicle, plus room for one wheelchair position.
GM Coachwork is showcasing its new compact DUO drive-from-wheelchair vehicle based on the Citroen Berlingo. Brotherwoods' new wheelchair-accessible Volkswagen Sharan Super 5B will be on the test track for the first time.

Adapted motorhomes also feature and the Belford Transfer Lift is a new invention, which allows wheelchair users to access a motor home or caravan without the need for extensive coachwork modification or costly  custom build.

Among new adaptations being showcased is a new range of Olympian Hoists from Autochair, easily adjusted to suit a wide range of vehicle makes and models. Constables Mobility is launching Unwin's new Solar wheelchair restraint system in its Nissan NV200 and Renault Kangoo conversions. Constables, together with Disabled Motoring UK is seeking support for a sled testing e-petition <http://epetitions.direct.gov.uk/petitions/34003> on the Government's website to help make travel for wheelchair users safer.
Elap Engineering will announce a new electric rotating seat and the Ghost, an 'almost invisible' innovative accelerating system mounted directly under the steering wheel.

At the Autoadapt driver test stations visitors can be assessed to help determine their adaptation needs for comfortable, safe driving.

This popular annual event is lively and interactive. As well as all things mobility motoring, this is a great place to try out the latest innovations from over 160 exhibitors with accessories, wheelchairs, scooters and bikes, home and children's products, accessible clothing, gadgets and gizmos. Plus charities, information services, and organisations offering advice and products that include insurance, accessible holidays and accommodation, fitness and therapies.

It's fun too. You can try all sorts of sports in the Sports Arena/Activity Zone, get healthy tips in the Fitness Zone, have your say in the Design Zone, and check out Interactive Crafting and Painting workshops, wheelchair skills training and Meet the Experts sessions.

Parking and entry are free. Register for test drives and tickets now at www.mobilityroadshow.co.uk <http://www.mobilityroadshow.co.uk/>
Comments