Motors Live TV Race Day, Castle Combe, 7th May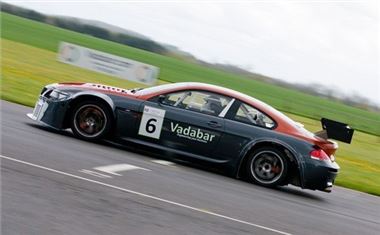 7th May sees a repeat of last year's hugely successful Motor Live TV Race Day at Castle Combe circuit in Wiltshire.

A bonus for spectators are giant TV screens at Camp and Quarry which will keep them even more in touch with the action than usual.

Whilst competition is always intense, the presence of cameras, coupled with double headers for most of the races, means the pressure is really on. With just one round under their belts so far this year, the complexion of the circuit's three home championships could look rather different after this event.

A significant feature of the opening round of the Castle Combe Formula Ford 1600 race was the omnipresence of the Higgins family. Father, Bob, needs little introduction to long time circuit regulars, having won the championship in '81, '82, '83 and '92 when he was living in Bath. He's back for 2012 with a new RF2012 Van Diemen in class A. Son Adam, from Chippenham, has begun sharing in the family success, having won class B of the championship last year, whilst Adam's brother Richard from Burnham on Sea, looks to be following in the same footsteps by winning it at Easter. What made the trio such a focus was the battle between them for most of the race, their consecutive race numbers and red colour schemes making quite a
sight!

Race winner, Roger Orgee, from Langport, is looking very strong and confident in the Van Diemen RF00 run by Kevin Mills Racing, his intra team rivalry coming from Saltford's Steven Jensen in the Spectrum 011B and in 011c versions Chepstow's Nick Jones & Coventry's Nathan Ward, the latter taking pole last time.

Adding to the competition is Felix Fisher from Bridgwater, a sure fire front runner in his Van Diemen RF00. Looking to return to the form which gave him the 2009 title and 2 'Carnival' wins is Bratton's Ben Norton in the Wiltshire College Spectrum, hoping to be joined by a yet to be announced new team mate.

Bitterly disappointed with his 5th place last time was Yatton Keynell's Luke Cooper, his first win at his home circuit surely not far off now in the family Swift SC10.

The opening round of the circuit's Saloon Car championship saw the oldest car in the field take an impressive outright win. Southampton's Adam Prebble defied the damp in his Rover Turbo to beat the 'rain-meister', Mark Funnell from Trowbridge in the Mini, the pair some way clear of 3rd placed Tony Hutchings from Calne in his Audi TT.

If the weather is dry this time, expect the likes of Bristol's Mark Wyatt in the Astra and Bridgwater's Tony Dolley in the Peugeot 206 to be further forward. Watch out too for the diesel Golf of Lloyd Allard from Cirencester.

With an eye on another title even at this early stage of the year is Chippenham's Will Di Claudio, seemingly making Class B his own with his rapid Peugeot 106. Chippenham's Martin Chivers is likely to be the best of the MG ZR runners.

Charles Hyde-Andrews-Bird from Ditcheat and Reading's Russell Akers will continue their class C battle in Fiesta and Astra respectively.

The Prebble name was also at the front of the Vadabar Sports and GT race last time, with Adam's brother Gary winning outright, a feat rarely achieved by a saloon car. The wet weather was certainly a help to the four wheel drive Mitsubishi Evo, but Gary's skill in the tricky conditions should not be underestimated.

Reigning champion Simon Tilling had the new smaller engine of his Radical SR3 singing in the rain last time and in more normal conditions can expect to be an outright rather than a class winner, though the 7 litre Aquila of Salisbury's Nigel Mustill might have something to say about that.

Opponents for Tilling in Class B include Wrington's Darcy Smith in his Radical SR4, whilst in the Invitation class is Darcy's son Josh in his Radical PR6. From Bath, Des Andrews has the Megahart, which ran to 5th overall and 3rd in class last time.

Eagerly awaited is the debut of the V10 engined BMW M6 of Vadabar M.D. Doug Watson from Blagdon, whilst in his old BMW Z3 is Angus Gorringe from Bath, out in a Polo GTi in the saloons race too.

Minis old and new provide four, edge of the seat, races. The contrast between the old and new is fascinating, with the BMC powered 'Miglias', almost as fast as the BMW powered machinery.

Both ancient and modern have two bites of the cherry, with the added excitement of the 'Miglias' and 'Se7ens' running together. In the 'Se7ens' are Gloucester drivers Darren Thomas and Roland Parsloe and from Coleford in Somerset, Julian Proctor, his car running in the 'S' class. Peter "the Mini legend" Baldwin will be a favourite, fresh from his 'Miglia' pole position and a win at Donington Park.

The 750 Motor Club's Toyota MR2 championship brings a mass of these relatively unmodified mid engined pocket rockets together in classes for each of the three variants. Paul Hinson was the man to beat at Silverstone in April.

The 'Gadgethelpline.com Classic Sports & Saloon Series' caters for essentially road going, production cars built between 1960 and 1975. Alfas seem to be the vehicle of choice, but expect some British opposition from various BMC powered machinery.

The day comes to an end with Formula Free, where any type of single seater can take part.

Monday's action starts at 8.40 am with qualifying, racing getting under way from 1.00 pm.

Admission prices are again held at £15 for Adults, £7.50 for OAPs, £2.50 for Paddock Transfer, whilst accompanied children under 16 are admitted free.

For further information, visit the Castle Combe Circuit online at www.castlecombecircuit.co.uk, Facebook or Twitter or tune in to channel number 413 on Sky, or 545 on Virgin Media.
(Photo shows Doug Watson's race debut in his BMW M6.)
Comments