Croft Circuit 2012 Season Calendar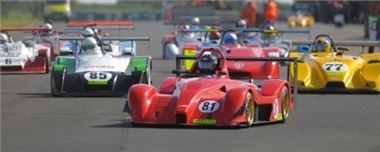 North Yorkshire's Croft Circuit (near Scotch Corner) gets its much anticipated 2012 four-wheeled motor sport season under way this weekend (28/29 April) with no fewer than 14 hotly contested races.
The event, being run by the famed British Automobile Racing Club, has a real sportscar theme running through it with the Mazda MaX 5, Crossle 9S, Chevron GR8, Clubmans and Sports & Saloons categories all in action. Joining them will be the ever-popular Kumho BMW Challenge plus the hugely spectacular BSA 125cc Gearbox Kart Championship.
The meeting at the North East's premier motor sport venue just outside Darlington is sure to appeal to enthusiasts from across the region who will be eager for their first motor sport fix of 2012. Admission is just £12 per day (payable on the gate) and FREE all weekend for accompanied children aged 15 and under. Admission includes access to the competitors' paddock meaning visitors will have plenty of opportunities to chat with many of the drivers during the two days.
But the event is also a precursor to what lays ahead in the coming months at Croft Circuit with a further nine top-line fixtures for race and rally cars. Headlining events include the UK's top motor racing series, the Dunlop MSA British Touring Car Championship (Sat 23/Sun 24 June), Croft Nostalgia (a celebration of historic/retro motor sport, motoring and lifestyle on the weekend of 4/5 Aug), Monster Energy British Rallycross Championship (Sun 28 Oct) and the Roger Albert Clark Rally (Sat 24 Nov). Visit the official www.croftcircuit.co.uk website for details of all motor sport events in 2012.

Also scheduled are several events organised by the Darlington & District Motor Club as well as four appearances from its Northern Saloon & Sportscar Championship – among the best club level race series anywhere in the UK. In June there is even a mid-week visit from the high-profile Tour Britannia – a nationwide race tour for classic cars (Thurs 7 June).
Croft Circuit Manager Tracey Morley commented: "We have a fabulous programme of events lined up starting this weekend and running right through the year. We are very happy to once again continue our policy of free admission for children – thereby offering families not only value for money but also some really inspirational days out for youngsters. The diversity of our events – from beginner and club-level right up to the dizzying heights of the Dunlop MSA British Touring Car Championship – and the fact we are able to stage some of the region's biggest sporting events is also something of which we are very proud.
"We believe we've got a really exciting balance of events that offers something for everyone and we very much look forward to welcoming all our competitors, officials, marshals, media and fans in 2012."
Meanwhile the provisional timetable for this weekend's (28/29 April) BARC event at Croft Circuit reads:
Qualifying: 9.30am-12.30pm
Racing (7 races): 1.30pm-5.00pm
Categories: 125cc Karts; BARC Clubmans (Classic & Cup divisions); CNC Heads (North West) Sports & Saloons; Kumho BMWs; Max 5s.
Qualifying: Midday-12.45pm
Racing (7 races): 1.00pm-5.00pm
Categories: Chevron GR8/Crossle 9S/Spirit of the 60s Sportscars; Sports & Saloons; Kumho BMWs; Clubmans (Classic & Cup divisions); MaX 5s.
Photo shows BARC Clubmans which will add to the sportcar theme of Croft Circuit's opening motor racing event of 2012 this weekend (28/29 April).
Comments