Three Sucata Charity Banger Rallies This Summer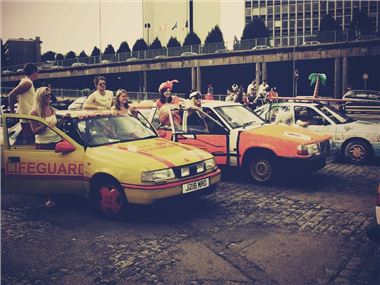 The long distance, high-energy rallies will rattle* *along three routes in Europe:
*Sucata Split: *31 May - 4 June - Bruges to Croatia

*Sucata Budapest:* 26 - 30 July - Reims to Budapest

*Sucata Run:* 23 – 27 Aug - Normandy to Portugal

Now in its sixth year, Sucata aims to raise money for notable charity Gemin-i through fun, bargain basement banger rallies. The tour, which has attracted hundreds of participants, encourages group participation, a sense of adventure and most importantly, a desire to travel the breadth of Europe whilst charity fundraising.
This fun charity rally is perfect for thrill seekers and petrol heads alike who want their own adventure during the Olympic months. Adventurous types can sign up to any of the three courses and have the time of their life on a hilarious fancy dress road trip while exploring some of the greatest cities in Europe. Tour dozens of European territories; enjoy sunny terrains and make friends from across the globe. Blue Peter and Dancing on Ice star Andy Akinwolere has signed up the Sucata Run this year (driving an old banger worth less than £350 from Normandy to Portugal).

Sucata Rallies attracts participants from all walks of life and interest groups with one common goal of completing the tours and raising a stash of cash for a fantastic course into the bargain. 

Each team member is asked to raise a minimum of £250 for Gemin-i, and are asked to use an old cars (always affectionately referred to as 'bangers') worth less than £350.

One hundred percent of the money raised goes directly to international educational charity Gemin-i, which helps children around the world share ideas and work together for a brighter future.
This year, Gemin-i is supporting its own project *HIV60, *a youth education project raising awareness, improving understanding across cultures and mobilising collaborative action against HIV.
Sucata Split (to Croatia) 31 May - 4 June 2012

The tour heads East from Bruges, in Belgium, to stunning Split in Croatia. En route it stops in Strasbourg, the first city in the world to be declared a UNESCO World Heritage site; Munich, the Bavarian capital of Germany with it's Lederhosen and the world's most famous Beer Hall - the Hofbräuhaus; and the beautiful Ljubljana - capital of Europe's most underrated country Slovenia.

Sucata Budapest 26 - 30 July 2012

The adventure begins in Reims, northern France, (the capital of the Champagne region! Hiccup…) and travels to enchanting Budapest, the undisputed 'Pearl of the Danube' where East meets West and Sucateers meet the finish line! En route we stop at Freiburg - a lively city in the depths of the Black Forest; Lake Como - nestled in the lush mountains of Lombardy; and Salzburg, a beautiful baroque city perched on the edge of the
Alps.

Sucata Run (to Portugal) 23 - 27 August 2012

The tour runs from Rouen, the stunning capital of Normandy, to Cabo de Roca in Portugal, Europe's most westerly point. On the way it passes through La Rochelle, the most attractive and unspoilt seaside town of France, San Sebastian, the Spanish summer capital, and the beautiful Salamanca, an ancient gem and Spain's original party city.


For more information on the rallies please visit: www.sucatarallies.com
Registration costs £25 per person, via: www.sucatarallies.com/register.php
Money raised by participants will support Gemin-i's HIV360 project. Every 12 seconds someone becomes infected with HIV. HIV360 is an innovative project that raises awareness, connects people around the world, and supports them to take action on HIV and AIDS.

The HIV360 Project will reach tens of thousands of children across the world - every £250 raised will help schools to improve their students understanding of HIV and increase their chances of avoiding infection. The
project also works to reduce prejudice against those with HIV and addresses the myths and stigma that can surround it. HIV360 is winning worldwide acclaim for its innovative, interactive, effective approach.
For more information on the charity Gemini-i please visit: www.gemin-i.org

For more information on the HIV360 project please visit: http://v3.rafi.ki/resource/about-hiv360






Comments