Santa Pod Launches 'Quarter Mile Club' Hospitality Package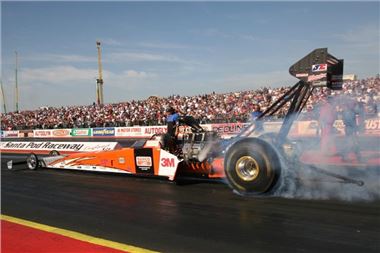 Santa Pod Raceway, the home of European drag racing, has launched an exciting new initiative for race goers; the new Quarter Mile Club.
With the European Finals not far away, from the 8th to 11th of September, it's the perfect way to enjoy the event in real luxury.
Aimed at both enthusiasts and corporate guests, the QMC offers quarter mile fans the chance to enjoy the Pod's new startline VIP suite for a whole day, refreshments, a buffet lunch and privilege parking and facilities – all for just £89 per person. Under 16s are just half that.
With a standing spectator platform just yards away from the most dramatic startline in motorsport, it's hard to miss the action.
The new hospitality package is one of many offered by Santa Pod for its Blue Riband events. Those looking to spend a little more can enjoy private balcony suites, full seating, breakfast, full hot fork buffet lunch, souvenirs, complimentary earplugs, programmes and paddock tours on top of the already generous QMC package for just £1,690 + Vat (for up to 12 people including weekend admission).
If you're the kind of enthusiast that likes to get right into the heart of the action, Grandstand packages are also available, with all of the same perks as the balcony packages, but enjoying reserved, allocated open air seating for the entire day. These cost just £119 + VAT per person and include weekend admission.
Commenting on this new hospitality packages, Santa Pod's general manager, David Lloyd Jones commented, 'We believe these packages are the best value in motorsport, particularly for such a high profile FIA/UEM event. Although we offer the highest levels of corporate hospitality, we have deliberately priced the Quarter Mile Club package well within the reach of the true enthusiasts. After all, even if you're a die-hard quarter mile fan, there's nothing like enjoying your favourite sport in comfortable surroundings, just yards from the start. Why not make your next race meeting extra special?'
For more information on Santa Pod events, please click to www.santapod.comor call the team on 01234 782828.
Comments