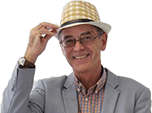 Celebrity drivers at Silverstone Classic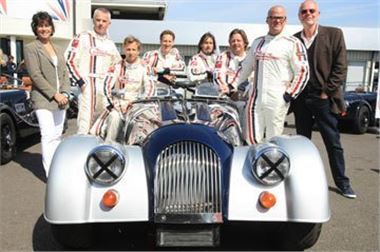 Stephanie Moore MBE (left) and non-racing team captain DJ Bob Harris (right) join several of the famous faces racing in the 2011 Silverstone Classic Celebrity Challenge raising funds for the Bobby Moore Fund for Cancer Research UK.
Just two weeks after the British Grand Prix, Silverstone Circuit is set to be the venue for another hotly contested race – but this time the starting grid will be filled with thrill-seeking celebrities rather than Formula One stars. The 14 celebrities, who have all been specially trained for the race, will tear up the Tarmac in 130mph Morgan Roadster lightweight race cars in the Silverstone Classic 'Celebrity Challenge'. Run in aid of the Bobby Moore Fund for Cancer Research UK, the Celebrity Challenge is just one of the attractions at the world's biggest classic car racing festival, which runs from this Friday to Sunday, 22-24 July.
Sky Sports presenter Vicky Gomersall and BBC Radio 2's Sally 'Traffic' Boazman are the latest dare-devils to obtain their official race licenses. Vicky and Sally join organics entrepreneur Jo Wood and model Zoe Cole on the grid and they're hoping the girls will show the boys the way home when they make their racing debuts.   

"I hear that Rick Parfitt Jr won the race last year – well he needs to step aside because there's a new champion in town!" laughed Vicky. "Basically, I just want the women to win. It won't be easy, though, and it could be a bit scary. In fact, I think this is probably the scariest thing I have every done. I've jumped out of a plane before, but this is going to be right up there."

Sally Boazman is slightly less confident of a win, but she's still relishing the opportunity to race at the famous Grand Prix venue. "It's going to be a real challenge to drive around Silverstone for 20 minutes and not make a complete pig's ear of it… which I probably will do! But as I keep saying to everyone, if you come along and watch at least you'll have a good laugh. I hope that us girlies will outdo the boys
–
we'll certainly give it a good go," she said.   
The girls face tough competition when they take to the track for the race, on Saturday. Heston Blumenthal, Brendan Cole (Zoe's husband) and ex-England footballer Luther Blissett are three of the names who are returning for a second appearance in the Celebrity Challenge. Last year's winner Rick Parfitt Jnr is also back to defend his title while The Apprentice winner Lee McQueen, 'Comedy' Dave from Radio 1, actor Jimmy Akingbola and drummer Paul Stewart (The Feeling) are all set to make their racing debut.   
Last year's Silverstone Classic Celebrity Challenge raised over £25,000 for the charity and the celebrities are aiming to beat that target in 2011. Stephanie Moore MBE, Bobby's widow and founder of the Bobby Moore Fund for Cancer Research UK, commented: "I'm really looking forward to the Silverstone Classic Celebrity Challenge which I'm sure will be a fantastic occasion. The celebrity drivers have been doing a marvellous job with their fundraising so far. I'm extremely grateful for all their efforts and wish everybody the best of luck for the race." All the drivers can be sponsored via the Bobby Moore Fund website at www.bobbymoorefund.org. 
The Celebrity Challenge is just part of the entertainment on offer at the Silverstone Classic, which celebrates its 21st anniversary this year. Featuring in excess of 1000 drivers racing more than 800 of the world's finest competition cars, the event has also been chosen to host the official 50th birthday party for the legendary E-type Jaguar. Around 1000 E-types are due to attend and set a Guinness world record for the greatest number of E-types in a parade. Adding to the rich on-track entertainment, the Silverstone Classic also features a vast array of off-track attractions with festival catering by Jamie Oliver's Fabulous Feast, a period fun fair, air displays, parades, and 7000+ classic cars and bikes on display. Live music concerts featuring rock legends Suzi Quatro, 10cc and Wishbone Ash are included in the ticket price guaranteeing a memorable day – or weekend – out for all the family.
The Silverstone Classic (22-24 July, 2011) is firmly established as the world's biggest classic motor racing festival. The spectacular three-day event, which celebrates its 21st anniversary this summer at the famous Silverstone circuit, is much more than a glorious celebration of motor racing heritage. It is a complete event dedicated to providing a fabulous day or weekend out for everyone, and it is getting even bigger for 2011.
The Bobby Moore Fund for Cancer Research UK raises vital funds for research into bowel cancer and increases public awareness of the disease. The Fund was set up by Stephanie Moore MBE in memory of her husband, footballer Bobby Moore, after his death from the disease in 1993, at just 51. For more information visit www.bobbymoorefund.org or www.facebook.com/officialbobbymoorefund
Tickets: Available in advance via the ticket hotline on 0871 231 0849 or from the official event website www.SilverstoneClassic.com. Adult entrance ticket prices if purchased in advance: £35 Friday; £45 Saturday; £45 Sunday, two-day weekend ticket £80 or three-day ticket £95. Children aged between 6 and 16: £5 per day. 5 and under: FREE. Ticket price includes car parking, grandstand seating, paddock access and live music. 
Comments