Ultimate Street Car at Santa Pod 5th - 7th August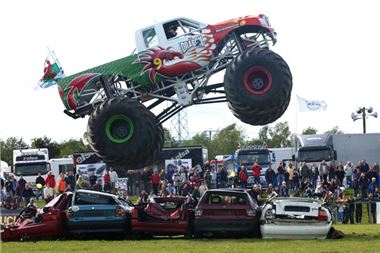 With just a few weeks to go until Santa Pod's legendary Ultimate Street car, the hard-working team at the UK's most famous quarter mile venue just won't let it lie.
They've only gone and added more acts and attractions into the mix, to make it the most excessive, obsessive and downright impressive festival on four wheels.
USC 2011 boasts the biggest ever music line-up to grace the stage, with the kind of acts that might think you turned into the O2 by mistake.
DJ set from Chase and Status with MC Rage, live performance from Skepta and even full-length set from The Wideboys with Ministry of Sound and BCM World Tour means that the evenings off the strip promise to be as exciting as the days on it.
Talking of which, expect blistering drag demo runs from the fastest modified cars in Europe, as well as the Euro Sports Compact racers.
Not forgetting the most important drivers of all, of course: You!!!.. the enthusiasts, with three whole days of Run What You Brung sessions to allow you to settle scores and enjoy yourself on a fully FIA sanctioned strip.
Team Maximum Lock will be demonstrating the true art of drifting, alongside Europe's leading stunt drivers and riders, making for one of the most eye-popping displays of car and bike control on the planet.
If you're more about the 'show' than the go, the UK's largest Show and Shine contest on the Sunday usually finds the UK's hottest rides, and for those that like to be 'shown' a little more than that, a trip to the legendary adult shows certainly raises the pulse.
With free camping all weekend, and several licensed bars on site, you can stay sober and sharp for the strip in the day and then enjoy a sherbet or two for larging it in the evening – safe in the knowledge you can sleep off your hangover until the sound of tortured rubber serves as your alarm call the next morning.
Sounds like you? Hit the website at www.ultimatestreetcar.com for more details and ticket prices.
Your packing list for USC:
Drinks in plastic bottles and cans only
Tickets (if you bought them in advance)
Sun cream
Clothes for both hot and cold weather, plus waterproofs and boots
Bicycle or skateboard for getting around site
Driving licence if you want to take part in Run What Ya Brung
Spending money – there will be loads of tempting bargains, food and drink to buy
Tent, sleeping bag, camping gear
Disposable BBQs (open fires not permitted)
Stuff not to bring:
Fireworks and Chinese lanterns (those mini hot-air balloons) – these are a severe fire risk
Glass bottles. Decant wine/spirits etc into plastic bottles if you wish
Dogs, Cats, Budgies etc… pets are strictly prohibited as this is a motorsport venue
Go-peds, scooters, unlicensed motor vehicles
Illegal drugs
Comments