First Mazda day to be held at Beaulieu on 10th July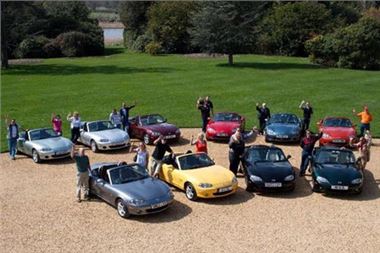 The first Beaulieu Simply Mazda event will take place on Sunday 10th July and promises to be a great day out, with all Mazda owners and car clubs invited to come to Beaulieu in their cars and become part of the event.  All models are welcome, from the RX cars and B series pick-ups to MX-5s and the Mazda 2s.
Clubs already signed up to join the first Simply Mazda include the Mazda Rotary Club, RX-8 Owners' Club and MX-5 Owners' Clubs.
All owners taking part have an opportunity to enter the Pride of Ownership competition with the winner receiving a £100 cash prize and a Beaulieu trophy. The winner will be one of twenty vehicles chosen by the judging panel to go on display in the Main Arena and take part in a cavalcade.
For entrants arriving on the day in their Mazda and joining the event on the Beaulieu Parkland, individual prices are adult £10 and child £5. To book in advance, or for more information about group or club entry, telephone 01590 612888, alternatively book online at www.beaulieushop.co.uk. Clubs booking twenty tickets or more will be eligible for a special offer. All other entries will be via Beaulieu main reception at normal admission prices.
For all enquires on Mazda related trade stands, telephone 01590 614614.
Entry into the Beaulieu Parkland with your Mazda is from 8.30am – the Brabazon Restaurant will be open for bacon rolls, cakes, teas and coffees.
Admission to the event includes entry to the whole Beaulieu attraction; the National Motor Museum and World of Top Gear, Palace House and gardens and Beaulieu Abbey.
Visit www.beaulieuevents.co.uk for more information.
Comments