Ferrari FF to make UK public debut at Goodwood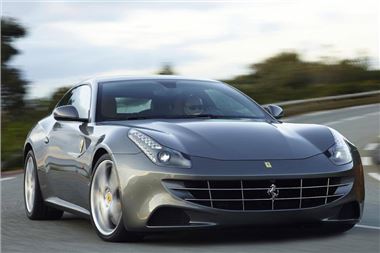 Ferrari is proud to exhibit its new flagship V12 four-seater, the FF, at the Goodwood Festival of Speed, alongside the front engined V8 California and the mid-rear mounted 458 Italia.
The FF ushers in an entirely new GT sports car concept and represents not so much an evolution as a true revolution with the Prancing Horse's first ever four-wheel drive system. The FF is the first road car to take drive to the front wheels from the front of the crankshaft, rather than through a separate transfer case. The innovative and patented 4RM system weighs 50 per cent less than a conventional four-wheel drive system and ensures perfect weight distribution (47:53) for the optimum driving performance that clients expect from a Ferrari, even for a Grand Tourer with four seats.
Exceptional performance comes courtesy of the new 6,262cc direct injection engine which develops 660hp at 8,000 rpm. In tandem with its transaxle dual-clutch F1 gearbox, stunning acceleration (0-62mph in 3.7sec) is guaranteed.
Ferrari's new flagship V12 four-seater melds to an unprecedented level an extremely sporty, high-performance character with incredible versatility, superb comfort and sophisticated elegance, guaranteeing both driver and passengers an absolutely unique driving experience.
Also taking part in the event is the Ferrari 458 Italia, an 8-cylinder two-seater berlinetta with a mid-rear mounted engine, which represents a genuine break with the past in terms of Maranello's previous high-performance sports cars. Designed to fulfil the expectations and ambitions of our most passionate clients, the 458 Italia continues the Ferrari tradition of putting the thrill into driving as a result of track-derived technological innovations.
Thanks to a 4,499cc V8 engine, which punches out 570hp, the F1 dual-clutch gearbox and a 1,380kg dry weight, the 458 Italia boasts an extraordinary weight-power ratio of 2.42 kg (a power-weight ratio of 413 hp per ton). This means it sprints from 0 to 62 mph in under 3.4 seconds and hits a maximum speed of over 203mph.
The 458 Italia on display this year at the Festival of Speed will be a "bi-colore" Rosso Fuoco (dark red) car with a Nero Daytona roof (black). This car encapsulates the racing pedigree of the 458 Italia with the full carbon-fibre interior and exterior packages, including carbon-fibre rear diffuser, side sills and F1-inspired front winglets.
The Ferrari California is the Prancing Horse's first front-engined V8 which shares styling cues with one of the greatest designs from Ferrari's history, the 250 GT California. The new California, however, is packed with the latest technology and includes Ferrari's first application of the dual-clutch 7-speed gearbox, a direct injection 4.3 V8 engine with 460hp, the latest F1-Trac traction control system, multi-link rear suspension, and, of course, an innovative retractable folding hardtop that opens or closes in only 14 seconds. The California has already received the critical acclaim of the automotive press around the world, with Top Gear claiming it is a "proper God's honest, marrow-deep Ferrari", and Autocar describing it as "absolutely bloody marvellous!"
The Ferrari California on display at Goodwood features a "bi-colore" roof, with the car painted in Tour de France (dark blue) and the roof and A-pillars in Grigio Titanio (Silver) to echo the tradition of bi-colore berlinettas of the 1950s and 1960s. The car on display in the Supercar Paddock also features host of extra factory-fit options from the Carrozzeria Scaglietti Personalisation Programme, such as diamond-stitching on the rear seats and Cavallino stitching on the headrests.
Ferrari is also represented by the Scuderia Ferrari team who will be demonstrating the 2009 F1 car, driven by Marc Gené (TBC), throughout the weekend. Additional fine examples of Ferrari's illustrious racing heritage can also be seen in the Cathedral Paddock, with the following privately-owned cars entered in this year's event:
| | | |
| --- | --- | --- |
| 1951 | Ferrari 340 America  | (Fifties Finesse)  |
| 1953  | Ferrari 375MM Berlinetta  | (Classic Endurance Racers) |
| 1968 | Ferrari 312/68   | (Garagists Grand Prix Cars) |
| 1968 | Ferrari 246 Tasman   | (The Cosworth Years) |
| 1972 | Ferrari 312 PB  | (Open Racing Prototypes) |
| 1973 | Ferrari 312 B3     | (The Cosworth Years) |
| 1979 | Ferrari 512 BB/LM  | (Post-war GTs) |
For further information about Ferrari, please visit www.ferrari.com
Tickets are still available
Apply online to www.goodwood.com
Moving Motor Show on Thursday 30th June: £20 for adults, £10 for young people under 19.
Friday 1st July: £37 for adults, £19.50 for young people.
Saturday 2nd July: £53 for adults, £26.50 for young people.
Sunday 2nd July: £53 for adults, £26.50 for young people.
Four day ticket 30th June - 3rd July inclusive: £116 for adults, £58 for young people under 19.
Free admission for chikdren under 12 accompanied by an adult, but you need to apply for tickets for them.
Comments