World's Longest Drift at Mercedes benz World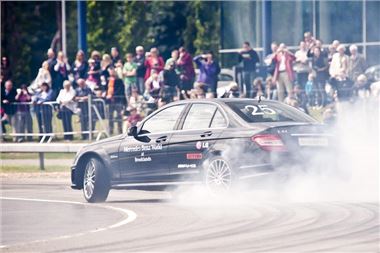 On Sunday 19 June, Mauro Calo broke the World record for the longest car drift at Mercedes-Benz World, Surrey.  Mauro smashed the existing World Record by 394 metres drifting a C-Class for a total distance of 2,308 metres to add his name to the record books and the title to his established driving career.
To achieve the record breaking distance, Mauro used the steering pad at Mercedes-Benz World, Weybridge Surrey. This provided a complete 360 degree circle of tarmac which saw him complete almost 8 laps.
Mauro is no stranger to Mercedes-Benz World as his career as a professional driver includes working at the venue providing driving experiences to guests and also entertaining crowds with precision driving skills in the dynamic Silver Arrows Display.
Andrew Mallery, Commercial Operations Director, Mercedes-Benz Cars commented: "When Mauro approached us to hold his record breaking attempt on the circuit at Mercedes-Benz World we were happy to offer him the support.  He has been a valuable member of the driving experience team for several years and is a respected driver in the industry, so there was no doubt he would achieve his aim".     
A Day Out at Mercedes-Benz World – A day out with a difference
A Day Out at Mercedes-Benz World – A day out with a difference
Mercedes-Benz World is a pioneering brand experience centre – and the word 'experience' is not used lightly. At this impressive visitor attraction, visitors will find a 3D experience, a Mercedes-Benz cinema, interactive displays, and enthralling motorsport exhibits. 
For those with a passion for cars there is the opportunity to see, touch and feel the latest Mercedes-Benz models which are joined by a host of beloved classics and Formula 1™ cars. Fascinating stories also give visitors the chance to appreciate the inspirational events that have linked Mercedes-Benz with Brooklands since it was built in 1907.
Driving Experiences:

There are thrilling driving experiences in the latest awe-inspiring Mercedes-Benz cars, including the highly advanced AMG performance range.  These take place on the purpose built Handling Circuits, sophisticated skid pan an d dynamic straight.  10 acres of challenging off-road terrain complete with a water crossing and extreme slopes are also awaiting the latest 4MATIC off-road technology. Even kids over 1.5 metres tall can drive with a range of unforgettable experiences available. 
Mercedes-Benz Driving Academy:

For those who are looking to pass their driving test, The Mercedes-Benz Driving Academy offers a revolutionary way to learn to drive.  Through the latest coaching methods there are a number of options; Pre-road module prepares those under 17 years old to drive responsibly before driving on the public roads.  The Licence Module coaches provisional licence holders through to passing their driving test using unique techniques.  The Pass Plus package is also available to refresh all drivers with enhanced coaching. 
The Gullwing Restaurant:

To refuel on the move there's the tempting choice of Café 1886 or the Gullwing Restaurant run by Absolute Taste - part of the McLaren Group that look after the Vodafone McLaren Mercedes Formula 1™ team around the world during the championship season.  The fresh seasonal menus also feature produce from Laverstoke Park Farm - the biodynamic farm owned and run by 1979 Formula 1™ World Champion – and now award-winning farmer – Jody Scheckter.
Mercedes-Benz World Shop:

Of course, no visitor attraction would be complete without somewhere to shop. The Mercedes-Benz Shop offers souvenirs for everyone through to a range of luxurious personal goods.
Conferences & Events

Mercedes-Benz World offers corporate guests impressive conference suites, event space and driving experiences.  The unique venue turns any event into an experience and is memorable for all the right reasons with a dedicated team to help make client visions a reality.
Events Calendar:

An exciting calendar of events completes Mercedes-Benz World as a unique venue.  Hear the high notes of orchestral spectaculars and concerts from music sensations, and also welcome the best of the world's motorsport back on to the circuits in a number of memorable events. 
Brooklands Museum:

In addition to all the attractions at Mercedes-Benz World, there's also the opportunity to visit the neighbouring Brooklands Museum which takes you on a fascinating journey through motor racing and aviation history.  Brooklands is home to the very first Concorde and has an attraction which allows the visitor to board the aircraft and imagine just what it was like to fly in supersonic style.
Mercedes-Benz World is open every day from 10am to 6pm, seven days a week (except Christmas Day and Boxing Day). 
Comments