Tommy Johnson Jr to Race at FIA 'Main Event' Santa Pod 27-30 May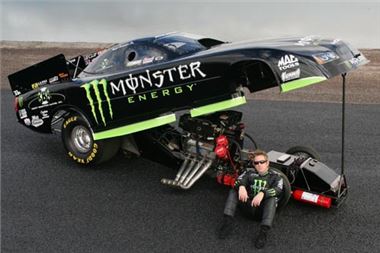 Tommy Johnson Junior to Race at the FIA 'Main Event' 2011. Overpowered and Over Here.
Santa Pod Raceway may be the home of European Drag racing, but it has also played host to some of America's finest driving talent over the years.
Adding to the list of greats that includes Don Garlitts and Melanie Troxel is Iowa-born quarter mile legend and NHRA superstar Tommy Johnson Jr., who has confirmed his attendance at this year's FIA Main Event, between Friday the 27th to Monday 30th May, 2011.
With this latest signing, no less than ELEVEN Top Fuel cars will be running at the event, making it one of the most impressive line-ups ever to appear in Europe.
Breaking his first 4 second run at only 22 years of age, Johnson never fails to entertain the crowds and has numerous fastest qualifying and outright win records to his credit. With a career best ET of just 4.672 (In a Funny Car, to boot!) and countless 330 + mph tickets to his name, the competition for this exciting event just got a whole lot more exciting.
Over 25,000 visitors are expected over the weekend, with extensive coverage being beamed on Motors TV, Extreme Sports and ESPN. Commenting on 'T.J's' signing to the driver line-up, Santa Pod's General Manager, David Lloyd Jones said. "We're very lucky to have the best drivers in Europe here already, but there's always that little extra magic on the line when a true American sports hero is lining up alongside them. It's fantastic for the sport that drivers of Tommy's calibre want to come over here and race on the UK's best loved strip, and the extra pressure on the rest of the field can only be good for the race action over the weekend."
On the subject of living legends, none other than The Red Arrows will also be stopping by on the Monday, to dazzle the crowds with a full display of their aerobatic excellence. The world famous squadron tops off a weekend of incredible aerial skill, with also the Royal Artillery Black Knights Parachute Team literally dropping in on the Sunday, alongside the Battle of Britain Memorial Flight on Saturday.
As well as this exceptional line-up of flying and driving talent, the Main Event is very much a family affair, with a comprehensive array of entertainment that includes everything from Titan the 8ft Robot, radio controlled cars to stunt shows and Monster Trucks.
Advance ticket prices start from just £10 for the Friday, or £32 for the action packed Saturday or Sunday, with both days totalling £57 and the entire 4 day event costing just £70.
With all kids under 16 getting in for free, it could be the best family weekend that you've ever enjoyed.
Corporate packages look similarly good value, with fully catered VIP packages starting from just £99 +VAT per head. For more details please visit www.santapod.com 
Car classes running include:
FIA Top Fuel Dragster - 300mph dragsters, big race entry
FIA Top Methanol Dragsters - 5 second dragsters, close racing
FIA Top Methanol Funny Car - 3,000 bhp and close racing
FIA Pro Stock Car - Real cars, real close racing.
FIA/MSA Pro Modified - 200mph Hot Rods
Competition Eliminator
Super Comp
Super Gas
Super Street
Super Pro ET
Pro ET
Bike Classes Include:
UEM Supertwin Bike - Thundering 700bhp motorcycles
UEM Top Fuel Bike - 200mph, 1000bhp drag bikes
UEM Pro Stock Bike - Screaming, petrol-burning motorcycles
Comments