Mazda MX-5 GT On Podium at Donington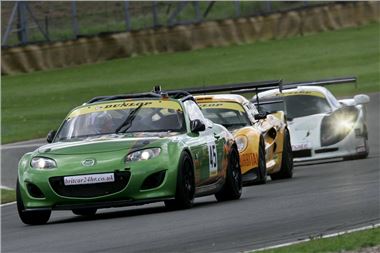 The Mazda MX-5 GT secured its second podium finish of the race season in the two hour Britcar Production GTN Championship 2011 at Donington Park circuit on Sunday.
This puts the Mazda second in its class in the championship.
Qualifying on Saturday saw the Mazda Financial Services and Motul backed Mazda MX-5 GT placed eighth in class on the grid.
On race day, competition rivals SEAT Leon, Ginetta G50 and Lotus Elise were no match for the handling, agility and performance of the 850kg Mazda MX-5 GT. Owen Mildenhall started the race and by the mid race handover he had climbed through the field to fifth in class. Mark Ticehurst continued to push for places, finishing the race third in class.
Also entered by Mazda was a standard MX-5 in the production class - driven by Mike Wilds, Former F1 Driver and Mark Hales, freelance journalist - which finished fourth in class.
"Fine tuning the transmission software and adding a new traction control system before the race at Donington improved the drivability of the car, as well as handling. With further developments in the pipeline we will see more improvements in performance for the Thruxton race in June," commented Graeme Fudge, PR director, Mazda UK.
The next race is at Thruxton Circuit on 12 June 2011.
More at Mazda
Comments