Croft Circuit Presents Official Calendar For 2011 Season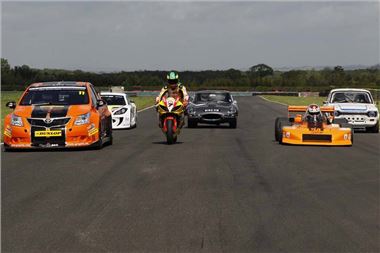 Croft Circuit near Darlington yesterday showcased the mouth-watering line-up of high-profile motor sport it has in store for the North East in 2011 – starting with the all-action MCE Insurance British Superbike Championship this weekend (13-15 May).
Some of the top names from the worlds of British Superbikes, British Touring Cars and historic motor sport were present at the circuit yesterday to meet specialist and regional television, radio, print and internet media. All will be in race action at the circuit, the region's premier motor sport venue, during the coming months.
Ticketing information is available from Croft's website www.croftcircuit.co.uk or by calling 01325 721815 while admission to every event for accompanied children aged 15 and under is FREE. All admission includes open access into Croft's race team paddock – enabling public to mingle with the stars of the show.
In attendance at Croft yesterday was Michael Laverty who, riding for the Guisborough-based Swan Yamaha team, will be challenging for his first win of the season in front of what is expected to be a mammoth BSB crowd this weekend.
Joining him were two rising stars of the Dunlop MSA British Touring Car Championship, Frank Wrathall and James Nash. Wrathall wowed onlookers with his brand new Dynojet Toyota Avensis race car, while Nash, currently third in the standings, was on hand to provide a driving masterclass at the wheel of a Vauxhall Vectra akin to the car he races in the BTCC. Both will be in action during the BTCC's race weekend at Croft in just over a month's time on Father's Day weekend, 18-19 June.
Thriving Leeds sportscar manufacturer Ginetta also demonstrated its rumbling V6-powered G55 model that features in the supporting Ginetta GT Supercup series which races at BTCC events.
From historics, Whitley's Bay's Richard Evans (1979 March Formula Atlantic), Harrogate's Peter Lanfranchi (1961 Jaguar E-type) and Barrow in Furness's Andy Yool (1972 Ford Escort) gave a taste of what's in store for fans come Croft's much anticipated Nostalgia Weekend (6-7 August).
A terrific selection of World War II machinery – including a rare Auster reconnaissance plane – added further colour thanks to the Military Vehicle Trust organisation (see www.croftmilitary.co.uk) that is instrumental in piecing together the off-track line-up of entertainment during the Nostalgia event. Indeed, the two-day festival will attract large displays from a wide variety of classic cars and motorbikes for the public to savour – including 50 E-type Jaguars which will be present to celebrate the golden anniversary of what is one of British motoring's most iconic cars.
Furthermore, Croft yesterday also confirmed a fourth major headline event at its circuit in 2011 – a stage of the R.A.C Rally, one of the world's most revered competitive historic car rallies on Saturday 3 December.
Croft Circuit Manager Tracey Morley commented: "There's a real wow factor about each of our headline events in 2011 – something that all media present here with us yesterday felt. All provide a terrific spectacle for the public and we are looking forward immensely to the forthcoming months when they are all going to be in action here. "There really is something for everyone and with free admission for children there are also plenty of inspirational opportunities at our events. We're hugely excited and proud about our 2011 line-up and very much look forward to welcoming the public for what will be the only chance to see these highly spectacular race events in our region this year."
Croft Circuit 2011 Race Calendar (*all events free for accompanied children 15 & under)
MCE Insurance British Superbikes, Fri-Sun 13-15 May, £27**
Cars, Sat-Sun 28-29 May, £12
Dunlop MSA British Touring Cars, Sat-Sun 18-19 June, £24
Cars, Sat-Sun 23-24 July, £12
Croft Nostalgia Weekend, Sat-Sun 6-7 August, £10 Sat / £12 Sun
Cars, Sat-Sun 10-11 Sept, £12
Cars, Sat-Sun 24-25 Sept, £12
Motorcycles, Sat-Sun 15-16 Oct, £12
R.A.C Rally, Sat 3 Dec, TBA
Christmas Stages Rally, Tues 27 Dec, £10
**Tickets for MCE Insurance British Superbikes now available on the gate only
To find out more about all of Croft Circuit's 2011 fixtures including details on ticket prices/how to book plus information about driving experiences (including Ferrari 458) visit  www.croftcircuit.co.uk or call 01325 721815.
Photo by Tony Todd (www.tonytodd.co.uk) shows race machinery coming to Croft Circuit in 2011 including, left to right, Dynojet Toyota Avensis British Touring Car, Swan Yamaha British Superbike, historic March Formula Atlantic and, back row, Ginetta G55, historic Jaguar E-type and historic Ford Escort.
Fans can further keep in touch with what's happening at Croft Circuit via the Twitter page www.twitter.com/croftsupporters and even 'own' a little bit of it by joining the Supporters Club. See www.croftsupportersclub.com or email enquiries@croftsupportersclub.com for more details.
Comments