Mazda Backs RAF Typhoon Display Team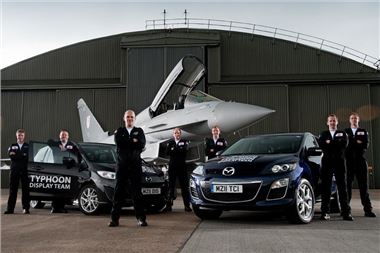 Mazda Motors UK has provided three vehicles to the Royal Air Force Typhoon Display Team in support of the Team's 2011 activities. The three vehicles, one Mazda5 and two Mazda CX-7 models, are being utilised by the Team for transporting kit, personnel and computer support equipment for the Typhoon aircraft.
"The Typhoon Display Team carries out an important role in promoting the excellence of the Royal Air Force's equipment, personnel and ethos.  The association with Mazda ensures that the Display Team can conduct these tasks to the highest professional standards due to the support provided by the three vehicles," commented Wing Commander Al Seymour, Officer Commanding 29(Reserve) Squadron.
The Typhoon Display Team will conduct a large amount of travel throughout the year when the Mazda vehicles will fulfil a variety of roles. These include pre-season travel, such as trips to use the specialised BAE Systems simulator and team meetings. The Team will conduct and host approximately 50 visits at RAF Coningsby and externally at schools and colleges during the year.  
In 2010, the Team raised over £12,000 for its chosen charities. In 2011, the Team will be fundraising for the Not Forgotten Association, Make-A-Wish® Foundation and the Forces Children Trust at various events.
"The busy 2011 season will involve travel to display venues across the UK, Northern Ireland and Europe, therefore having the three Mazda vehicles for team use is invaluable. The comfortable and spacious Mazda CX-7 and the Mazda5 with its flexible seating and sliding rear doors are ideal for transporting our team personnel, their kit and computer support equipment for the Typhoon aircraft," commented Sergeant Liam Whelan, Typhoon Display Engineering Manager.
The Display Team management will also use the vehicles extensively to attend meetings with sponsors and air show organisers as Flying Officer Gregor Ogston, Typhoon Display Manager explains:  "At a number of our seaside shows the Display Pilot and engineers will be located in a different location to the PR team with the nearest airport often some distance from the main event.  The Mazda vehicles ensure that the Display Pilot and I can quickly travel with all our flying equipment to meet the thousands of spectators who have turned up to support the team."
The Royal Air Force Typhoon is a world-class multi-role jet.   With the Typhoon, the RAF has a combat aircraft capable of being deployed in the full spectrum of air operations for the first time in its history.  From air policing and peace support all the way through to high intensity conflict, the Typhoon can do it all.  This exceptionally flexible and capable aircraft has, without a doubt, significantly increased the RAF's war fighting capability.
Flight Lieutenant Tim Clement, 2011 Typhoon Display Pilot commented: "The Royal Air Force Typhoon is an incredible, world beating, multi role aircraft.  I am extremely privileged to fly the Typhoon Display in this superb aircraft.  The sponsorship provided by Mazda goes a long way to assisting the Display Team in producing this exceptional display."
Jeremy Thomson, managing director for Mazda UK added: "Mazda is very proud to be associated with the RAF Typhoon Display Team in 2011 by providing vehicles to support the Team. We look forward to engaging in the 2011 sponsorship through air shows, dealership activities, competitions and supporting fundraising efforts for one of their chosen charities the Not Forgotten Association."
RAF Typhoon Display Team Key Statistics
Each Mazda vehicle will cover around 8,000 miles during the display season
The Team will attend 16 air show events in 2011 - approximately 2 million spectators in total
In 2010 the Team raised £12,000 for its chosen charities
The Display Team comprises:
Display Pilot
Display Manager
Display Engineer Manager
3x five person Engineer Teams (1 team deploys to each show)
3x two person Ground Support Systems Engineer Teams (1 team deploys to each show)
5x two person PR Teams (1 team deploys to each show)
Assistance is provided at each event by:
2x Guard personnel
1x Driver of military vehicle
Comments