Fun Packed Charity Event at Goodwood on 5th July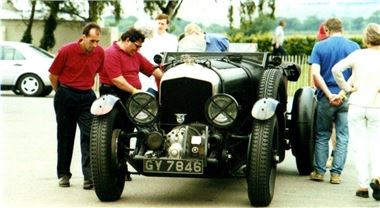 The fourth fun and activity-packed 'A Good Cause at Goodwood' will take place on Tuesday 5 July 2011 at the iconic Goodwood Motor Circuit in West Sussex.
The event hopes to raise at least £10,000 in support of Winston's Wish (www.winstonswish.org.uk), which does so much wonderful work to help bereaved children and their families.
Winston's Wish is the leading UK charity in this specialised field.
Founder Jenny Baker-Carr (whose previous charity events have raised around £35,000) says that, by running this event just two days after the Goodwood Festival of Speed, she hopes the event will benefit from a healthy uptake of cars and people prepared to stay on to support this most worthy event.
As in previous events, there will be plenty off-circuit entertainment in support of the usual track activity.
The fun starts with the legendary Cocktail Party, from 6pm-8pm on Monday evening, which ensures that everyone involved gets acquainted.
This is followed on Tuesday by a day of activity, beginning with 'Signing-On' at 8am and finishing after the Auction and Presentations at 6.30pm.
On and Off Track Activities will include:
Breakfast, lunch and tea included in entry fee
Raffle
Auction
Cocktail Party
Car Displays
Free ARDS Driver Instruction on Hand
Air Display in Lunch Break
Skid Pan
Celebrity Drivers
Hot Laps in Fine Cars
Photo Memento Available
Wheel-Changing Competition with Prizes
Mayor of Chichester Official Opening (tbc)
98dbA Day with ten cars per session x 5 laps and 6-8 sessions per car during the day
Jenny is delighted to have back again the 'Voice of Brands Hatch', Brian Jones, who will be the commentator and will interview drivers in the pits to add to the entertainment factor.
Jenny also asks if anyone is up for a Guinness World of Records record attempt during the day, which could be a real team event.
All legal and safe ideas will be considered - so please contact her.
So what will it cost? A very competitive £275 plus a prize for the raffle, valued at £25.
Drivers can bring along a friend/other half as a Paid-up Passenger' (PUP) for £60, which includes food and a couple of drives. Extra lunches are available at £15 per head.
Spectators are always welcome and a small donation will be taken at the entrance to the Paddock. To join in the fun, email to request a 'Good Cause at Goodwood' Entry Form or, for more info, drop Jenny a note at info@bakercarr.com.
Comments