Porsche Carrera Cup Race Season Set to be More Exciting Than Ever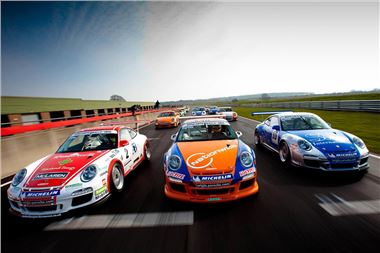 The entry for this year's Porsche Carrera Cup GB Championship has both quality and quantity with more potential race winners than ever before, as an influx of new drivers join established aces like Tim Harvey (Champion in 2008 and 2010), James Sutton (Champion in 2007) and Michael Caine (Championship Runner-up in 2008 and 2010).
This season also sees the introduction of the latest model Porsche 911 GT3 Cup race car – based for the first time on the RS version of the 911 GT3 road car - and all drivers will compete in identical models of this stunning 450 hp car. This is the quickest version of the 911 ever seen in the Carrera Cup GB and will ensure that the Championship retains its position as the fastest one-make category in Britain.
Porsche Carrera Cup GB
As well as the battle for overall glory, the contests in the Pro-Am1 and Pro-Am2 categories and the Team Championship will be major features of the season as drivers and teams battle for a total prize fund of over £160,000. In addition, the overall champion, the Pro-Am1 champion and the team manager of the champion team will have the use of a road-going Porsche 911 for a year.
While Harvey, Caine and Sutton are the established benchmarks, at least six other drivers start the season with race wins in their sights. Harvey (Oxford) and Caine (Newmarket) have teamed up at Motorbase Performance, while Sutton (London) and Michael Meadows (Banbury) are in the SAS-backed squad at Red Line Racing.
Another strong contender from the Red Line team is 2011 Carrera Cup Scholar Benji Hetherington (Hulme Walfield, Cheshire), while the Team Parker Racing line-up has a new look this season with Richard Plant (Sheffield) and Sam Tordoff (Leeds) to the fore.
Other returning teams include Celtic Speed, with Rory Butcher (Kirkcaldy, Fife) as their young hotshot and Lithuania-based Juta Racing with Jonas Gelzinis set to challenge for race wins as he builds on the experience of last season.
Among the Pro-Am1 and Pro-Am2 categories, a number of rapid drivers will be challenging for the podiums with drivers like Ahmad Al Harthy (Oman), George Richardson (Nether Alderley, Cheshire), Steve Parish (London), Alex Martin (Templecombe, Somerset), Andrew Shelley (Northallerton) and series returnee Derek Pierce (West Kilbride) likely to battle for Pro-Am1. The Pro-Am2 field includes Celtic Speed duo George Brewster (Edinburgh) and Tommy Dreelan (Aberdeen), Keith Webster (Liphook, Hants), Tautvydas Barstys Lithuania), Richard Denny (London) and Swiss racer Daniele Perfetti.
James Sutton and SAS Red Line team head the field at first Porsche Carrera Cup GB test
The SAS-backed Red Line Racing cars of James Sutton and Michael Meadows topped the times during the major pre-season test day for the Porsche Carrera Cup GB at Snetterton on 22 March.

As teams and drivers mastered the new '300' circuit at the Norfolk venue, Sutton and Meadows set the pace in what is shaping up to be the most competitive season in the Championship's history. With seven-tenths of a second covering the top six drivers on the new three-mile track, the pace-setters were an intriguing mix of established Carrera Cup aces and exciting newcomers.

As drivers did new tyre runs later in the afternoon, Red Line was the last of the three big teams to send their drivers out with fresh tyres. Sutton and Meadows worked together, with Sutton running just ahead of his team mate to set the standard at 1m50.245s. With Meadows lapping 0.164s behind, it was an impressive display.

"We seem to be in really good shape," said Sutton. "It was important to get a really good sense of what the car is doing and this bodes well for the opening races at Brands Hatch." Meadows was equally pleased with the day. "It's been close all through. James and I like a similar set-up and we found a lot of time on the new rubber."

Third fastest, right on the pace of the SAS cars, was an impressive performance from Carrera Cup newcomer Sam Tordoff (Team Parker Racing). He set the overall pace for much of the afternoon session, and was only edged back to third by 0.382s in the final reckoning. To make it an excellent day for the Parker squad, fellow newcomer Richard Plant was sixth fastest. "That's a good start to the year and I'm happy to be up with Tim Harvey and Michael Caine," said Plant.
Having won 19 out of 20 races between them in 2010, Harvey and Caine clearly look to have a big battle on their hands this season and the Team Nationwide/Motorbase pair took fourth and fifth slots in the final testing times. "We're pleased with the work we've done today, but I don't think we got the best out of the new tyres," said defending champion Harvey. Caine, meanwhile, lost a better lap on new tyres when his car ran low on fuel through the last corner on a lap that was set to be around half a second better than his 1m50.887s best. "It cut out coming out of Coram on my second flier," reported Caine.
 
Making it a superb day for the Red Line team was seventh fastest and top Pro-Am1 time for Ahmad Al Harthy after a very impressive run. "I'm really excited to be back," said the Omani racer. "We're on the pace and that's good for confidence."
Chasing Al Harthy in Pro-Am1 were Jonas Gelzinis (Juta Racing) and Rory Butcher (Celtic Speed), while fourth fastest in Pro-Am1 was a strong showing from Freddy Nordstrom (Parr Motorsport). Although Nordstrom is not yet confirmed in the entry list, his pace on his Carrera Cup debut was a major boost to both team and driver as they work to conclude a deal for the season.
 
Just ahead of Nordstrom in a fine tenth overall was Pro-Am2 pacesetter George Brewster (Celtic Speed). "Until last week I'd not sat in a racing car since last October, but it came right with the new tyres," he said. Leading the chase of the Scot in Pro-Am2 was Championship newcomer Keith Webster (Red Line Racing). "That's a good starting point; I was just getting to grips with the circuit," he said, as Steve Parish (Motorbase Performance) completed the top three in Pro-Am2.
The action starts at Brands Hatch (Kent) over the weekend of April 2/3 when season nine of the Carrera Cup GB begins, running alongside the British Touring Car Championship.
Carrera World Cup at the Nürburgring
Also new for 2011 is a race on the world-famous Nürburgring Nordschleife circuit, Germany on June 25. Carrera Cup GB competitors will take part in the Porsche Carrera World Cup, an event that will see as many as 200 911 GT3 Cup cars in action on the sensational 14-mile circuit in the Eifel Mountains. The Carrera World Cup will support the prestigious 24 Hour sports car race at the Nürburgring held over the same weekend.
Comments