10 Makes and 13 Models for 2011 BTCC + Live Qualifying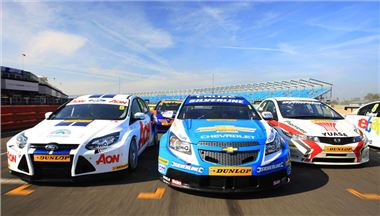 27 cars; 10 makes - 13 models
The Dunlop MSA British Touring Car Championship today confirmed a record entry list ahead of its 2011 season with the highest number of different makes and car models entered for the series in the two decades it has run as an all two-litre formula.
Ten makes of car representing Audi, BMW, Chevrolet, Ford, Honda, Proton, SEAT, Toyota, Vauxhall and Volkswagen will all feature on this year's flourishing grid. Out of those, 13 different models will be gearing up for action including: Audi A4, BMW 320si, Chevrolet Cruze, Chevrolet Lacetti, Ford Focus, 'Global' Ford Focus, Honda Civic, Honda Integra, Proton Gen-2, SEAT Leon, Toyota Avensis, Vauxhall Vectra and VW Golf.
This beats the previous record (nine makes and 11 models in 1993) seen in the BTCC's two-litre era that began in 1991. In total, 27 entries have been received for the 2011 season, the first event of which is staged at the Brands Hatch circuit in Kent in ten days' time on Sunday 3 April. From there the title race will head off on a high-speed, action packed, six-month tour of the UK, with ten race events in total at nine different motor sport venues culminating with Finals Day, this year being staged at British Formula 1 Grand Prix venue of Silverstone, Northants – host of today's Media Day season launch – on Sunday 16 October.
Notably, the Audi, Proton and Toyota entries are all for cars built to the BTCC's dynamic new Next Generation Touring Car technical regulations which provide dramatically reduced costs and have led directly to four new teams alone joining the BTCC for 2011.
Official 'factory' teams from Chevrolet and Honda also star on the entry list, while Toyota GB are funding an engine development programme for customer teams running its Avensis to the new NGTC regulations. Further underlining the BTCC's importance to manufacturers as an ideal sporting arena in which to showcase products, the Ford Motor Company has chosen the championship to debut the competition version of its new 2011 Focus model, in the hands of the independent Team Aon squad.
Of the 27 entries, 17 drivers contested 2010's BTCC. They include the top five in last year's championship including the implacable rivals, reigning Champion Jason Plato and Matt Neal, the latter's team-mate Gordon Shedden, Tom Onslow-Cole – who has made a shock move to the tiny AmD-run VW Golf team – and Independent Champion Tom Chilton. Of the new faces, two are reigning champions stepping up from the hotly-contested Ginetta GT Supercup and Renault Clio Cup categories that support the BTCC on race weekends; Frank Wrathall and Dave Newsham. A full entry list can be viewed below…
In 2011, the BTCC will once again receive unrivalled levels of television coverage – both live and highlights – across the ITV network. Its ITV4 and new ITV4 HD channel will be broadcasting 'all-day live' at the ten BTCC events with highlights on both ITV1 and ITV4 in the days following. In addition, the Goodyear-Dunlop group will continue as the championship's title sponsor through its high performance Dunlop brand. It will be at Dunlop's Tyre Fort headquarters in Birmingham that every one of the 5,000 or so tyres supplied to teams in this year's BTCC will be manufactured.
For the British public, the BTCC will also continue to offer unrivalled value-for-money entertainment when compared to other premier sports with free admission for children at every event and tickets for adults costing from as little as £23. Admission includes meeting the BTCC's star drivers during pit lane autograph sessions plus, at most events, open access to the paddock.
BTCC Series Director Alan Gow commented: "I'm very, very proud about the way our 2011 season is taking shape. The fact our entry list includes ten different makes and 13 different models of cars – a record for the BTCC in the two-litre era – in what still remains a challenging financial period is, quite frankly, incredible. The BTCC is (by far) the most watched form of national motor racing in the UK – and for us to continue to reach new heights is terrific news for British motor sport as a whole. Full credit must go to all of our teams, drivers and sponsors for their incredible commitment.
"The increasing participation by new teams and the involvement of motor manufacturers – whether as official factory teams or 'behind the scenes' – is a ringing endorsement of the championship's appeal. As is the presence of an increasing number of major high street brands who, more and more, are choosing to market their products in front of our millions of TV and trackside audiences as either championship or team sponsors. The BTCC's 'bang for buck' rivals and perhaps tops anything that any other major sport can offer in this country.
"It is important to be mindful that 2011 is both the beginning of a new era and of a transitional period - with the previous breed of Super 2000 cars and the newer NGTC (turbo) machinery being able to fight on an equal footing for the next two seasons, it will make for a fascinating fight.

"Much of all this success is, of course, down to ITV's and Dunlop's continued support of and enthusiasm for the championship as well as the huge media exposure the championship receives elsewhere. Similarly, nor should the contribution of all our other partners be underestimated. ITV's commitment in particular is extraordinary – having raised its levels of live coverage in recent years, we will now be joining other high-profile sports with coverage in High-Definition which will only add even further to the spectacle. The BTCC continues to evolve, excite and deliver; it's going to be a truly memorable season, starting at Brands Hatch on 3 April."
ENTRY LIST: 2011 DUNLOP MSA BRITISH TOURING CAR CHAMPIONSHIP
| | | |
| --- | --- | --- |
| No. Driver (NAT)  | Hometown, County  | Team/Car |
|   |   |   |
| 1. Jason Plato (GBR)  | Oxford  | Silverline Chevrolet/Chevrolet Cruze |
| 2. Matt Neal (GBR) | Droitwich Spa, Worcs | Honda Racing Team/Honda Civic |
| 5. Tom Chilton (GBR) | Reigate, Surrey & Poole, Dorset   | Team Aon/'Global' Ford Focus |
| 7. Mat Jackson (GBR) | Henley-in-Arden, Warks | Airwaves Racing/Ford Focus |
| 8. Robert Collard (GBR) | Hook, Hants  | WSR/BMW 320si |
| 11. Frank Wrathall (GBR) | Preston, Lancs   | Dynojet/Toyota Avensis |
| 12. David Pinkney (GBR) | Harpenden, Herts    | Rob Austin Racing/Audi A4 |
| 13. TBA  | TBA | Rob Austin Racing/Audi A4 |
| 14. James Nash (GBR)  | Newport Pagnell, Bucks   | 888 Racing with Collins Contractors/Vauxhall Vectra |
| 17. Dave Newsham (GBR) | Inverness, Scotland   | Geoff Steel Racing/BMW 320si |
| 18. Nick Foster (GBR) | Odiham, Hampshire  | WSR/BMW 320si |
| 20. Alex MacDowall (GBR)  | Carlisle, Cumbria | Silverline Chevrolet/Chevrolet Cruze |
| 22. Tom Boardman (GBR)  | Preston, Lancs  | Special Tuning Racing/SEAT Leon |
| 28. John George (GBR) | Par, Cornwall & Guernsey | GoMobileUK.com with tech-Speed/Chevrolet Cruze |
| 29. Paul O'Neill (GBR) | Widnes, Cheshire  | GoMobileUK.com with tech-Speed/Chevrolet Cruze |
| 34. Tony Gilham (GBR)  | Dartford, Kent  | 888 Racing with Collins Contractors/Vauxhall Vectra |
| 42. Daniel Welch (GBR)  | Fleet, Hampshire | Welch Automotive/Proton Gen-2** |
| 43. Lea Wood (GBR)  | Hereford  | Central Group Racing/Honda Integra* |
| 44. Andy Neate (GBR)  | Aylesbury, Bucks | Team Aon/'Global' Ford Focus |
| 50. Tony Hughes (GBR) | Knutsford, Cheshire | Speedworks Motorsport/Toyota Avensis |
| 52. Gordon Shedden (GBR) | Dalgety Bay, Fife | Honda Racing Team/Honda Civic |
| 55. Jeff Smith (GBR) | Wellingborough, Northants | Pirtek Racing/Vauxhall Vectra |
| 66. Liam Griffin (GBR) | Essendon, Herts  | Airwaves Racing/Ford Focus |
| 77. Andrew Jordan (GBR) | Lichfield, Staffs  | Pirtek Racing/Vauxhall Vectra |
| 78. Chris James (GBR) | Luton, Beds | Team ES Racing.com/Chevrolet Lacetti |
| 99. Tom Onslow Cole (GBR)  | New Malden, Surrey  | TBA |
| TBA. TBA   | TBA | Team Aon/'Global' Ford Focus  |
Key
- Cars numbers 1, 2, 20 & 52 eligible for Manufacturer and Constructor championships
- Cars numbers 5, 44 & TBA eligible for Constructor championship
- All cars except numbers 1, 2, 20 & 52 eligible for Independent championships
- Cars numbers 1, 8, 17, 18, 20, 28, 29 & 78 all full S2000-spec
- Cars numbers 2, 5, 7, 14, 22, 34, 44, 52, 55, 66, 77, 99 & TBA all S2000/NGTC-engine
- Cars numbers 11, 12, 13, 42 & 50 all full NGTC-spec
* Entry from Oulton Park
** Entry from Snetterton
TBA To be Advised
More at: www.btcc.net 
Live Qualifying
ITV's unrivalled coverage of the Dunlop MSA British Touring Car Championship will extend even further in 2011 with, for the first time, all ten of the season's qualifying sessions being shown live on the network's  itv.com website.
The UK's largest commercial television network already provides the BTCC with what is by far the biggest TV coverage in UK motor sport. Its 2011 coverage will again include seven-hour-plus live broadcasts from all ten race events on both its ITV4 and new ITV4 HD channels – plus 60-minute highlights on both ITV1 and ITV4.

However, ITV has today also confirmed its live online broadcasts of Saturday's all-important half-hour qualifying sessions that decide the starting grid order for the first of Sunday's three BTCC races. This is on top of itv.com's already-strong BTCC content that includes live-streaming of ITV4's race day coverage plus a library of race highlights as well as dedicated news and podcasts.
Simon Parry, Programme Editor for ITV Sport, said: "The BTCC provides our audiences with sporting drama of the highest order and what they see on a Sunday is often a direct result of what happens in Saturday's qualifying sessions. We were very pleased with the results having experimented with live online coverage of qualifying for last year's Finals Day fixture so this is a natural progression as itv.com's sporting content continues to expand and also attract an ever-growing audience. We're delighted to add yet another dimension to our BTCC coverage."
Live race day BTCC coverage on ITV4, ITV4 HD & ITV.COM in 2011:
| | | |
| --- | --- | --- |
| Round/Circuit  | Date | Transmission time |
|   |   |   |
| 1. Brands Hatch Indy  | Sun 3 April   | 11.00am-6.00pm |
| 2. Donington Park | Sun 17 April | 11.00am-6.00pm |
| 3. Thruxton | Sun 1 May | 11.00am-6.00pm |
| 4. Oulton Park | Sun 5 June  | 11.30am-6.00pm |
| 5. Croft | Sun 19 June | 11.30am-6.00pm |
| 6. Snetterton | Sun 7 Aug | 11.00am-6.00pm |
| 7. Knockhill | Sun 4 Sept | 11.00am-6.00pm |
| 8. Rockingham | Sun 18 Sept  | 11.00am-6.00pm |
| 9. Brands Hatch GP | Sun 2 Oct  | 11.00am-6.00pm |
| 10. Silverstone | Sun 16 Oct  | 11.00am-6.30pm |
* All times subject to change
Broadcast times on ITV1 and ITV4 will be announced soon – more information will be provided via the official btcc.net website's 'Calendar' section.
Comments