Santa Pod FIA/UEM European Finals 2010 9th-12th September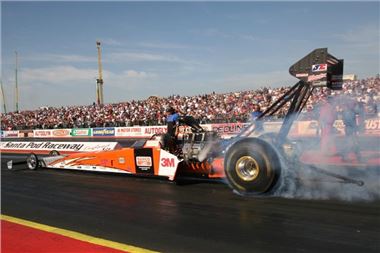 Santa Pod Raceway, the home of European Drag racing, is already gearing up for Europe's most prestigious Drag Racing event; The FIA/UEM European Finals. This hugely popular, televised event is the final round of the prestigious European Drag Racing Championship and features the largest race entry and most packed Motorsport event anywhere in Europe! Over 250 teams and 16 race classes make this event unrivalled for both the quality and quantity of racing, taking place from Thursday the 9th to Sunday the 12th September 2010.

Exemplifying the very greatest, fastest, loudest and craziest spectacles in drag racing, the entire weekend gathers the most brutal machines in Europe and pits them head to head in an epic display of rubber burning, nitro-snorting insanity! Both cars and bikes are represented, with some of the entrants able to hit an incredible 300 mph in well under 5 seconds. If this wasn't impressive enough, on the track in between racing will be the awesome Fireforce Jet Funny Car.
Off track action is equally as exciting with loads of entertainment and attractions aimed squarely at families looking for a great weekend away. Full camping facilities are available and under 16s even go for free! There's fun for the whole clan with Kids entertainment, side shows, traders, Fun Fair and full catering & bar facilities all weekend with evening entertainment in the Fuelers Bar. Whatever age you are, you're bound to amazed, amused (and a little bit scared) by Titan, the 8 foot tall robot that walks amongst showgoers on the both days.

Adrenaline junkies will also love the car crushing Monster Trucks Podzilla and Red Dragon attempting to out jump each other in the Live Action Arena on the Saturday and Sunday, with insane stunt display of Steve 'Showtime' Colley and the high-altitude spectacle of Europe's finest motocross freestylers, UKFMX.

If that hasn't set your heart racing, why not try a ride in the 2 seater dragster? Although places are strictly limited, at just over 7 seconds per run, it's the only way to fly up the quarter mile. On the subject of flying, you can also take a helicopter ride over the site and see the whole spectacle from the air. Pleasure flights will be running all weekend.

Santa Pod have even frozen the 2010 tickets at the 2009 prices, so advance ticket prices start from just £25 for all of Friday's race action, or £32 for the action packed Saturday or Sunday, with both days totalling £55 and the entire 4 day event costing just £65. With the kids getting in for free, it could be the best family weekend that you've ever enjoyed! Corporate packages look similarly good value, with fully catered VIP packages starting from just £119 +VAT per head.

For more details please visit www.santapod.com or call the team on 01234 782828.

Car classes running include

FIA Top Fuel Dragster - 300mph dragsters, big race entry

FIA Top Methanol Dragsters - 5 second dragsters, close racing

FIA Top Methanol Funny Car - 3,000 bhp and close racing

FIA Pro Stock Car - Real cars, real close racing!

FIA/MSA Pro Modified - 200mph hot-rods

Competition Eliminator
Super Comp

Super Gas

Super Street

Super Pro ET

Pro ET

Bike Classes Include

UEM Supertwin Bike - Thundering 700bhp motorcycles

UEM Top Fuel Bike - 200mph, 1000bhp drag bikes

UEM Pro Stock Bike - Screaming, petrol-burning motorcycles

Comments