The Major and The Beetle Exhibition Opens at REME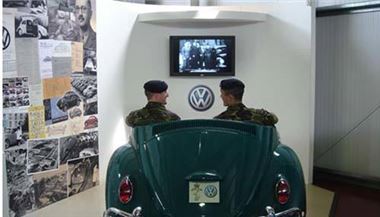 The official unveiling of the 'The Major and the Beetle' exhibition and new permanent exhibit, is celebrated with a historic Volkswagen car show and a 'meet up' for Volkswagen enthusiasts, all dedicated to the memory of Major Ivan Hirst, REME
The Corps of Royal Electrical and Mechanical Engineers (REME) and Volkswagen have a long history together from the end of the Second World War when the intervention of a young British Army officer changed the future of the fledgling giant of European motoring.
Sent by the Control Commission to 'sit on' the bombed remains of the Volkswagen factory in Wolfsburg in August 1945, the 29 year old Major Ivan Hirst REME and his team decided to restart production instead. Major Hirst then secured an order for 20,000 Beetles from the Military Government; meeting this order would take all the management and engineering skill he had.
Post-war Wolfsburg suffered shortages of food, skilled workers, housing and work materials. Major Ivan Hirst's engineering and management skills together with his people skills, his open door policy and his will to succeed, turned the Volkswagen Factory around and ensured its survival.
Judy Booth, Senior Curator at the REME Museum of Technology said: 'Without Major Ivan Hirst REME, there may have been no Volkswagen as we know it today. Ivan Hirst was a hero in his own quiet unassuming way; a man who not only saved a fledgling car company but a man who's humanity found a path through the problems left behind by the war. This exhibition recognises him and his work.'
Part of the exhibition is a video display and a unique 'Beetle sofa'. Created from half a Beetle, it incorporates a seat and built-in audio facility so visitors can sit in a piece of history and learn about it simultaneously.
The opening of the new exhibition will be celebrated with 'The Ivan Hirst Memorial Beetle Meet' on Sunday 26 September at 11:00 at the REME Museum, Arborfield Garrison, Reading, Berkshire. If you have a historic Beetle and would like to attend, please go to http://reallysimplesites.co.uk for more details and to register your interest. You can also become a fan of the REME Museum of Technology by going to their Facebook page, or receive news updates via Twitter: @REME_MUSEUM.
More information about the REME Museum
The Museum of the Royal Corps of Electrical and Mechanical Engineers (REME) is located in the Arborfield Garrison, Reading, Berks. The collection reflects REME's role in the Army, to maintain and repair Army equipment and the people who make up REME. Collections include: medals, uniforms, memorabilia, recovery vehicles, small arms, electronics, archives and the reserve collection.
More information about the Royal Electrical & Mechanical Engineers

The Corps of Royal Electrical and Mechanical Engineers formed mid WW2 in October 1942 to rationalise and improve the efficiency of the Army's repair resources. REME's Corps motto is 'Arte et Marte', by skill and by fighting, and REME has been active on every Army operation since its formation, keeping fit equipment in the hands of British troops wherever they are in the world.
More at REME Museum
Comments