American Drag Queen in Santa Pod FIA/UEM September Finals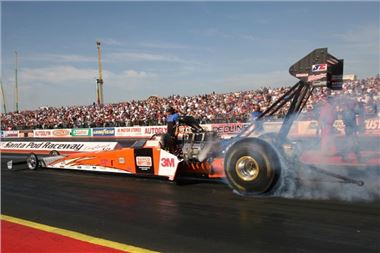 Top US dragster pilot Melanie Troxel is to star in the FIA/UEM Finals at Santa Pod Raceway between the 9th and 12th of September
The event, which holds the same standing with motorsport's governing body as a Formula 1 Grand Prix, will be graced by American drag legend Melanie Troxel, alongside a supporting cast of 'A' list drivers from all over Europe. The result is a spectacle of power and speed which is unrivalled anywhere this side of the Atlantic.
Troxel is an NHRA national event winner in Top Alcohol Dragster, Top Fuel Dragster and Funny Car, who once topped 332mph in Top Fuel. Ms. Troxel began applying her driving talents to Pro Mod for the R2B2 team last year. Since the sport began, just 14 drivers have won NHRA national events in both Top Fuel and Funny Car; Troxel is the only female among them.
In 2006, she was elected Sportswoman of the Year by the US Women's Sports Foundation, joining past winners such as Martina Navratilova, Chris Evert and golf's Annika Sorenstam, and she was nominated as both Driver and Female Athlete of the Year in ESPN's annual ESPY Awards.
Heading the crew will be ace Canadian tuner and ex-Pro Mod driver Al Billes, supercharger king Darren Mayer and team manager Travis Rice.
The event is the jewel in the crown of European quarter-mile racing and sees over 250 teams assemble to battle in 16 high-speed classes. Speeds of over 300mph are commonplace, with cars able to hit 100mph in well under ONE SECOND. The top cars run over 8,000 horsepower. . . equivalent to EIGHT Bugatti Veyrons harnessed together.
So don't miss it!
For more details, please visit Santa Pod or call the team on 01234 782828.
Comments