Sportscar Racing, Castle Combe, Monday 30th August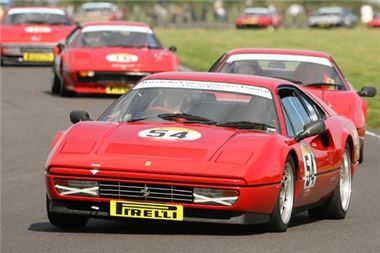 There's a feast of sports car racing at the Castle Combe Circuit's A Plant Lux Traffic Controls Sportscar Race Day on Bank Holiday Monday 30 August.
Races for Aston Martins, Ferraris and Porsches are amongst the highlights, with a special 'one off' Trimarque challenge which sees all three marques pitted against each other.
Pewsey brothers Graham and Mike Reeder are multiple Ferrari championship winners and will feature in both the Trimarque race and the Aston Martin Owner's Club Intermarque race. Last year Graham finished second in the latter race and his Ferrari 355 Challenge is always a strong contender.
Mike has been absent from Castle Combe for a while but his F355 GTB should still be on the pace. Chris Scragg won last year's Intermarque race from the back of the grid in his mighty Aston V8.
Also in V8s are Julian Bailey-Watts from Dilton Marsh and Jerry Bailey from Salisbury. Malmesbury's Pete Fisk has his Ferrari 328 GTB in the Trimarque race and also features in the Pirelli Ferrari Classic along with Frome's Richard and Peter Moseley in a 328 GTB and 308 GTB respectively. Bristol's Richard Squire has a 328 GTB and Salisbury's Martin Hart a Mondial.
Sports cars also feature in the circuit's own Sports and GT Championship race, in association with PSC, which has classes for both modified and relatively production road going cars. The quickest of the modifieds is Trowbridge's Mark Funnell in his unique Honda powered Lotus Exige, currently within three points of the overall title with just two rounds left to run. His only mathematical opposition in class is the Westfield SE of Bristol's Chris Child.
In the Production class, Chepstow's David Jones has a slender lead overall with his Caterham, but has two very competitive opponents in similar machinery. In the same class, Castle Combe's Keith Sprules has the power with his Ferrari 360 Challenge, but nobody has more than Bath's Nadine Geary whose Dodge Viper has 8.3 litres of V10, tuned by Janspeed.
In the outright sports racing car category, Trowbridge's Andrew Shanley in the Radical Prosport is level pegging with Simon Tilling in second, the latter suffering from a bout of slow starts. Up front is Bridgwater's Josh Fisher, his older Mantis sublime in his hands. Fisher is also due to appear alongside his younger brother Felix in the circuit's Formula Ford 1600 Championship race which has seen Felix involved in a pair of consecutive incidents with 2009 champion, Ben Norton from Bratton.
Along with the now dominant championship leader, Marcus Allen, Fisher and Norton have been the fastest men on the track and would be at the head of the points table were it not for two similar accidents with each other at the last two meetings.
This has put Castle Combe's Andrew Jones and Saltford's Steven Jensen second and third respectively in the overall championship points. This time they will have added competition from the 2005 Formula Ford champion, Tim Reynolds from Chippenham, out in a Spectrum 011, similar to that of Jensen, also in the Gloucester based Kevin Mills Racing team.
Chippenham's Adam Higgins is becoming a major force in the Pre '96 Class B with his Van Diemen RF90, whilst Class C for Pre 1990 cars has already been tied up by Chippenham's Kyle Tilley, with two rounds left to run.
The outcome of the circuit's National Mobile Windscreens supported Saloon Car Championship is likely to be determined by the antics of the three drivers battling neck and neck for class C honours for up to 1.8 litre cars.
Reigning champion Jason Cooper from Yatton Keynell, Bromham's Will Di Claudio, the 2008 champion and Yate's Nick Charles can measure the difference in their pace in thousandths of a second. Despite taking valuable points from each other Charles is still within a point of the overall championship lead, their battle alone worth coming along for.
Bristol's Mark Wyatt still retains the lead of Class B for up to 3 litre 2 wheel drive cars, despite being off the pace in the last two races with his Astra. His opposition includes former champions Tony Dolley in the 206 and Hilperton's Tim Hanlon in the SEAT Ibiza Cupra.
Staying with saloons, it's the final round of the Ajec AWD Academy, where Melksham's Simon Norris has his awesome Mitsubishi 'Bogey' Evo. Gloucester's Laurence Kilby is the man behind the series and a winner in other categories at his closest circuit, whilst Bath's Angus Gorringe has the sole Audi in Class B. The field is combined with a saloon car invitation race which has Ian Crisp from Devizes in his BMW E36.
The day's action starts at 08.40 am with qualifying, racing getting under way from 12.30 pm.
Admission prices are £15 for Adults, £7.50 for OAPs, £2.50 for Paddock Transfer, whilst accompanied children under 16 are admitted free.
For further information, visit the Castle Combe Circuit website on www.castlecombecircuit.co.uk or on Facebook.
Comments