Chelsea Legends, 5th September, to feature 'Le Mans'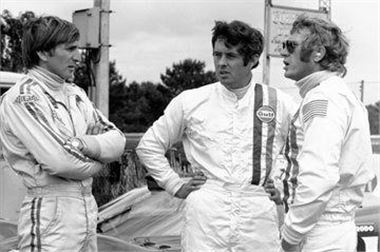 The inaugural Chelsea AutoLegends will be staged at the Royal
Hospital Chelsea on Sunday 5 September. The event will be opened by loyal London
resident Sir Stirling Moss OBE and will feature many of the world's finest road and
competition cars as well as other displays. This year's Chelsea AutoLegends will
feature a special collection of cars from the Le Mans 24 Hours, the world's most
famous sportscar race. Adding to the celebrations there will be a special focus on
the Le Mans movie starring Steve McQueen, the 'King of Cool', which was filmed 40
years ago in 1970. Chelsea AutoLegends is also holding an auction to raise funds for
Chelsea Pensioners, residents of the Royal Hospital Chelsea.
Tickets: Adults £12 in advance, £15 on the gate; 15 and under FREE – available in
advance from www.ChelseaAutoLegends.com.
Exclusive interview with Derek Bell MBE about the making of the movie 'Le Mans'
Derek Bell MBE is one of the many high profile personalities appearing at this
year's inaugural Chelsea AutoLegends to be held at the Royal Hospital Chelsea on
Sunday 5 September. The event is putting a special spotlight on Le Mans and, with
five victories to his name, Bell has won the famous 24 hour race more time than any
other British driver. He was also one of the 'young guns' hired by Steve McQueen's
own Solar Productions company to help with the filming of the epic Le Mans movie.
Forty years on the memories of his time in France with McQueen are still fresh in
his mind…
You made your Le Mans debut 40 years ago in 1970 sharing a works Ferrari 512S with
Ronnie Peterson. What are your memories of that race?
"It didn't last very long and I had never wanted to do it in the first place! I'd
left Ferrari in the middle of the previous year after two years in F2 and F1 fearing
my career was over. Then I had a moderately good result racing a privately-entered
Ferrari 512S at Spa and, because I was quick, Enzo asked me to rejoin the factory
team for Le Mans. I wasn't at all keen to go back as I was still so disappointed
that the 'Old Man' had dumped me. The 512S was new to Le Mans and wasn't really a
match for the much more developed Porsche 917. That said, we qualified in the top
ten and ran in the front group for the first few hours in the race until the engine
blew up on the Mulsanne Straight. So that was my first Le Mans – not really a great
experience. At least I missed all the rain – it poured down for the rest of the
race."
Then you stayed on at Le Mans to help Steve McQueen make the eponymous film.
"Yes, there'd been a camera car in the race but we stayed on afterwards to help with
the subsequent filming. They put a spare engine in the 512S I'd had in the race and
I drove that car and, on occasions, some of the Porsche 917s, too. Steve's passion
for speed was obvious: he wanted to drive flat-out all the time and the filming was
almost a secondary reason for being there. Which is probably why we all got on so
well and we were completely comfortable having him driving with us at 200 miles an
hour."
Having read your book 'My Racing Life' you obviously got on famously well with
McQueen.
"Yes, we developed a strong friendship during the shoot that resulted in our two
families taking a small château together for the last few weeks of filming. Can you
imagine you've only been racing for a few years and there you were working on a
movie with a man who quickly became one of the icons of the industry in a film that
ultimately became one of the better movies ever made about racing. And I was being
paid. It was almost too good to be true. The film was totally Steve's passion and
for me it was just brilliant to get to know him and enjoy his company. He was just
such a fun guy and all of us had such a great time with him. So many laughs and
escapades, most of which are in my book. He was an outstanding chap and a very good
driver, too."
Steve actually did most of the driving for his role in the film…
"Oh yes, very definitely. There were occasions when he drove with Siffert and me
nearly flat out through the White House section of the circuit, and that takes some
balls. He was an amazingly good driver and, on reflection, a lot better than we all
thought."
While you all had great fun, there must have been a serious side to the filming.
You, for one, had a lucky escape when your Ferrari went up in flames and David Piper
lost his lower leg in an accident during the filming.
"It was very serious and that's why the film was good. The action footage was taken
at real racing speeds, rather than sped up afterwards in post-production. We weren't
always 'pedal-to-metal' as we had cold tyres and had to shuffle around to suit the
script. Generally speaking, though, we were out there driving flat out."
What happened to your Ferrari?
"I'd been doing some footage with Steve following the Ford GT camera car. We'd done
the shot but, when I tried to turn around, I noticed the clutch had gone. I told
Steve to carry on and eventually managed to find a gear. I got back to Indianapolis
going the wrong way round the track and the car just ignited. I put on the brakes,
flicked all the latches to open the door, undid the seat belts and jumped out, but
it all took what seemed like hours and my face really got singed on the left side.
Eventually some bloke appeared out of the woods and I told him to get a fire truck.
And an ambulance. The car basically burned to the ground but Nick Mason [drummer of
Pink Floyd] has now restored it and remarkably I've driven it again. It will, of
course, be on show at Chelsea AutoLegends alongside one of the Porsche 917s that
also featured in the movie."
Looking back what are your thoughts about the final film?
"You can't really make an interesting story about a 24 Hour race. You can only talk
about who overtook who; you can't go into all the various sub-plots and family
lives. So it wasn't easy for the scriptwriters. In the end, there was little dialog
but the action footage was really good. It always used to be on TV at Christmas but,
to be honest, I haven't seen it for long time. Some of the more modern motor racing
films have been dire but they haven't been made by true enthusiasts. Steve made Le
Mans with a huge passion and threw all his money at it."
The 40th anniversary of the movie's filming is being celebrated as part of a huge
display of Le Mans cars from throughout the ages at Chelsea AutoLegends. Are you
looking forward to be part of the event?
"It is a great idea and I'm extremely pleased to be part of what promises to be
great day out. For such a prestigious venue in London as the Royal Hospital Chelsea
to be hosting a huge cross section of Le Mans cars is just fantastic. At the moment
everybody seems to be looking backwards in time and, as we don't know what there's
to look forward to ahead, I don't think that's a bad thing. So let's keep looking
back and enjoying events like this."
Photo shows Derek Bell (left), fellow racer Brian Redman and Steve McQueen (right)
on set during the filming of the Le Mans movie in 1970.
Comments