1964 Jaguar E-Type 3.8 Roadster Sells for $165k at Barett Jackson today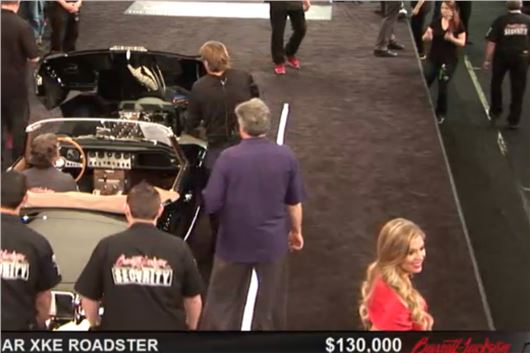 Published 15 January 2015
Here's a snapshot of today's excitement at Barett Jackson's Scotsdale Arizona massive 5 day classic car auction.
Amidst the plethora of 1960s muscle cars and pick-ups, the Brits were also doing quite well.
7000: 1964 Jaguar XKE 3.8 roadster: $165k
547: 2004 Bentley Continental GT Coupe: $73k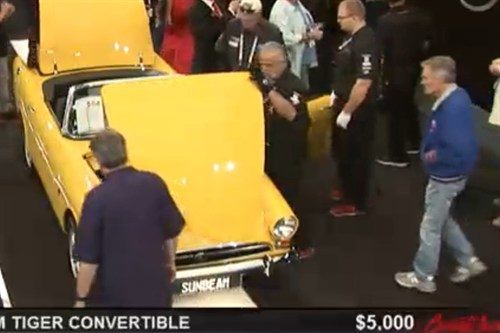 554: 1965 Sunbeam Tiger: $68k
Remember, thanks to Mke Brewer for the link you can hook up to the live link auction at: 
http://www.barrett-jackson.com/Account/Login?ReturnUrl=%2fLive%2fStreaming%2fVideo
You then have to enter your email and a password, then click the <Watch Live> box in the top LH corner.
The Auction takes place from 14th - 18th January.
Car sale times are from 10.00am to 10.00pm, which corresponds to 17.00 - 03.00 UK time (I think. Today's sale ended at 04.15 UK time; 11.15 where I'm watching it from.).
Ever since I bought my first Hot Rod magazine back in 1959 and my aunt in Florida sent me my first 'Car Craft' and 'Motor Trend' I've been fascinated by this stuff. It was and still is a world of power, colour and sunshine compared to the drab cars and monotone mags in the UK in those days.
Here's some of the other solds: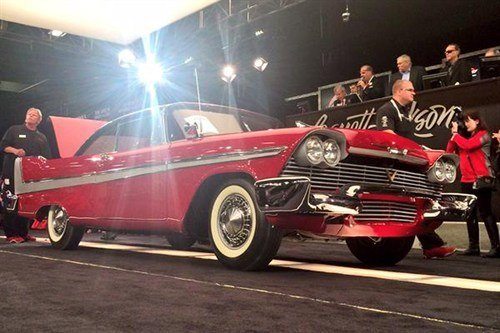 1957 Plymouth Fury 'Christine' car: $185k
2007 Shelby GT500: $67k
1970 Plymouth AAT Cuda: $47k
1936 Ford 5 window coupe: $66k
1967 Pontiac GTO convertible: $60k
1970: Oldsmobile Cutless 4-4-2 convertible: $105k
1958: Ford F-100 pick-u[: $47k
And by lot number: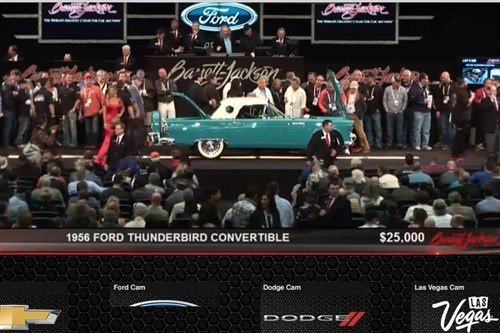 529: 1960 Ford Thunderbird (Continental spare): $70k
530: 1960 Pontiac Ventura super muscle car: $54k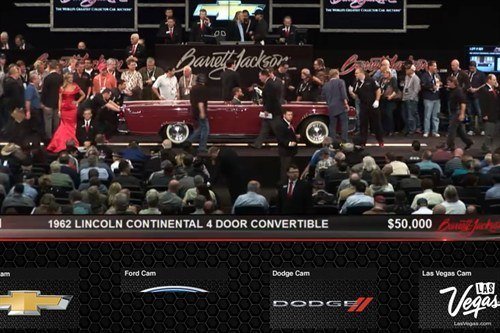 531: 1962 Lincoln Continental convertible: $56k
532: 1937 Ford 5 window coupe custom: $60k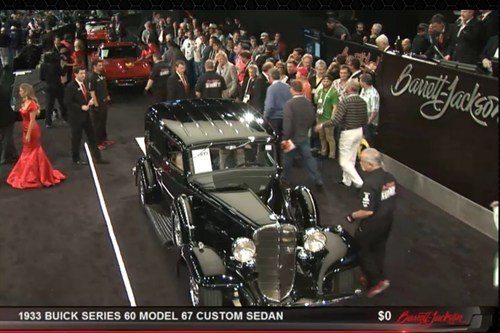 533: 1933 Buick Series 60 Model 67 custom sedan: $60k
534: 1967 Corvette 327 coupe: $50k
535: 1955 Chevrolet Bel Air convertible: $67k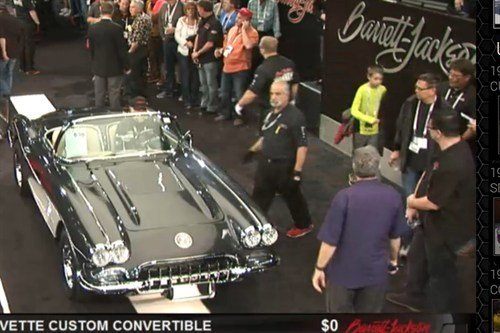 536: 1958 Corvette roadster custom: $50k
536.1: 1966 Corvette coupe custom 427ci: $70k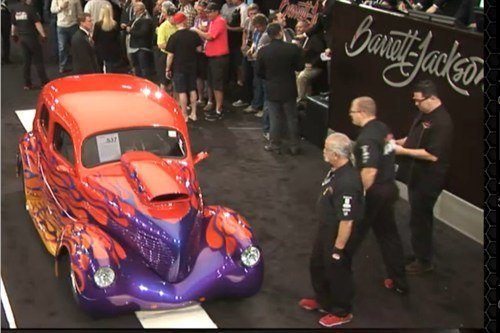 537: 1937 Willys 2-door custom 620HP: $44k
539: 1939 Ford Custom convertible $49k
540: 1970 Mustang Boss 302 coupe 390HP: $49k
541: 1971 Plymouth Cuda 426 hemi: $65k
543: 1955 Ford F100 custom pick-up 440ci: $49k
544: 1960 Plymoth Fury convertible 375HP: $49k
545: 1955 De Soto Fireflite convertible: $50k
548: 2008 Shelby GT BJ edition convertible: $50k
549: 1969 Mustang 420 CJ 'R' fastback: $53k
550: 1950 Hudson Pacemaker convertible: $58k
551: 1966 Poniac GTO hardtop: $39k
552: 1953 GMC Custom pick-up 454ci: $45k
553: 1973 Ford Bronco custom: $40k
555: 1975 Toyota LandCruiser FJ40 custom: $41k
Comments
Author

Honest John
Latest