Bangers4BEN Charity Auction on 29th October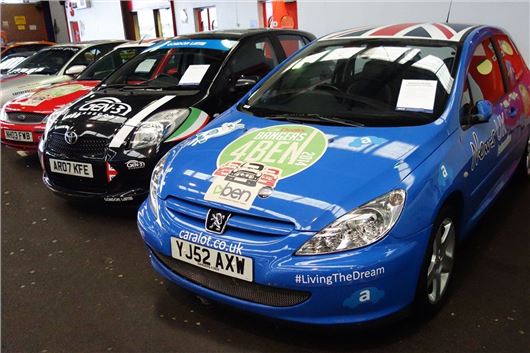 Published 27 October 2014
BEN is the charity that exists to help former employees of the motor trade and industry who have fallen on hard times either through injury, illness or old age.
British Car Actions and Car Dealer Magazine are combining to offer a special entry of 31 cars that recently competed in the annual Bangers4BEN fundraising event. The challenge was to complete a sponsored run to the FIAT factory in Turin and back in a car costing no more than £750, with all proceeds going to BEN – the Motor Industry's Benevolent Fund.
After four days pounding the roads to Italy and back, the cars were all donated by the various teams that ran them. BCA will be selling them free of charge and donating the buyer's fees to BEN to ensure the maximum amount is raised for the charity. 
Car Dealer Magazine MD James Baggott who organised the fundraising run sais: "We are delighted that BCA Blackbushe is pulling out all the stops to help us raise money for BEN, promoting the sale heavily via the BCA website and giving us a prime selling slot to maximise the interest from buyers."
BCA Blackbushe manager James Gibson added "We are happy to help the Bangers4BEN initiative by selling the competing cars here at Blackbushe.  This event has raised considerable funds for BEN in previous years and we look forward to adding to that total on Wednesday, 29th October.   Congratulations to the team at Car Dealer magazine for organising the event and to all the teams who took part."
More at BCA Blackbushe
Comments
Author

Honest John
Latest