McLaren MP4-12C Sells For £127,000 at Auction Today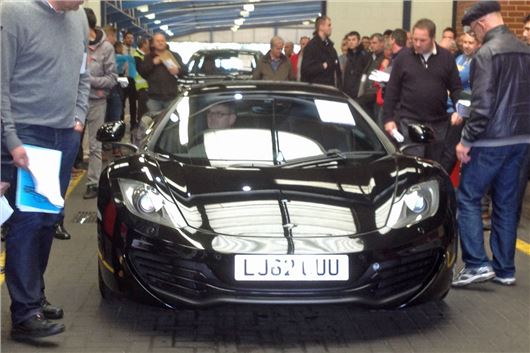 Published 23 October 2013
A year old McLaren MP4-12C sold For £127,000 at Auction today. A six-month old Jaguar F-Type V8-S also sold, for £62,400.
The McLaren was a September 2012 example in Carbon Black with Stealth Pack and 6,724 miles. The tyres looked fairly chewed up from track work and the rears needed replacing (at £283.10 a side for P Zero Nero 305/30 R20s).
We found 39 McLaren MP4-12Cs advertised online at prices from £126,990 for a 2011 MP4-12C coupe to £214,400 for a 2013 MP4-12C Spider.
The Jaguar F-Type was a May 2013 with 2,637 miles, standard apart from an audio upgrade. It sold for £62,400, which is £17,585 behind its list price of £79,985.
Other significant cars sold in the Porsche Retail section of the aution at BCA Blackbushe were:
BMW F25 X3 xDrive 3.0d SE, lthr, prof nav, 2012/61, 10k miles £31,800
BMW X6 xDrive 40d, 2010/60, 14k miles, £32,600
Maserati Quattroporte 4.7 Sport GT S, 2010/59, 22k miles £40,200
Nissan GT-R 3.8 Back Edition, 2010/60,25k miles £38,800
A full report of the day's sales, including four cars sold for £150 each, will appear on Saturday 26th October.
More at BCA Blackbushe
Comments
Author

Honest John
Latest