McClaren MP4-12C in BCA Blackbushe Auction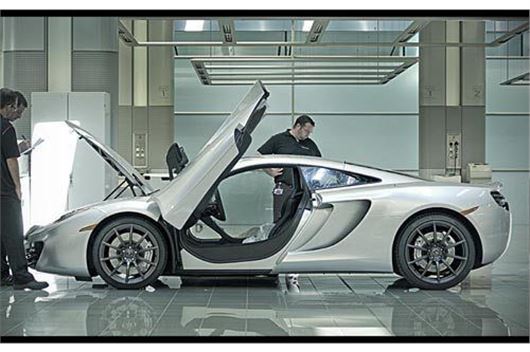 Published 17 October 2013
Next Wednesday 23 October at 1.00 pm sees a 2012 registered McClaren MP4-12C up for auction at BCA Blackbushe.
The British-assembled supercar retails for over £200,000 when new and is one of the most powerful road-legal cars available.
It features a carbon fibre composite chassis and is powered by a mid-engined 3.8-litre V8, twin-turbo engine developing approximately 616 BHP delivered through a seven-speed seamless Shift dual-clutch gearbox.
It boasts sophisticated driving technology sourced from the F1 world including brake steer and a host of other performance driving aids. The car goes from 0 to 60 mph in 3.1 seconds and has a top speed of 207 mph.
To give you some idea what to bid, Britain's top specialist dealer, Tom Harley has two for sale on his website: tomhartley.com
2011/61 McClaren MP4-12C Gemballa GT, Titanium Silver with Black hide, 3,300 miles £142,950
2011/61 McClaren MP4-12C, Ice Silver with Carbon Black leather, 3,600 miles £139,950.
Dick Lovett Maserati, Swindon has:
2011/61 McClaren MP4-12C, Black, Black leather, 7,105 miles £134,990 (Motors)
Rybrook Specialist Cars has:
2011/61 McClaren MP4-12C, Black, 5,011 miles £126,990 (Motors)
2012/62 McClaren MP4-12C, Black, 350 miles £154,940 (Motors)
McClaren London has:
2012/12 McClaren MP4-12C, Orange, 860 miles £149,000 (Motors)
2012/12 McClaren MP4-12C, Red, 5,000 miles £152,000 (Motors)
2012/62 McClaren MP4-12C, Black, 2,000 miles £159,000 (Motors)
More at BCA Blackbushe
Comments
Author

Honest John
Latest