£250,000 Bentley sells or £38,200 at Barons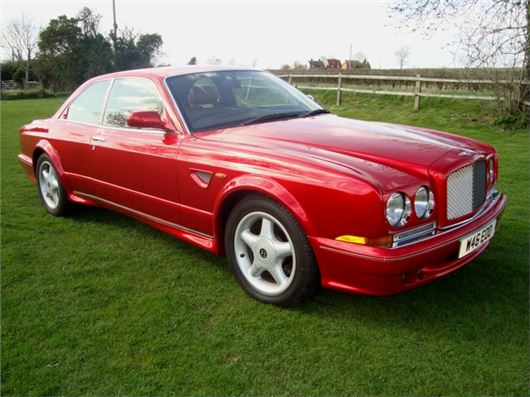 Published 06 August 2013
The ebb and flow of classic car values was aptly illustrated by a £250,000 Bentley Continental R Mulliner WB selling for £38,200 at Barons, Sandown Park on 30th July.
That's probably as low at the car's value will ever go. Because, just like Ferraris, these cars reach a rock bottom from which they inexorably rise and that can make a classic car action the perfect place to invest in one.
The Bentley was followed by a very fine 1978 Aston Martin V8 Oscar India, which sold for £35,000. One of just 16 examples to feature the ZF five-speed manual transmission, this car had come from the Sir Arnold Clark private collection and is now never likely to be worth less.
A 1996 Broomstick XK120 Recreation is a faithful replica of a Jaguar XK120, hard to distinguish from the real thing until the bonnet is opened to reveal a 4.2 litre XK engine. It sold at Barons for a whisper under £32,000.
A 1947 Armstrong Siddeley Hurricane, 1996 Caterham Super Seven Sprint all exceeded top estimate, selling for £10,540, £10,300 and £10,100 respectively.  Other notable results included a 2001 Range Rover Vogue. Complete with Alpine DVD and Playstation monitors in the cream hide-covered front headrests, this sold for almost twice its estimate, at £3,820.
Barons' next auction is its Classic, Collectors and Sports Cars Sale at Sandown Park on Tuesday, September 17
th
.
For further information, or to consign a car to the sale, visit 
www.barons-auctions.com
, email 
info@barons-auctions.com
 or call 08454 30 60 60.
RESULTS, BARONS, SANDOWN PARK JULY 30
TH
2013
Year, Make, Model, Sold @ inc
2000 Bentley Continental R Mulliner WB, £38,212
1978 Aston Martin V8 Oscar India, £35,000
1996 Jaguar (Broomstick) XK 120 Recreation, £31,932
1997 Bentley Turbo RT, £21,292
1989 Mercedes 560SL, £12,892
1947 Armstrong Siddeley Hurricane, £10,540
1996 Caterham Seven Super Sprint, £10,316
1997 Bentley Brooklands R Green Label, £10,092
1971 Triumph Stag, £9,196
1974 BMW 2002 Turbo Evocation, £8,972
1988 Mercedes 300SL, £8,748
1968 Jaguar 420 Saloon, £8,748
1982 Porsche 911SC Targa, £8,580
1966 Daimler 2.5 Litre V8, £8,300
2001 Mini Rover Classic Cooper Sport, £7,000
1993 Jaguar XJS 4.0 Coupe, £6,732
1961 Ford Consul Saloon, £5,948
1966 Sunbeam Alpine Series V, £5,836
1979 Rolls-Royce Silver Shadow II, £5,332
1973 Rolls-Royce Silver Shadow I, £4,940
1990 Bentley Turbo R, £4,940
1984 Mercedes 380SL, £4,492
1996 Jaguar XK8 convertible, £4,212
1969 Morris Minor Convertible, £4,156
2001 Land Rover Range Rover 4.6 Vogue, £3,820
1983 Mercedes 230E (W123), £3,708
1991 Nissan Figaro, £3,148
1973 Renault 16TL, £3,036
1994 Mercedes 500SL, £2,812
1991 Mercedes 300SL, £2,700
1993 Mercedes 500SEC, £2,364
3 FUY (registration number), £1,848
1997 Jaguar XJ6 3.2 Executive, £1,092
593 HA  (registration number), £784
1995 Jaguar XJ6 3.2 Saloon, £692
Comments
Author

Honest John
Latest