Car Auction Prices Remain Unusually High For September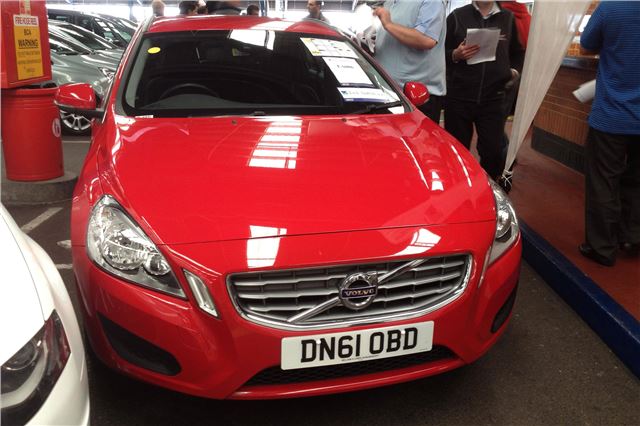 On last night's Channel 4 News, Governor of the Bank of England, Mervyn King calmly and clearly explained the reasons why the county is in the state it's in and why getting out of it will be a long haul.
Obviously traders at auction today were either doing their VAT books at the time, or were in the pub.
Because some of the prices paid were through the roof.
We know about Audis, and so does Glass's Guide. The prices for them were predictably high.
BMWs too. Status still matters. But the 10 reg E92 coupe in the list was ex-Motability, which begs the question of how much the customer had to pay on top of his State funded Mobility Allowance.
Crazy money was buying Fiesta diesels, though again broadly in line with Glass's Guide. Mondeos, as usual, depended on the miles under their wheels and high miles on a Mondeo don't seem to export.
£4,950 for an 11k mile 2009/59 Nissan Note 1.6 Visia auto was way over. And £6,000 paid for a 2009/58 Honda Jazz 1.3i-DSI SE CVT-7 was plainly buying the low mileage, despite some very nasty body damage that will be difficult to fix.
£12,500 was way over for an attractive, but basic 2008 Mercedes SLK with a manual box. £6,700 was on book for a 61k mile 2009/59 Avensis 1.8i Valvematic T4. £7,100 was far too much for a 61k mile 09 Qashqai 1.6 Acenta.
Volvo V60s aren't yet booked, so £14,700 was probably right for the 61 reg 1.6 DRIVe.
But top trade book for a 2012/61 Skoda Octavia 1.6TDI CR 105 DSH Elegance estate is £13,400. So why did someone pay £13,900 for one with a damaged and badly repainted roof?
(As usual, 's' means sold. 'p' means top provisional bid, 'pc' means provisional, but close. 'n/s' means not sold. 'n/w' means miles not warranted. 'MNW' means unknown mileage. 'dmg' means damaged. D/R means damaged and repaired. 'fl' means facelift. 'H/T' means hardtop. 'imp' means unofficial import. Extras like 'lthr' and 'nav' are specified when they are not standard.)
Audi A4 2.0 TDI 143S line, 2008/58, 59k miles £11,850s
Audi A4 1.8TFSI 160 S line, 09 reg, 118k miles £9,200s
Audi A4 2.0 TDI 143 Exec SE, 2009/59, 101k miles £8,550s
Audi A5 2.7TDI cabrio Multitronic, 2009/59, 66k miles £15,200s
BMW 118d M Sport, lthr, 2007/57, 47k miles £9,500s
BMW 120d SE, 08 reg, 39k miles £8,800s
BMW 118d SE, 09 reg, 51k miles £9,400s
BMW E92 320i SE Coupe, 10 reg, 19k miles £13,500s
Chrysler Grand Voyager 2.8DRD Tour, 2009/59, 24k miles £14,700s
Ford Fiesta 1.6TDCI Titanium, 09 reg, 46k miles £6,550s
Ford Fiesta 1.6TDCI Titanium, 09 reg, 29k miles £7,100s
Ford Focus 1.6TDCI 110 Studio, 2009/59, 174k miles £3,950s
Ford Mondeo 2.0TDCI 140 Edge estate, 2008/58, 147k miles £3,250s
Ford Mondeo 2.0TDCI 140 Zetec, 2010/60, 14k miles £10,000s
Ford Mondeo 2.0TDCI 115 Zetec, 09 reg, 87k miles £5,000s
Honda Jazz 1.4i-DSI SE CVT-7, 2009/58, 17k miles £6,000s
Honda Accord 2.2i-CTDI EX, 08 reg, 157k miles £3,700s
Honda Accord 2.2i-DTEC ES GT, 09 reg, 97k miles £7,450s
Honda CR-V 2.0i-VTEC ES auto, 09 reg, 28k miles £12,050
Mazda 6 2.0D 140 TS2, 08 reg, 79k miles £5,000s
Mazda 6 2.2D 163 TS2, 09 reg, 68k miles £5,800s
Mercedes SLK 200K manual, 08 reg, 20k miles £12,500s
Mercedes E220 CDI Blue SE auto, 2009/59, 66k miles £15,000s
Nissan Note 1.4 Visia, 08 reg, 35k miles £3,650s
Nissan Note 1.6 Visia auto, 2009/59, 11k miles £4,950s
Nissan Qashqai 1.6 Acenta, 09 reg, 66k miles £7,100s
Peugeot 307 1.6HDI 110 Sport, lthr, 07 reg, 97k miles £2,600s
SAAB 9-3 1.9TTID 180 Edition, 11 reg, 95k miles £7,800s
Skoda Octavia 1.9TDI Ambiente est, 2008/58, 68k miles £4,200s
Skoda Octavia 1.6TDI 105 Eleg est DSG, 2012/61, 2k miles £13,900s
Toyota Avensis 2.0D-4D T2 est, 07 reg, 29k miles £5,550s
Toyota Avensis 1.8iValvematic T4, 2009/59, 61k miles £6,700s
Vauxhall Corsa 1.4 Club 5-dr auto, 08 reg, 17k miles £4,550s
Vauxhall Astra 1.6VVT 115 Design 3-dr, 2007/57, 70k miles £3,800s
Vauxhall Astra1.7CDTI 110 Eco est, 2009/58, 94k miles £3,100s
Vauxhall Astra1.9CDTI 120SXI 3-dr, 2009/58, 73k miles £4,600s
Vauxhall Insignia 2.0CDTI 160 SE, 2009/59, 84k miles £6,400s
VW Golf 1.4TSI 122 Match, 2008/58, 52k miles £6,950s
VW Golf 1.9TDI 140 Sport, 06 reg, 75k miles £4,500s
VW Passat 2.0TDI 140 Highline, 09 reg, 94k miles £5,700s
Volvo V60 1.6DRIVe 115 SE, 2011/61, 19k miles £14,700s
To view the full new Lex Autolease sales programme click on Lex Autolease
As always the best way to look for a specific car coming up at a BCA auction or to pre-check a day's sale is to visit Auctionview  If you are a BCA account holder this service also now gives composite price information (average auction price, CAP and Glass's) and now allows you to buy a selection of cars directly on-line. Main British Car Auctions Website at BCA Website
Please Note BCA Now Charges All Private Buyers a £23.50 VCA New Keeper Transfer Fee. On behalf of the vendors, BCA is required to notify DVLA via the V5C of changes of ownership.
BCA Peterborough stages Motorbike sales on the last Friday of each month, with high volume Super Sales featuring 'bikes from Black Horse every two months.  (Next Super Sale on 25th June).   Sales start at 1pm and all are welcome to attend.   There is secure motorcycle parking on the day and an expert and enthusiastic Sales Team on hand to answer questions.  Viewing is on the morning of the sale and BCA can arrange transport to anywhere in the UK. Full catalogue details and a picture of every motorbike entered for the sale will be available online in advance through BCA's exclusive Commercial Auction View service (http://www.commercialauctionview.co.uk ).
For future police sales at West Oxfordshire Motor Auctions. Visit WOMA , click on 'stocklist', then click on search, or use the faxback on 0906 3080 953 at 60p per minute. Sales are held on Tuesday and Thursday evenings from 5.30pm.
Brightwells HUGE WEEKLY 4x4 SALE takes place every Tuesday at Easter's Court on the A49 by-pass, Leominster, Herefordshire, start time 11.00am, phone: 01568 611325, website: Brightwells 
Last year Motorpoint launched auction4cars - an online fee-free alternative to the traditional car auction. It currently sells over 400 cars a week, mostly taken in part-exchange, from its four collection points - Burnley, Derby, Newport and Peterborough. For more information visit Auction4Cars
For Manheim auctions click on: Manheim
Comments