Car Auction Proves Strong Used Value of BMW X3 F25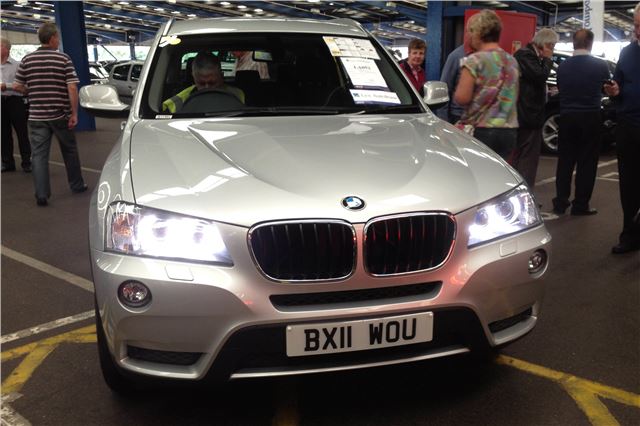 At auction today a one-year old BMW F25 X3 2.0d SE auto in standard trim with 11,000 miles sold for £28,900, £500 more than reserve, but actually bang on trade book for the mileage.
First I'd seen, but then I don't get out much these days.
It was closely followed by one of those intimidating X6s, a 2008/58 35D auto with 47k under its enormous tyres. That sold for £24,700, which fits with Glass's new 'Av grade' trade value.
The other pictured cars were a companion 09 Alfa 159 1.9JTDM to the one in the photo that with 91k miles sold for £6,700; an 82k mile 07 Citroen Xsara Picasso 1.6HDI VTX that made £2,500; a 117k miles 09 Mondeo 2.0TDCI Zetec automatic estate that went to someone for £3,850; and a 32k mile 09 reg Toyota Prius III that commanded £9,400.
I think the trade is starting to get a bit wary of 3 – 4 year old diesels with 80k miles or more on them because of the massive potential for expensive warranty claims. That's why even Audi TDI values shrivel noticeably once they get a bit leggy.
You can see the difference between a pair of 08 reg BMW 520ds. Te 69k miler made a strong £10,500, but the one with 135k was £2,700 cheaper, reflecting the cost of a new DPF and turbo, perhaps.
The same point was illustrated by a pair of 09 reg LandRover Discovery IIIs and a pair of 10/59 Volvo XC90s.
But if you're a chancer, a high mileage diesel is the way to get the car you've always promised yourself for very little money, like the 91k mile 09 Ford Kuga 2.0TDCI Zetec, sold away for £7,400 in contrast to a 22k mile 09 Honda CR-V 2.2iCTDI ES that made a full £3,000 more.
(As usual, 's' means sold. 'p' means top provisional bid, 'pc' means provisional, but close. 'n/s' means not sold. 'n/w' means miles not warranted. 'MNW' means unknown mileage. 'dmg' means damaged. D/R means damaged and repaired. 'fl' means facelift. 'H/T' means hardtop. 'imp' means unofficial import. Extras like 'lthr' and 'nav' are specified when they are not standard.)
Alfa 159 1.9JTDM Limited Ed, 09 reg, 90k miles £6,000p
Alfa 159 1.9JTDM Limited Ed, 09 reg, 91k miles £6,700s
Audi A3 Sportback 2.0TDI 140, 2009/58, 82k miles £7,000s
Audi A4 B8 2.0TDI 143 SE, 08 reg, 90k miles £7,600s
Audi A4 B8 2.0TDI 143 S Line, 09 reg, 95k miles £7,800s
BMW 120d 2.0 M Sport, 08 reg, 48k miles £12,300s
BMW 320d 2.0 ED, 10 reg, 20k miles £13,200s
BMW F25 X3 2.0d SE auto, 11 reg, 8k miles £28,900s
BMW 520d 177 SE auto, 08 reg, 135k miles £7,800s
BMW 520d 177 SE auto, 08 reg, 69k miles £10,500s
BMW X6 3.0 35D auto, nav, 2008/58, 47k miles £24,700s
Citroen Xsara Picasso 1.6HDI 92 VTX, 07 reg, 82k miles £2,500s
Ford Kuga 2.0TDCI Zetec 2WD, 09 reg, 91k miles £7,400s
Ford Mondeo 2.0i Ghia saloon, 2007/57, 96k miles £3,200s
Ford Mondeo 2.0TDCI Zetec est auto, 09 reg, 117k miles £3,850s
Ford S-Max 2.0TDCI Titanium, 10 reg, 25k miles £14,700s
Honda Insight 1.3IMA ES hybrid, 09 reg, 101k miles £4,775s
Honda CR-V 2.2iCTDI ES, 17" wheels, 09 reg, 22k miles £10,400s
Jaguar XKR 4.2 coupe, 2007/57, 84k miles £17,000s
LandRover Freelndr 2 TD4 XS man, 2007/57, 135k miles £6,925s
LandRover Disco 3 2.7TDV6 GS man, 09 reg, 65k miles £13,700s
LandRover Disco 3 2.7TDV6 GS man, 09 reg, 5k miles £18,900s
Mazda 6 2.2D 125 TS hatch, 09 reg, 92k miles £4,500s
Mercedes C220CDI Sport manual, 2008/57, 98k miles £8,950s
MINI Cooper R56 1.6. 07 reg, 81k miles £6,800s
Nissan Qashqai 1.6 Visia, a/c, 08 reg, 35k miles £6,950s
Range Rover Sport 2.7TDV6 HSE, 2008/58, 135k miles £17,100s
Renault Clio 1.2 Campus 3-dr, 08 reg, 19k miles £3,100s
SAAB 9-5 2.0LPT Linear SE est, 08 reg, 43k miles £3,900s
Toyota Aygo 1.0 VVT-I Blue 5-dr, a/c, 2009/59, 13k miles £4,875s
Toyota Prius II 1.5 T3 hybrid, 09 reg, 94k miles £5,750s
Toyota Prius III 1.8 T3 hybrid, 09 reg, 32k miles £9,400s
Vauxhall Corsa 1.3CDTI Eco Life 5-dr, 07 reg, 81k miles £3,150s
Vauxhall Corsa 1.3CDTI 90 Design 5-dr, 2008/58, 77k miles £3,750s
Vauxhall Corsa 1.0 Life 50dr, 09 reg, 7k miles £4,450s
Vauxhall Astra 1.3CDTI 90 Life estate, 08 reg, 97k miles £2,900s
Vauxhall Astra 1.3CDTI 90 Life estate, 2008/58, 114k miles £2,150s
Vauxhall Zafira 1.9CDTI 150 Design, 2007/57, 120k miles £3,400s
Vauxhall Insigna 2.0DDTI 130 Exclusiv, 09 reg, 71k miles £5,850s
VW Golf 1.9TDI S, 07 reg, 113k miles £3,650s
VW Golf 2.0TDI 140 SE estate, 2008/57, 67k miles £6,450s
VW Eos 2.0FSI, 08 reg, 65k miles £6,800s
VW Touran 1.9TDI 105 Blue S, 09 reg, 62k miles £7,650s
Volvo V50 2.0 Sport, 08 reg, 39k miles £6,800s
Volvo V50 1.6DRIVe S, 2010/59, 39k miles £8,800s
Volvo V70 2.0D SE manual, lthr, 10 reg, 21k miles £12,800s
Volvo S80 2.4D 175SE manual, 09 reg, 61k miles £7,950s
Volvo XC90 2.4D 185 Active G/tronic, 2010/59, 65k miles £13,600s
Volvo XC90 2.4D 185 Active G/tronic, 2010/59, 17k miles £16,350s
To view the full new Lex Autolease sales programme click on Lex Autolease
As always the best way to look for a specific car coming up at a BCA auction or to pre-check a day's sale is to visit Auctionview  If you are a BCA account holder this service also now gives composite price information (average auction price, CAP and Glass's) and now allows you to buy a selection of cars directly on-line. Main British Car Auctions Website at BCA Website
Please Note BCA Now Charges All Private Buyers a £23.50 VCA New Keeper Transfer Fee. On behalf of the vendors, BCA is required to notify DVLA via the V5C of changes of ownership.
BCA Peterborough stages Motorbike sales on the last Friday of each month, with high volume Super Sales featuring 'bikes from Black Horse every two months.  (Next Super Sale on 25th June).   Sales start at 1pm and all are welcome to attend.   There is secure motorcycle parking on the day and an expert and enthusiastic Sales Team on hand to answer questions.  Viewing is on the morning of the sale and BCA can arrange transport to anywhere in the UK. Full catalogue details and a picture of every motorbike entered for the sale will be available online in advance through BCA's exclusive Commercial Auction View service (http://www.commercialauctionview.co.uk ).
For future police sales at West Oxfordshire Motor Auctions. Visit WOMA , click on 'stocklist', then click on search, or use the faxback on 0906 3080 953 at 60p per minute. Sales are held on Tuesday and Thursday evenings from 5.30pm.
Brightwells HUGE WEEKLY 4x4 SALE takes place every Tuesday at Easter's Court on the A49 by-pass, Leominster, Herefordshire, start time 11.00am, phone: 01568 611325, website: Brightwells 
Last year Motorpoint launched auction4cars - an online fee-free alternative to the traditional car auction. It currently sells over 400 cars a week, mostly taken in part-exchange, from its four collection points - Burnley, Derby, Newport and Peterborough. For more information visit Auction4Cars
For Manheim auctions click on: Manheim
Comments