Chrysler UK's 1961 Chrysler 300G Sold for £20,730 at Barons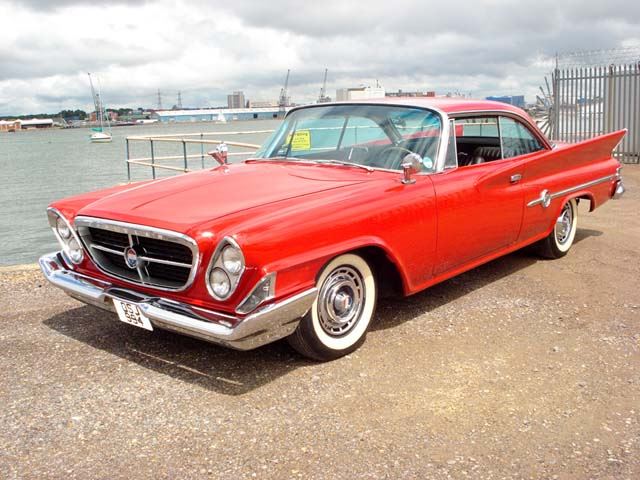 A red Jaguar E-type S3 V12 Roadster from 1975 - the last year of production – made over its estimate, selling for just under £36,000 at Barons Auction, Sandown Park on 17th August.
A red 25,000 mile 1989 Ferrari 328GTS formerly owned by Chris Evans with a full service record sold forv£34,750.
A 1995 Sebring Red Bentley Continental R sold for £28,000, and an evocative 1961 Chrysler 300G for £20,730. 
This had been bought and restored in 1997 by Chrysler UK, who displayed it in their head office and used it for promotion and advertising. It was seen at the Goodwood Revival, among other events.
Next highest price paid was the £20,720 paid by a telephone bidder for the registration number 'TOP 10'. 
Other interesting lots included a 1967 Jaguar E-type Series 1 1/2 4.2 FHC restoration project, sold for £9,532, and the lovely little one-owner 1969 Riley Elf MKIII. In the early 1970s this car was stolen from outside its owner's home and used as the getaway car in an armed robbery. It was recovered completely unscathed, the only souvenir of its adventure being a bullet left on the back seat. It sold at Sandown Park for £2,812.
Three MGs and a Triumph Spitfire racked up strong prices for the models. A pretty MG Midget 1500 made a very respectable £4,700 and a low-mileage Spitfire was slightly ahead at £5,600.
Two MG BGT V8s made good money at £8,100 for one in bracken and £9,600 for the low-mileage purple car.
A 2001 Alpina BMW B10 3.3 Touring created a huge amount of interest and was bid well past its reserve to finally sell for an all-inclusive £10,316.
1937 Hotchkiss Riviera and 1958 Mercedes 190SL lead September entry
Barons returns to Sandown Park on September 17
th
. Early entries include a very rare and beautifully-restored 1937 Hotchkiss Riviera DHC (£37,5000-45,000) and a splendid 1958 Mercedes-Benz 190SL, complete with both soft and hard top (£30,000-40,000). Both cars can be seen at Barons' stand at the International Autojumble at the National Motor Museum at Beaulieu on September 8
th
and 9
th
.
Full results of the July 17
th
 2012 sale below.
Comments