Jaguar XK120 Makes £49,500 at Barons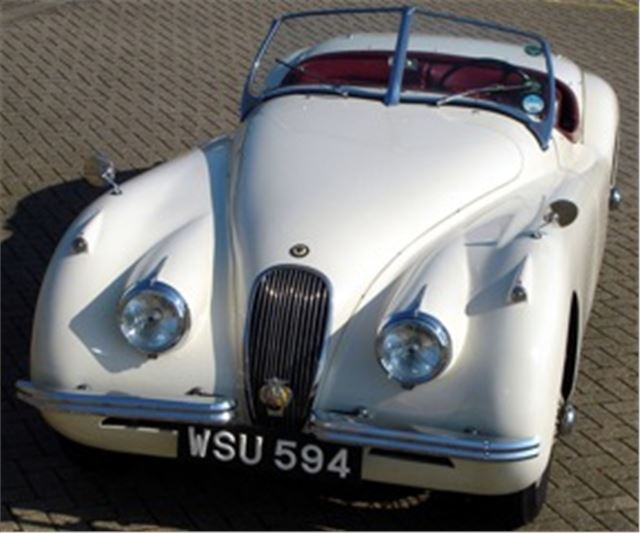 This left hand drive white 1954 Jaguar XK120 Roadster, refurbished by leading XK specialist Guy Broad, made the middle of its Estimate bracket of £45,000-£55,000, selling for £49,500 in Barons Jaguar Heritage auction at Sandown Park on 29th May.
A comprehensively refurbished 1962 Jaguar MkII 3.8 Sports Saloon estimated at £34,000 - £38,000 made the top end of its bracket selling for £37,000.
A Henley Green 1972 Jaguar E-Type S3 V12 roadster was the third highest-seller at Barons at £35,000.
Highest sale price for a non Jaguar was achieved by a 1964 Mk I Ford Lotus Cortina at £30,500.
Fifth highest seller was a LHD 1986 Rolls-Royce Corniche convertible, recently returned from Cyprus, sold for £26,960 to a German bidder.
Barons' next sale at Sandown Park is the Classic, Collectors, Sports and Prestige auction on July 17th. Entries are being invited for this sale - for further information, or to consign a car, visit www.barons-auctions.com, email info@barons-auctions.com or call 08454 30 60 60.
Results, Barons, Sandown Park, May 29th 2012
| | | | |
| --- | --- | --- | --- |
| Year | Make | Model | Sold @ Inc |
| 1954 | Jaguar | XK120 (OTS) Roadster | £49,510 |
| 1962 | Jaguar | MKII 3.8 Sports Saloon | £37,000 |
| 1972 | Jaguar | E-type S3 Roadster | £32,492 |
| 1964 | Ford | Lotus Cortina MKI | £30,500 |
| 1986 | Rolls-Royce | Corniche DHC | £26,960 |
| 1972 | Jaguar | E-type S3 2+2 Coupe | £19,052 |
| 1956 | Jaguar | 2.4 Saloon | £16,252 |
|   | Jaguar | MKIV | £15,120 |
| 1966 | Daimler | 250 V8 Saloon | £11,212 |
| 2001 | Jaguar | XK8 | £9,868 |
| 1995 | Jaguar | XJS 4.0 Convertible | £9,196 |
| 1981 | Jaguar | XJS HE Coupe | £8,972 |
| 1999 | BMW | Z3 2.8 | £8,692 |
| 1972 | BMW | 3.0 CSA | £7,852 |
| 2003 | Mercedes | S600 Bi-Turbo Limousine | £7,404 |
| 1999 | Lotus | Elise | £7,180 |
| 1974 | Jaguar | XJ6 S2 SWB Saloon | £5,332 |
| 1979 | Jaguar | XJS V12 Pre HE Coupe | £5,273 |
| 1985 | Jaguar | XJS-C V12  HE Cabriolet | £4,548 |
| 1964 | Jaguar | MKX 3.8 Sports Saloon | £4,492 |
| 1995 | Mercedes | SL320 | £4,492 |
| 1993 | Mercedes | SL320 | £4,268 |
| 1996 | Mercedes | E320 AMG Cabriolet | £4,256 |
| 1969 | MG | BGT | £3,960 |
| 1989 | Nissan | S. Cargo | £3,148 |
|   | JSJ 10 | Registration number | £3,136 |
| 1992 | Ford | Granada Scorpio Cosworth | £3,036 |
| 1995 | Jaguar | XJR Sport Saloon | £2,812 |
| 1991 | Ducati | 900ss | £2,700 |
| 1993 | Daimler | Double Six | £2,532 |
| 1999 | Jaguar | XJR Sports Saloon | £2,476 |
| 1990 | Jaguar | XJS V12 Coupe | £2,364 |
| 1958 | Austin | A35 | £2,028 |
| 1989 | Jaguar | XJS | £1,916 |
| 1988 | Jaguar | XJR-S Le Mans Celebration | £1,592 |
| 2001 | Suzuki | GSXR | £1,392 |
| 1981 | Yamaha | XS 1100 | £1,342 |
|   | P1 NBC | Registration number | £410 |
|   | Charity Lot | Signed racing overalls | £410 |
|   | F16 EAR | Registration number | £322 |
|   | F18 EAR | Registration number | £315 |
|   | F17 LUV | Registration number | £260 |
|   | Jaguar | JDC member's cigarette box | £222 |
|   | Jaguar | XJ220 brochure | £67 |
|   |   |   |   |
XX
Comments