Classic American Muscle Cars For Auction at BCA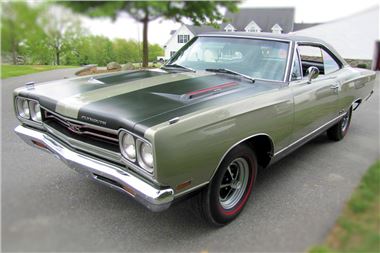 In association with DARCARS Automotive Group of the USA, BCA is launching of a monthly auction of Classic Americam muscle cars at its Nottingham auction centre.
DARCARS scours the US to secure the most iconic and desirable examples of Americana Muscle Cars from the Fifties, Sixties and Seventies which BCA will sell by auction Live Online to a worldwide audience of buyers.
Eight cars feature in the initial sale which takes place as part of the Sports, Prestige & Executive auction at BCA Nottingham on Thursday 21st June, with viewing from 9.00 am and the vehicles offered from 12.00 Noon.  
All the cars in the programme have been fully restored and are presented to the highest standards with UK registration and 12 months MOT.  All cars in the programme are supplied with comprehensive documentation including, where available, details of restoration work undertaken. 
Further sales of 16 additional cars are scheduled for 19th July and 24 cars for 16th August and at least 24 cars monthly at each Top Car Auction in Nottingham thereafter.  The initial line-up includes three Chevrolet Corvettes, two Pontiac GTOs, one Chevrolet Camaro, one Pontiac Firebird and a very rare Plymouth GTX, with all models dating from 1963 to 1970.
DARCARS group spokesman Robert Ryan said "These sales will offer a rare opportunity for collectors and enthusiasts to purchase from a selection of beautifully restored classic American muscle cars at auction.  These cars have been hand-picked as some of the best available to the marketplace and come with comprehensive history packages, a 12 month MOT and UK registration."
BCA's spokesman Tim Naylor added "This is an exciting sales programme that will attract interest not just from UK buyers but much further afield.  We are coordinating with BCA's European operations to ensure these cars have the widest possible audience of buyers via the Live Online sales channel."
The opening sale includes a selection of very desirable Americana.  A 1963 Chevrolet Corvette C2 327ci/340hp Roadster in white with black interior is complete with hard-top.  It has covered just 46,000 miles from new and had a full frame off restoration completed just 480 miles ago.
Dating from 1970, a Pontiac GTO Ram Air III Coupe is a rare car, being one of just 3,054 built.  In original condition with matching numbers on the drivetrain, it has benefited from a full frame-on restoration, new interior and paint job completed just 1,000 miles ago.
A 1969 Plymouth GTX 440 Coupe 440ci/375hp is another rare car and, apart from the replacement engine block installed in the 1970's, is in very original condition with all other components bearing matching numbers.  Finished in Platinum Silver with dark grey stripes, a black vinyl roof and black leather interior it has been comprehensively restored in recent years.
A 1967 Chevrolet Camaro RS/SS Coupe looks stunning in Bolero Red with Black Interior and sitting on Rally Wheels with Red Line Tyres. It shows a recorded 22,000 miles and is in concours condition following a full restoration completed 1,200 miles ago.  It is supplied with a Camaro Hi-Performance Inc. MacNeish Certificate of Authenticity, the original owner's manual and as a spare, the original M13 HD 3 Speed Transmission.
A true US motoring icon, the 1967 Pontiac GTO Convertible 400ci/335hp Automatic has just two owners from new, with the original female owner retaining the car until 1989.  Finished in Signet Gold with Parchment Interior and white power roof, a full restoration was completed just 100 miles ago.  In very original condition, the centre console includes 'His and Hers' gear shifter.
The sale also includes a 1969 Pontiac Firebird 350ci/265hp Automatic (77,000 miles) in gold with black interior, a recently restored 1969 Chevrolet Corvette C3 Convertible 350ci/350hp (81,000 miles prior to restoration) in Riverside Gold, and a 1964 fully restored Chevrolet Corvette C2 Convertible 327ci/300hp Automatic in the original Riverside Red. 
Full sale details, catalogue listings and images are available on the BCA website (www.british-car-auctions.co.uk).
Comments