Historics 18th February Auction Results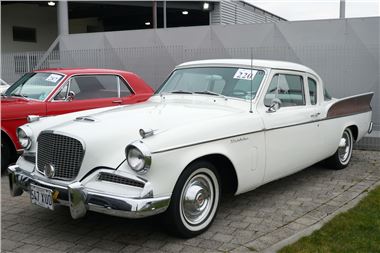 Well, the 1/43 die cast Alfa Romeo commercial vehicles I left a cheeky £100 bid for went for £226.48.
Two readers have Mercedes W124 convertibles for sale, so of interest to them is the £5,280 paid for Lot 286, a 1993 E320 convertible offered without reserve. An E220 convertible with a good hood had been on sale in the Weybridge area for some time for £4,500. But these cars in pristine condition can fetch as much as £15,000. 
The favourites I picked out fared as follows:
1938 Lancia Aprilia, est 18,000 - £24,000 sold for £23,650
1954 Lancia Aurelia B20 GT, est £65,000 - £75,000 sold for £61,600
1963 Alfa Romeo Giulietta Ti, est £6,000 - £10,000 Not Sold
1965 Aston Martin DB5 manual, est £235,000 - £250,000 Not Sold
1958 Studebaker Silver Hawk V8, est £12,000 - £18,000 sold for £15,840
2007 Spyker C8 Spyder, est £95,000 - £110,000 Not Sold
1948 Jaguar Mk IV 3.5 DHC, est £42,000 - £52,000  Not Sold
1962 Jaguar E-Type 3.8 Coupe Competition, est £60,000 - £75,000 Not Sold
1956 Studebaker Champion, est £7,000 - £9,000 Not Sold
1936 Riley Falcon 12/4, est £44,000 - £52,000, sold for £52,800
1993 Mercedes W124 E320 cabriolet, no reserve sold for £5,280
Full results, page-by-page here: Historics 18th February Auction Results
Comments