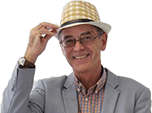 Spotted in the Classifieds: Obama's car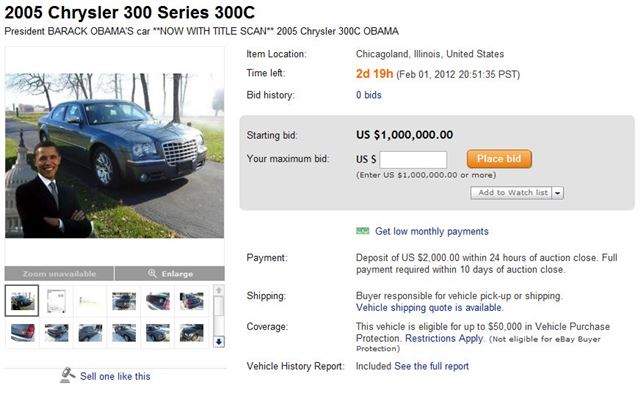 If you've got a bit of spare money tucked under the mattress, in the cupboard, padding the sofa and in all kinds of other places, then how would you like to be the owner of President Barack Obama's Chrysler 300C?
It's currently for sale on eBay with a reserve of... wait for it... $1,000,000, which is £638,500 at today's exchange rate - so you'll need a lot of spare £10 notes in your piggy bank.
It's got 20,800 miles on the clock and has an 'Autocheck,' which is something like an HPI check. Besides that, there's not much that makes it distinctive, aside from its HEMI V8 and the fact it once belonged to the President of the United States.
According to the listing the car's 'title,' which is like a V5C, was put into Obama's name in 2004, and he used the car until he won the election in 2008. He was apparently criticised for driving around in a 'gas-guzzling' V8-powered machine, which goes some way towards explaining his next vehicle choice - a Ford Escape Hybrid.
Whichever way you look at it, though, $1,000,000 is extraordinarily expensive for a Chrysler 300C, a car which would usually fetch about $20,000 (£12,774) at this age and in this condition. Indeed, the seller has even sought to clarify that the starting price "is not a joke," going on to cite various other cars sold for a small fortune care of their prominent previous owners, including the Pope's Ford Escort and Hitler's Mercedes-Benz.
Apparently it hasn't worked so far, because at the time of writing there are no bids on Obama's Chrysler, with two days left on the auction. You'll find it here.
Or, click here out what a Chrysler 300C is worth in the UK (clue: it's not $1,000,000).
Comments