Barons November 1st Sporting Classics Auction Results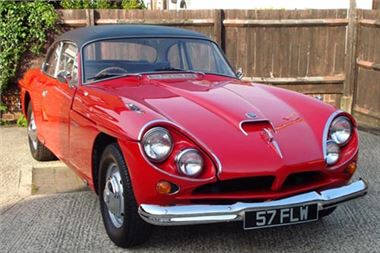 Sporting classics and especially nicely-prepared 1960s sports cars were the buyers favourites at Barons sale at Sandown Park on November 1st.
The auction was characterised by a lively atmosphere in the saleroom. It was a very well attended event, with catalogues selling out. And a larger than average attendance from private buyers was echoed in strong bidding from the outset. 
While there were no big money sales (or indeed entries) the feeling was very positive. For months, pundits have said that the market is strongest at the top and the man in the street doesnt have any spare cash for the more affordable classics. This sale proved them wrong. 
Top lot of the day was a 1966 Austin Healey 3000 MkIII, which sold for £39,200. This was a lovely original car with an older repaint. Prior to the sale the trade had been sceptical about its chances, but this wasnt what the private buyers thought and the really strong price reflected its position as the most-viewed lot in the sale. 
The second highest seller of the day, a 2003 Ford Thunderbird, with its wonderfully retro styling and V8 grunt (£16,250), qualifies as a (future) sporting classic.
It was followed by the 1963 Jensen CV8 at £13,630, while a stunning black 69 MGB and similarly-aged Lotus Elan made £11,430 and £9,640 respectively. 
One surprise was a 1970 Rover P5B saloon. While it was one of the nicer ones Barons had seen, the £7,620 achieved was a very strong price and more in line with the arguably better-styled P5B Coupe with its lower roof line. A great result. 
Another great price was for a 1965 Daimler V8 250, (ex-Vicarage restored). At £5,500 it went for way above estimate. The quality of the work that was carried out 26 years ago had stood the test of time well and, while the car wasnt perfect and probably requires a respray, it proved the money spent at the time in the 1980s was a good investment, at least for the longevity of the vehicle. 
A 1987 Ford Capri Brooklands did well at £3,700, despite having some visible rust and requiring a respray, while the best value of the day was a 1992J Lotus Excel SE. This was one of the best to come to auction for a long while, let down only by some micro-blistering to the paint. Coming from very enthusiastic ownership it had been maintained religiously. While at £3,760, it made a very good price for the model, that price proves just what superb value they are. Buyers can secure mega performance and great looks for peanuts. Its definitely a model to keep an investment eye on.
Barons next Sandown Park auction its annual Yuletide Classic & Collectors sale I is on December 13
th
.
Early entries include an outstanding and exceptionally rare 1932 Alvis Speed 20 SA two-door Sports Tourer (£90,000-120,000) and a rare 1959 Elva 100 Formula Junior with VSCC racing history (£25,000 30,000).
RESULTS, BARONS, NOVEMBER 1
ST
(Irmscher) Omega 3.2 Special Saloon
Comments