Barons Classic Car Auction, Sandown Park, November 1st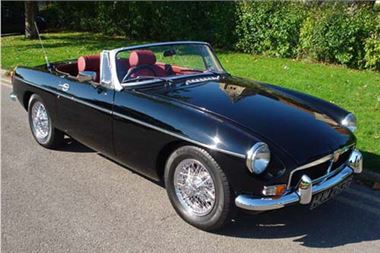 While some classic car owners are already thinking of laying their cars up for the winter, others are thinking about acquiring a new classic, so they can get to know it over the winter months, prior to hitting the road in the spring.
Barons' sale at Sandown Park on November 1st is the ideal place to look for that new classic, with a wide range of cars to suit all tastes and budgets. And if you're thinking of disposing of a classic to make room for a new one, Sandown Park is also the place to do just that, with entries still being accepted.
Feeling competitive? How about heading back to the 70s and out onto the race track with a bright yellow Mk1 Ford Escort Mexico? This 1971 example has been race-prepared by Steve Howard of Europhoria Racing, famed for his work on BBC's Top Gear. With nine class wins under its belt since 2007, it's ready to race next season – but it's also road legal so could get to race meetings under its own steam. £28,000-£30,000.
The beautifully preserved 1966 Austin Healey 3000 MkIII has never required a full restoration and is wonderfully authentic. Other than the carpets, the interior and hood appear to be original, as does the (re-sprayed) bodywork. The engine and engine bay were restored to concours standard in 2001, and the current mileage of 54,000 is believed to be correct. £25,000-£30,000.
MGB Roadsters are always popular, and, depending on your pocket, there are two great options. The 1969 MkII example is presented in better than new condition, the result of a comprehensive, nut and bolt restoration that included a bare metal re-spray, renewed or restored suspension components, complete new fuel system, brakes and clutch, and re-bored engine. £10,000-£12,000.
And if you have a slightly smaller budget, the 1963 version would make a lovely addition to any classic collection – or the perfect start for one. Nicely restored 10 years ago, this early 'pull door' example comes complete with a rare Bermuda hardtop. £5,500-£7,500.
Another perennial favourite is the Lotus Elan, and Barons has a outstanding example of a 1969 Elan +2 on offer. Part of a private collection, it is a beautiful car, described as being in very good to as new condition. £12,000-£14,000.
Those in the market for a handsome family classic could do a lot worse than consider the splendid 1970 P5 Rover. In excellent condition throughout, this car has been very well maintained by its four registered owners – one of whom liked the car so much, he owned it twice! £7,000-£9,000.
For similar money, but moving forward a generation, there's the 1983 Jaguar XJ6 4.2, which is presented like a new motor car and ready to compete in concours events. Part of a private collection, it has covered just 13,000 miles from new. £7,000-£10,000.
Finally, for the quintessential starter classic, it's hard to beat a Morris Minor, and the 50 year-old Minor 1000 would be a charming and gentle introduction into the world of classic ownership. With just two previous owners, it's in very good – though not concours – condition and benefits from a rebuilt engine and gearbox and a new cross-member and exhaust. £1,500-2,000.
For further information or to consign a car to the sale, please visit www.barons-auctions.com, email info@barons-auctions.com or call 08454 30 60 60.
Results, Barons, Sandown Park, September 25th
The top three lots in this sale totalled in excess of £100,000, which confirms that in spite of the much talked-about economic situation, there is still actually plenty of money in the market.
Top seller of the day at £43,700, the 1962 Alfa Romeo Giulietta Sprint Speciale was a delightful thing with 'rocketship' styling. Several of these rare cars have succumbed to the perils of rust and as such there are 'good' cars and 'not so good' cars. This one was one of the best around coming from knowledgeable enthusiast ownership. Highly original in its specification and rust free, it was beautifully presented and even retained its original (if slightly scruffy) interior.
The 1959 Bentley Hooper Continental S1 created a stir in the room with its classic Hooper styling that had a 'Marmite' effect on those that viewed it – it was either love or hate at first sight! Similar in styling to the famous 'Docker Daimlers' the car was freshly MOTd, but required some general tidying. With prices of Bentley Continentals soaring in recent years, this was, at £31,800, an extremely affordable way into an illustrious club.
Incredibly (and yet again) four of the top seven results in the sale fell to V12 Jaguar E-types.  With extraordinary success in Barons' Jaguar Heritage sale earlier in the year, this sale proved without doubt that Barons is THE place to sell an E-type.
The much-publicised V12 Commemorative Roadster, although failing to find a buyer under the hammer is likely to sell following post-sale negotiations. And what it did prove though, is that Barons have the ability to market a top-level car to the very best standards. Taking centre stage in the superb Surrey Hall venue, the car was displayed on a purpose-built platform with mirrors underneath to display the quality of finish. It had also featured at Barons' impressive stand at Beaulieu and had been studio photographed just for the sale.
Quality entries were not only limited to the Jaguar marque. A beautiful 1982 Mercedes 380SL was one of the best to have come to the UK market in recent years. Faultless in every way, it made strong money at £15,972, but deservedly so.  In a similar vein, the 1966 Ford Mustang 'Notchback' was a superb example and looked a million dollars in pale metallic blue with metallic blue interior. With the slightly less-desirable 6-cylinder engine the car was also not UK registered making its £10,316 a very good result.
Barn finds remain strong. Most restoration are not financially viable, they generally cost much more to do than the result is worth, but they always fire the imagination of home restorers who wish to stamp their own mark on a vehicle and get a real sense of achievement.  Both the AC saloon and the Riley Adelphi made well over estimate. That said, both were exciting projects and despite (or perhaps due to) a dusty covering were very evocative.
Both MG Midgets sold too. This is an interesting result. In recent years Midgets and MGBs have struggled a bit in the market, which many have put down to the wide availability of 'modern' convertibles like the Mazda MX5. Buyers have previously voted for the 'safe' option and MX5s with their Japanese build quality and reliability were the sporty convertible of choice. In this sale though a tidy special edition MX5 was shunned in favour of the Midgets, despite being entered into the auction with a lower estimate than both the MGs.
1962

Alfa Romeo

Guilietta Sprint Speciale

£43,692.00

1971

Jaguar

E-Type V12 Roadster

£36,972.00

1959

Bentley

Hooper Continental Saloon

£31,812.00

1959

1972

Jaguar

Jaguar

MKIX V12 6.0

E-Type V12 Roadster

£29,132.00

£22,692.00

1971

Jaguar

E-Type V12  Roadster

£20,732.00

1972

Jaguar

E-Type S3 FHC

£20,172.00

1982

Mercedes

380SL

£15,972.00

1982

Rolls-Royce

Silver Spur

£10,750.00

1966

Ford

Mustang

£10,316.00

1974

Rolls-Royce

Corniche FHC

£8,412.00

1982

Rolls-Royce

Silver Spirit

£8,200.00

1937

Austin

Seven Hamblin Special Cadet

£8,132.00

1937

Riley

12/4 Adelphi Saloon

£6,396.00

1992

Jaguar

XJRS 6.0 TWR Motorsport

£5,836.00

2001

Mercedes

CL500

£5,612.00

1973

Rover

P5B Coupe

£5,500.00

1952

AC

2 Litre Saloon

£5,332.00

1974

Triumph

Stag

£5,312.00

1989

Bentley

Turbo R

£5,052.00

1990

Porsche

944 S2 Cabriolet

£4,716.00

1963

1969

Registration No.

Jaguar

46 TM

MKII 240 Saloon

£4,420.00

£4,156.00

2000

Mercedes

CLK 430 Cabriolet

£4,044.00

1979

MG

BGT Coupe

£3,988.00

1979

MG

Midget 1500

£3,428.00

1973

MG

Midget MKIII

£3,372.00

1988

Daimler

Double Six

£2,700.00

1998

Jaguar

Sovereign V8 LWB

£2,364.00

1981

Fiat

X1/9 Convertible

£1,944.00

2000

Alfa Romeo

Spider Lusso

£1,804.00

1995

Mercedes

E320

£1,748.00

1989

Jaguar

XJS 3.6

£1,492.00

1998

Saab

9-3 2.0t Cabriolet

£1,192.00

 

 

Flying Lady statuette

£740.00

 

Spirit of Ecstasy statuette

£285.00
Ends
Comments