1934 Talbot Up For Auction After 16 Year Restoration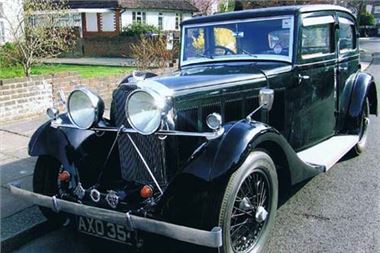 Amongst the early entries for Barons' sale of classic, historic and sports cars cars at Sandown Park on July 26th are a 1934 Talbot AX65 with Darracq body that has emerged from a 16-year restoration, and two very glamorous machines – a 1965 Mercedes 300SE Fintail saloon and a 1957 Oldsmobile 88 Golden Rocket convertible.
The 1934 Talbot was acquired by the vendor in 1994 in a dismantled state, and was rebuilt over a 16-year period, being finally completed in August 2010, when it was MoT tested for the first time in 43 years. Finished in green over black with green hide interior, the car is said to be in superb mechanical order and is described as being in lovely original condition, apart from the black wings, which have been repainted. As it has only covered around 40 miles since being completed, it will require 'running in'. Estimate £10,000-£12,000.
Another notable early entry is the fabulous and very rare 1965 Mercedes-Benz 300SE fintail saloon. This immaculate and glamorous example of the 'forgotten flagship' of the Mercedes range would be a most comfortable and stylish participant in classic road tours. It has covered some 55,000 miles from new and has won a number of concours awards. It is offered complete with extensive documentation, including the road map showing the route the car took through Europe in 1965 as it made its way from the Mercedes-Benz factory in Germany to the UK. Estimate: £14,000-£16,000.
American glamour comes in the form of a car that's exceptionally rare in the UK - a 1957 Oldsmobile 88 Golden Rocket convertible. This splendid example of the third-generation of the model that dominated NASCAR is all curvy lines and chrome, with eye-catching red and white paintwork. Estimate: £25,000-£35,000.
For further information or to consign a car to the sale, please visit www.barons-auctions.com, email info@barons-auctions.com or call 08454 30 60 60. 
7th June Auctioin results
Barons' sale of classic and collector's cars at Sandown Park on June 7th saw well presented cars find ready buyers, with a number achieving over estimate. One 'over achiever' was a beautifully-restored 1972 Alfa Romeo 2000 Veloce Spider that drove smoothly past its £8,500-£10,500 estimate to sell for £13,450.
Jaguars of all kinds sell well at Barons and not just at its dedicated Jaguar Heritage sales. A 1989 XJS V12 convertible was the talking point of the saleroom. Rumour in the room, before it went under the hammer, was that at an estimate of £7,000-£9,000 it was over-priced – particularly when various price magazine price guides were consulted. However, silencing the critics, this superb example, which had covered just 35,000 miles from new, was extremely well received and strong bidding saw it quickly exceed expectations, achieving £10,650.
High up in the results too were other 'big cats'. One of the top sellers of the day was a pretty E-type fixed head coupe finished in Signal red. With recent bills for around £8,000 the car was in fine fettle and very attractive. Despite being a left to right hand conversion it proved the continuing popularity of E-types in the model's 50th anniversary year to make a healthy £24,900.
Barons' Director of Business Development, Julian Shoolheifer, said "There is little doubt that the market is cooling for average examples of average classics. That said, the market is very receptive for nicely-prepared classics of all ages and types. With some careful preparation on the part of the buyer combined with the proper marketing and competitive bidding that a Barons auction can provide, exceptional prices are very possible."
Top seller of the day was a 'modern classic' in the form of a 2001 Aston Martin DB7 V12 Vantage Volante. With staggering performance and 'supermodel' looks these are set to become one of the all-time classic Aston models; and look at where DB5 and DB6 Volante prices are now. This lovely silver example has now found a home on the Channel Islands at £30,200.
MGs too did well with a lovely, older-restored TF in metallic BRG receiving much interest and making £15,100. Long in the doldrums, MGB prices seem to be making a bit of a comeback with a 1969 roadster requiring some cosmetic attention achieving £4,260, while a very tidy Midget Mk3 made a stronger £4,490.
Barons' next Sandown Park sale is on July 26th. For further information please visit www.barons-auctions.com, email info@barons-auctions.com or call 08454 30 60 60. Full results from June 7th appear below.
2001 Aston Martin DB7 V12 Vantage Volante £30,252
1970 Jaguar E-type S2 4.2 FHC £24,932
1982 Porsche 911 (930) Turbo £16,364
1954 MG TF Sports £15,132
1967 Jaguar E-type 2+2 FHC £14,796
1972 Alfa Romeo 2000 Spider Veloce £13,452
1980 Ford Escort RS 2000 £13,452
1989 Jaguar XJS V12 Convertible £10,652
1962 Jaguar MKII 2.4 Saloon £6,844
1987 Mercedes-Benz 300SL £5,836
1981 Bentley Mulsanne £5,388
2004 Jaguar S-Type £4,884
1979 Rolls-Royce Silver Shadow II £4,604
1973 MG Midget MKIII £4,492
1969 MGB Roadster £4,268
1988 Jaguar XJS V12 Convertible £3,372
1968 Mercedes-Benz 280S £1,692
Comments