High Temperatures, Yet Low Convertible Prices at Auction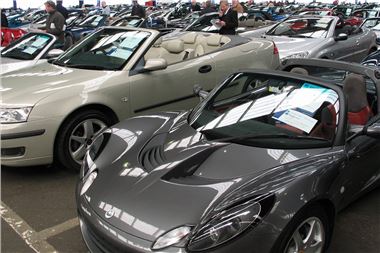 Snap up a soft top says BCA www.british-car-auctions.co.uk
Spring sunshine usually sees the price of convertibles soar, along with the temperatures.
However, according to British Car Auctions (BCA), prices on soft tops have remained cool in recent weeks, despite record temperatures and the driest April in years.
It means anyone thinking of buying a convertible could still get a great deal, says Tim Naylor from BCA.
"Despite the record temperatures and dry, sunny days in April, convertible values haven't risen as sharply as market watchers expected," Tim explained. "With many households still tightening their belts, potential convertible buyers are being careful with their cash and that means there could be some great value soft-tops this summer."
"For less than £5,000 in recent weeks, buyers have driven away some fantastic convertibles at BCA sales, such as the Ford StreetKa Luxury, BMW Z3, Alfa Romeo Spider, Mazda MX5, Volvo C70 and Mini Cooper.
"Stretch to £10,000 and Porsche Boxster, Audi TT, Lotus Elise, VW Beetle and Mercedes SLK models become affordable.
"These good values won't be around forever, so now could be the time to buy that dream convertible."
Cool Soft Tops Under the Hammer at Under £10k at BCA Auctions April 2011
Porsche Boxster, 42,500 miles: £6,800
Audi TT Roadster Quattro, 52,800 miles: £5,900
VW Beetle, 38,600 miles: £6,100
Lotus Elise, 51,950 miles: £8,650
Mercedes SLK, 41,600: £6,700
Smart City-Cabriolet, 23,150: £3,900
Ford StreetKa Luxury, 23,000: £3,250
More at www.british-car-auctions.co.uk
Comments