BCA Blackbushe Celebrates its 25th Jubilee This Month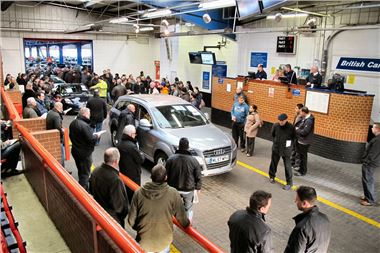 BCA Blackbushe is busy as staff and customers celebrate its 25th Jubilee this month.
Officially opened by HRH Prince Michael of Kent on 20th May 1986, BCA Blackbushe is Europe's largest vehicle auction centre at over 60 acres.   It sells four days a week, with cars on Mondays, Wednesdays and Fridays and Commercials on Thursdays.  Tuesdays and Saturdays are reserved for special sales.
The centre will stage a number of events during a four week celebration period commencing on 25th May, including competitions, spot prizes and a draw for tickets to the British Grand Prix at Silverstone.   There will also be a special fundraising day for the locally-based Make-A-Wish Foundation® UK, the charity which is also celebrating its 25th anniversary this year.
Blackbushe General Manager Darren Betteridge commented "Blackbushe really is the hub of the used vehicle trade in the South, although customers will travel from all over the UK and even further afield to attend our sales.  We will celebrate our 25th Jubilee in fine style in partnership with some of our biggest sellers and present an even wider choice of vehicles for our many thousands of buyer customers."
Blackbushe is designed on the grand scale, with three auction halls for cars and light commercials.  The undercover viewing canopy (at 120,000 sq ft) has capacity for more than 1,000 vehicles.  The vehicle preparation facility is the largest in Europe at 50,000 sq ft. and up to 500 vehicles can be cleaned, polished and prepared every day.   Blackbushe sells a huge range of vehicles, including ex-fleet cars, prestige cars, sports cars, convertibles, classic cars, late year low mileage models, diesel and four wheel drive and light and heavy commercial vehicles.   On the busiest sale days Blackbushe will sell a car every 20 seconds and generate a turnover of up to £8 million.
25 unusual vehicles sold in the past 25 years at Blackbushe:
Rod Stewart's Lamborghini Countach Anniversary Edition               £61,500
Ringo Starr/Barbara Bach 1984 Mercedes-Benz AMG 190 E            £8,550. 
Jonesey's Van from Dad's Army                                                             £10,400
Bergerac's Triumph Roadster                                                             £16,000
Lady Diana Spencer's 1980 Austin Metro                                                 £6,100
Lady Diana Spencer's 1981 Ford Escort (The Frog Prince Car)                £5,150
Keith Moon's 1939 Chrysler Wimbledon Limousine                                     £7,750
1969 Ferrari 365GTC ex- George Harrison and Nick Mason           £42,000.
1912 Ford Model 'T' from the original 'Upstairs, Downstairs'                        £16,300
1961 Facel Vega Facellia F2 cabriolet ex-Joan Collins                         £14,900.
1964 Austin Princess Hearse Sir Winston Churchill             state funeral            £3,100.
1966 Lotus Elan S3 Roadster ex-Peter Sellers & Britt Ekland.              £15,000.
Ex-works 1975 Jaguar XJS, 'Return of the Saint'.                                     £7,350.
1934 Rolls-Royce 20/25 Limousine ex-Duke of Wellington                        £22,575
John Surtees Honda 550 Four motorbike                                                £3,100.
2006 Bugatti Veyron – UK auction record                                                £625,000
Bentley driven by Rik Mayall in 'The New Statesman'                        £21,500
Lord Lucan's Wedding Car -  Bentley 'R'-Type                                     £19,525,
1972 Lotus Elan ex-Colin Chapman                                                            £14,300
1926 Rolls-Royce from Ken Russell's film  'Women in Love'            £15,700.
1985 Ferrari Testarossa ex-Knightsbridge Bank Robbery gang            £88,000
1957 Corvette Stingray Elvis Presley connection                                    £16,000
1969 Mini Cooper S ex-Kray Gang associate                                    £11,000
1985 Buckingham hand-built OOAK cost £250,000 new                        £28,000
1955 Dennis Fire Engine ex Cornwall Fire Brigade                                      £6,050.
More at BCA
Comments