Chalk and Cheese Classics in Barons 7th June Auction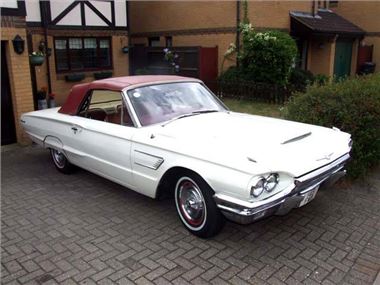 'Old friends' looking for new homes at Barons Barons' Classic, Historic and Sports Car sale at Sandown Park on June 7th features several cars going under the hammer after many years in their respective vendors' ownership.
The superb, highly original, Ford Thunderbird convertible was bought new in 1965 by the vendor's father. The original invoice, supplied with the car, shows the purchase price as £3520-18s-4d - and that included a full tank of fuel at just over £4. As the price for an average house in the UK in that same year was £3,600, the T-Bird was then an extremely expensive luxury. And it was made even more luxurious by the extras specified when new, including the Philips 45rpm record player which still nestles between the front seats, a Redex injection system and a dash-mounted St Christopher. This very special machine carries an estimate of £25,000-£35,000; significantly less than the average house price in the UK today.
The well-presented 1954 MG TF has spent most of its life in Hertfordshire, and the last 37 years with one owner. This charming car runs beautifully, and is estimated at £15,000-£17,000.
Of course, TFs aren't the only MGs to engender great loyalty in their owners. A 1961 MGA MkII roadster on offer on June 7th has had just two owners from new. In very sound, original condition, it is equipped with hood, side screens, luggage rack, and Monza-type fuel filler and comes with a number of spares (£15,000-£17,000).
A 1982 Porsche 911 Turbo has been in the same ownership for the last 21 years. This very smart metallic silver 3.3-Litre comes complete with full service history (£15,000-£20,000).
"When you get a good car with a strong history that comes to market after years with the same owner, it's a great opportunity for buyers, as It provides a chance to acquire a 'known quantity', with detailed service records charting the care and attention lavished by dedicated owners, sometimes over several decades." said Barons' Managing Director Laurence Sayers-Gillan.
"It's always sad for the vendors to say goodbye to their old friends, but we look forward to helping them find excellent new homes – and to helping some of the vendors find new cars to fill that gap in the garage."
Other cars on offer at Barons on June 7th include a very fine 1972 Alfa Romeo 2000 Spider Veloce, which had been the subject of a recent bare metal restoration and engine rebuild (£8,500-£10,500), a handsome 1972 Jaguar E-type S2 FHC (£22,000-£25,000) and what is described as an 'exceptionally quick' 1965 Lotus Cortina circuit racing car (estimate TBA).
For further information or to consign a car to the sale, please email info@barons-auctions.com, visit www.barons-auctions.com or call 08454 30 60 60.
Comments