All Nine E-Types Sell in Barons April Sale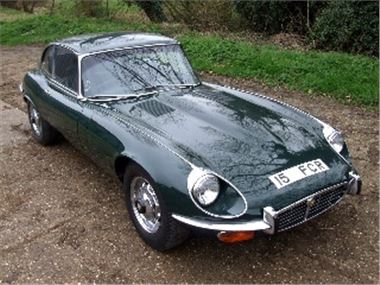 Jaguar fans filled the Sandown Park saleroom on Tuesday, for Barons' annual Jaguar Heritage Sale. The auction celebrated all models of the much-loved marque, but it was particularly fitting that, in its 50th anniversary year, the quintessential 'big cat', the E-type, was the star of the show and had bidders (and vendors!) purring with pleasure. Nine of these stunning cars were on offer, and all nine sold.
Unusually, S3 V12 roadsters made up a large part of the E-type entry, but results proved that interest in these is stronger than it has ever been. Of the four examples offered, not one sold for less than £31,000, and the chart topper – a magnificent, bright red 1972 machine - achieved over £39,000.
Barons' Managing Director Laurence Sayers-Gillan commented, "V12-engined E-types have always suffered from the stigma of not being a 'proper' sporty E-type and more of a Grand Tourer, but they are well suited to modern roads, with lovely lazy power and power steering as standard. So it's not surprising that they are now starting to attract the attention they deserve."
Away from the S3s, a stunning S2 fixed head coupe, which drove as beautifully as it shone made a very strong £34,500 and is heading to Australia. This is the sort of money a tidy roadster would make, so it was a very good price for a fixed head.
Elsewhere, a replica SS100 by Suffolk Sportscars made a whisper under £37,000, which was exceptional considering it was an unfinished project. The appeal of this car was that it was built to a very high standard and MOT'd, but not painted and trimmed. The buyer is now in the enviable position that they have a 'blank canvas' that they can paint and trim to their desired colour and standard, with all the hard work already done for them. That, in many ways, made it a more desirable car than a painted project would have been.
Proving they are still huge value for money, a 1968 Jaguar 340 with just 21,000 miles from new made £12,300, which is a great way of buying a quality family-friendly classic with style and power, but a 1998 XK8 convertible at just £6,450 proves that these 'modern E-types' could be potential investments for the future.
Away from the Jaguars, other entries did very well and confirmed the market for good quality cars is still very strong. A 1986 Mercedes 500SL in unusually good condition with 27,000 miles made a huge £19,300, a Ford Sierra Cosworth that had been rebuilt using a new-old-stock body shell did very well at £9,750 and there was enormous interest in the 1996 Bentley Continental R, which sold for £37,500. Bidding was really fierce for this one and the car was incredibly well viewed on both viewing days.
Barons is now inviting entries for its Classic, Historic & Thoroughbred Motor Cars sale at Sandown Park on June 7th. Early entries for this include an outstanding and very rare 1969 Ford Escort Twin Saloon (£28,500-£35,500) and an ex-Team Baker 1966 Ford Lotus Cortina racing car (estimate TBC). Both cars can be seen at the Barons stand at the Beaulieu Spring Autojumble (May 15th & 16th). To consign a car to the auction, or to be kept informed about entries as they are confirmed, visit www.barons-auctions.com, call 08454 306060 or email info@barons-auctions.com.
Results, Barons, Sandown Park, April 19th
1972 Jaguar E-type S3 Roadster £39,212.00
1996 Bentley Continental R Coupe £37,532.00
1975 Jaguar E-type S3 Roadster £37,000.00
1968 Jaguar (Suffolk) SS100 Replica £36,972.00
1973 Jaguar E-type S3 Roadster £35,572.00
1969 Jaguar E-type S2 4.2 FHC £32,492.00
1974 Jaguar E-type S3 Roadster £31,652.00
1969 Jaguar E-type S2 FHC £30,252.00
1970 Jaguar E-type S2 4.2 Roadster £25,772.00
1986 Mercedes 500SL £19,332.00
1972 Jaguar E-type S3 FHC £18,772.00
1969 Jaguar E-type S2 4.2 2+2 £16,532.00
1990/2010 AC (Pilgrim) Cobra Replica £15,132.00
1968 Jaguar MKII 3.4/340 £12,332.00
1965 Daimler (Jaguar) 2.5 litre Saloon £12,332.00
1961 Jaguar MKIX 4.2 Saloon £10,372.00
1986 Ford Sierra RS Cosworth £9,756.00
1979 Rolls-Royce Silver Shadow II £8,412.00
1968 Jaguar 420G Saloon £8,132.00
1954 Jaguar MKVII Saloon £7,292.00
1998 Daimler (Jaguar) V8 Saloon £6,732.00
1998 Jaguar XK8 Convertible £6,452.00
1989 Jaguar XJS Coupe £6,400.00
2002 Jaguar S-Type V8 R 4.2 Saloon £6,396.00
1979 Rolls-Royce Silver Shadow II £6,284.00
1998 Mercedes SL280 £5,500.00
1977 Triumph Stag £3,932.00
1995 Jaguar XJR 4.0 Saloon £2,000.00
1992 Jaguar XJ6 3.2 Saloon £1,392.00
Jaguar MKII 240/340 Seats £313.60
Jaguar E-Type S3 Brochure £84.00
Comments