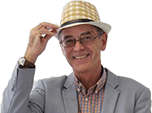 'Barn Found' Mercedes 250SL Makes Extraordinary Money at Barons Auction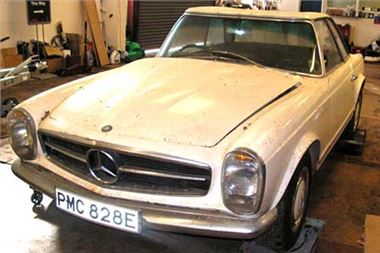 A 'barn-find' Mercedes was star of the show at Barons' March 15th auction making well above its £7,500-£10,000 estimate. The 1967 250SL was offered for auction in need of total restoration, although its long period of barn storage had been kind to it and it remained very sound throughout.
Coming to auction from a deceased's estate, the car was non-running and the keys had long-since been lost. Despite this, the generally sound condition and long period of single ownership fired the interest of collectors and with spirited bidding from buyers in the room and on the telephones the car was sold for a resounding £12,430.
Other cars needing remedial work also created a lot of interest. A 1969 Jaguar E-Type fixed head coupe created a bit of a stir despite needing a total bare metal respray. Although the panels were very sound, a careless paintjob in the past had left this pale blue 4.2 with a peeling and cracked finish over its entire surface, but despite this, the car had an exceptional history with just three owners from new and comprehensive paperwork dating back to 1976. Proving that first appearances can be deceptive, prospective buyers voted with their hands and an appropriately strong £15,400 was achieved.
Turn-out for March sales is traditionally low and this sale was no exception. However notable prices were achieved throughout the sale including £8,360 for a sound but slightly scruffy 1971 Jensen Interceptor II and a firm £7,480 for a superbly presented 1970 Ford Capri 3.0.
Surprising several seasoned auction-goers, some of whom failed to appreciate its 'emerging classic' status, a one-off 1988 Vauxhall Astra Quicksilver with limited edition paint and trim and just 57 miles from new made a very strong £4,730, while a nicely-executed 1986 Porsche 924GT recreation made a well-deserved £4,510.
Jaguars prowl towards Sandown Park – April 19th
Barons is now taking entries for its annual Jaguar Heritage sale – traditionally a popular event and a 'must' for lovers of the 'big cats'. Early entries an immaculate, concours-condition 1948 3.5-litre drophead coupé (estimate £95,000-£125,000), a stunning1960 MKIX 6.0 Saloon which has been rebuilt at a cost of over £85,000 (£50,000 – £60,000), a 1963 MKX (£8,000-£10,000), a 1958 MKIX auto (£12,000 – £14,000) ad a 1969 Series Two E-type FHC which has not been on the open market for over 21 years (£23,000-27,000). For further information or to consign a car to the sale, please visit www.barons-auctions.com, email info@barons-auctions.com or call 08454 30 60 60.
Results, Barons, Sandown Park, March 15th
1997 BentleyTurbo RL (LWB) £16,532
1969 Jaguar E-yype S2 4.2 FHC £15,692
1967 Mercedes 250SL £12,668
1971 Jensen Interceptor II £8,524
1997 Mercedes SL320 £8,132
1992 Bentley Eight £7,852
1970 Ford Capri £7,628
1968 Sunbeam Alpine MKV £5,948
1977 Triumph Stag £5,612
1967 MG Midget MKII £4,604
1986 Porsche 924 GT Recreation £4,604
1988 Vauxhall Astra GTE Quicksilver £4,500
1936 Standard 10 £4,492
1953 Wolseley 4/44 £4,492
1999 Mercedes CLK 230 Cabriolet £4,212
1981 Triumph TR7 3.7 V8 £2,700
2001 Jaguar Sovereign 4.0 LWB Saloon £2,476
1965 MG BGT £1,916
1987 VW Golf Clipper £1,916
1997 Mercedes CL420 £1,692
1961 Vauxhall Victor Super Saloon £1,442
1984 Volkswagen Corrado £1,292
1988 Mercedes 500SE £1,292
1995 Ford Escort Solar Cabriolet £1,142
Ends
For further press information or images, please contact Karen Coe on 01728 669185 or email kc@karencoe.co.uk.
Comments