50 years of Mercedes cars in Historics auction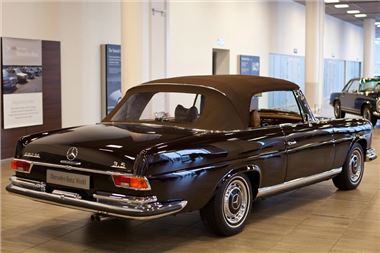 Having delivered strong Mercedes-Benz sales figures in 2010, classic and sports car auctioneer Historics brings a thoroughly eclectic mix of classic and more contemporary models – spanning 50 years – to its first auction of 2011, on the 3rd March at Brooklands.
With residuals on the rise, the Mercedes-Benz 280SE 3.5 Cabriolet is attracting significant interest throughout Europe, Asia and Australasia. Having sold a right-hand drive model in its September sale for £80,000, Historics anticipates that a 1970 concours condition left hand drive example at the 3rd March sale will stir significant interest, at a valuation in the region of £80,000 – £100,000.
With rich Tobacco Brown paintwork – courtesy of Nigel Cooper coachworks – and the original luxurious leather Cognac interior, FYY 534H also boasts the highly desirable factory-fitted air conditioning unit, and with its status approved by SS Motors of Weybridge, has been showcased at nearby Mercedes-Benz World for the past six months.
Another model to feature strongly in 2010 was the 190SL, with Historics selling four of the compact sports cars, including a debut sale of a 1960 silver SL for £20,000 over the estimate at £67,050. The imminent sale features a 1961 model with white coachwork and contrasting red leather interior, and is expected to attract offers upwards of £40,000 – £50,000, reflecting the growing popularity of this car.
Boasting the same colour scheme, albeit among the more modern Mercedes to make the block in March, is a 2010 SLS AMG – the spiritual successor to the 300SL Gullwing – which bristles with a raucous 6.3 litre V8 engine, punching out a vigorous 563hp and capable of sprinting from 0-62mph in just 3.8 seconds, with a restricted top speed of 197mph.
Having completed just 2,700 miles since build and coming complete with every imaginable driver aid and accessory, the highly-desirable left hand drive SLS is expected to spur interest around £165,000 – £180,000, still comfortably under half the price of an original 'Gullwing'.
A second 'AMG' to feature at the forthcoming sale, and the fifth generation of the legendary SL series, is a 2003 SL55 AMG, also known as the R230. A £90,000 car when purchased new, the 5.5 Litre V8 powered two-door convertible features black coachwork and grey Nappa leather interior, and is estimated to generate bids in the region of £20,000 – £25,000.
And finally…strictly speaking neither a classic nor a sports car, a 2007 Mercedes Sprinter 315CDI 'Sportshomes' Camper, uprated to the tune of £35,000 and including leather bench seats, flatscreen tv and full cooking and entertaining facilities, could be the ideal companion to a 'classic' at a weekend away, and has a sale estimate of £28,000 – £35,000.
For more information, and to attend the Historics at Brooklands auction on the afternoon of 3rd March, call 0800 988 3838, e-mail: auctions@historics.co.uk, or see the website, www.historics.co.uk. Entry by catalogue only, available prior to, or on the day of the auction.
A small selection of the motorcars consigned to the Historics at Brooklands auction on Thursday, March 3rd, follows. For the full consigned list of vehicles, please visit
http://www.historics.co.uk/buying/online-catalogue.aspx.
1972 Ferrari 246GT Dino Berlinetta
This righthand example was first registered on 4th April 1972 and is one of just 488 righthand GT's produced by Ferrari. Presented in the classic colour combination of rosso corsa coachwork with tan hide, XMR 6K is offered to the market by its long term owner who purchased the car in 1975 and has lovingly maintained it ever since.
The substantial service history begins from new with Maranello concessionaires who maintained the car from 1972-1976 and copies of the early service invoices are included, indeed very rare to find a Dino with history from day one. The car has subsequently been cared for by Rardley Motors, Moto Technique and latterly, Foskers.
Estimate: £100,000 - £120,000
1964 Triumph TR4 Works Replica with FIA Papers
Having been lavishly prepared to Works specification at no expense spared, this superior TR4 with FIA appendix K Papers for all disciplines, is the ideal car for race, rally, regularity, sprint, hillclimb, track day or touring.
Estimate: £30,000 - £35,000
1974 Ferrari 365GT4 Berlinetta Boxer
First registered on August 8th 1974, this UK delivered righthand drive 365BB is finished in rosso corsa coachwork with tan hide and carpets. The service history includes bills from 1980 onwards and details regular maintenance which can be seen from the overall condition of the car today. Serviced by Ferrari main agents H.R.Owen for the first part of its life, and latterly Kent High Performance.
Estimate: £65,000 - £75,000
1964 Aston Martin DB5
Presented is the classic Aston Martin colour combination of Silver Birch over a contrasting red leather interior, this extremely well prepared example of James Bond's transport of choice has been completely restored by specialists to include a fully rebuilt engine and gearbox as well as many other new parts including shock absorbers, brake lines, callipers etc.
All ancillaries were removed prior to preparation of the body shell which in itself has been correctly prepared and finished as well underneath as the rest of the car (with accompanying photographs). These were then replaced or sent away for restoration/re-chroming as required.
A replacement loom direct from Aston Martin was then re-installed and the engine and drivetrain replaced. It should be noted that the gearbox was not just refreshed but all internal components including splines, gears, shafts and bearings were replaced with new parts by PBA Engineering in Hampshire, Aston Martin gearbox specialists.
With just 50 miles driven since the rebuild, this fine example is a worthy addition to any collection.
Estimate: £175,000 - £225,000
1956 AC Aceca Competition by Ruddspeed – The Klemantaski Car
This is the ultimate Aceca. An original 1956 car first registered on 13 June of that year the first owner listed in the registry was Louis Klemantaski, the internationally famous motor racing photographer. Now, freshly rebuilt to full rally specification with FIA Technical Passport, the no-expense spared build and preparation comfortably totalling more than £100,000 has been completed resulting in an immaculate and mechanically robust motor car perfect to race, rally or hillclimb.
Estimate: £75,000 - £90,000
1961 Jaguar E-Type S1 3.8 Roadster – Flat Floor
Chassis number 85202 was supplied to its first owner on the 23rd October 1961 in its current colour of British Racing Green. It was purchased by its last owner in 1999 from Oxley Threads, who had preserved the vehicle in dehumidified storage following a nut and bolt restoration in 1990. Between 1990 and 1999 the vehicle hardly turned a wheel other than for periodic servicing and cleaning. For the last eleven years it has been used and enjoyed in Spain and England as part of a small collection of classic cars.
In 2006 a professional refurbishment took place, which entailed a number of sensible upgrades allowing the vehicle to cope with 21st century motoring without spoiling its originality and patina. In the past four years DSU377 has been treated to Coopercraft front calipers, aluminium radiator with integral electric fan, new brass header tank, Luminition electronic ignition, and high torque starter Dyno/Alternator. 
In addition to these improvements from the standard specification, the following has recently been carried out by Marque specialists: a respray in original British Racing Green, retrimmed seats, new floormats, new door hinges, new rubber seals, new hood and new hood cover.
Estimate: £50,000 - £60,000
1971 Ford Escort Mk 1 Coupe 1100L
This spectacularly original example is finished in light blue coachwork with dark blue vinyl interior. With just 8,714 miles recorded on the odometer and two owners from new, this car can only be described as a time warp example and has been resident in a Ford museum since 2004.
The bodywork is in fine order throughout with straight panels, superb door fit and an excellent paint finish. The interior is of the same high standard, the vinyl seats are unmarked and very comfortable as you would expect from a car with such low mileage. The engine bay is clean and original and the engine fires into life straight away from cold and runs well. Overall this car feels and looks as near to a new mark one Escort as you could find. The original set of steel wheels and hubcaps accompany the car and at present a set of slightly larger period Ford road wheels are fitted.
Estimate: £7,000 - £10,000
1926 Rolls-Royce Phantom 1 Salamanca by Barker
A magnificent example with extremely desirable Salamanca coachwork by noted builders Barker & Co, giving the best of all worlds; fully open, Sedanca style or fully enclosed. The windows and the central division are all wind up units with the correct fold-flat frames.
As one would expect for such a luxurious vehicle, the interior fittings can only be described as lavish with beautiful cabinetwork complementing the brown leather interior. The exterior is deep burgundy over black wings and described as in good order throughout.
The car has a very tight unmolested feel to it suggesting a low overall mileage. Beautifully finished and extremely well presented.
Estimate: £90,000 - £110,000
About Historics at Brooklands
The independent auction house, Historics at Brooklands was established in March 2010, by private investors, to provide a highly-knowledgeable and professional resource for the sale and purchase of fine quality classic and collector cars.
All staff are highly experienced within the classic car sector, and are themselves classic car owners and enthusiasts.
With a permanent home at the evocative venue, Brooklands, but independent in ownership, Historics hosted four auctions in 2010 and are scheduled to host five during the course of 2011.
For full results of Historics auctions and to view a video of the first sale, visit www.historics.co.uk.
ALSO CONSIGNED FOR 3RD MARCH, A COLLECTION OF 52 CARS AND TRUCKS FROM THE UPCOMING FEATURE FILM, 'CAPTAIN AMERICA'. COURTESY OF MARVEL STUDIOS, THIS EXCITING COLLECTION WILL SOON BE AVAILABLE TO VIEW ON-LINE AS WELL AS IN THE NATIONAL PRESS...
1) 1931 Chevrolet Dropside Truck
2) 1946 Ford Super Deluxe
3) 1942 Ford Hauler
4) 1935 Chevrolet Truck
5) 1939 Hudson Model 90 Club Coupe
6) 1948 Dodge D25C Special Deluxe Coupe
7) 1939 Chevrolet 2 Door Coupe
8) 1949 Plymouth 2 Door Deluxe
9) 1935 Hudson Sedan
10) 1939 Dodge 4 Door
11) 1942 Chevrolet Pick Up
12) 1931 Buick 4 Door Sedan
13) 1942 Buick 4 Door Sedan
14) 1941 Buick Special Sedanette
15) 1940 Chevrolet Special DLX
16) 1941 Ford Coupe
17) 1941 Chevrolet Master Deluxe Sedan
18) 1941 Ford Coupe
19) 1941 Plymouth Deluxe 83
20) 1941 Buick 60 Series 4 Door Sedan
21) 1937 Chevrolet 4 Door
22) 1939 Buick Eight
23) 1939 Buick Century 51S
24) 1939 Buick 40 Special
25) 1948 Chrysler Windsor
26) 1938 Harvester Van
27) 1939 Pontiac Silver Streak Deluxe
28) 1935 Oldsmobile
29) 1941 Cadillac Series 61
30) 1937 Chrysler Royal
31) 1939 Dodge Sedan
32) 1937 Chevrolet 4 Door
33) 1936 Chevrolet Master Town Sedan
34) 1937 DeSoto 4 Door Sedan
35) 1937 Oldsmobile Touring Sedan
36) 1941 GMC Series 100 Pick Up Truck
37) 1941 Chevrolet Pick Up Truck
38) 1933 Dodge Tow Truck
39) 1939 Dodge Stake Pick Up Truck
40) 1941 Chevrolet Deluxe
41) 1942 Studebaker Coupe
42) 1937 Dodge Tank Truck
43) 1942 Chevrolet Gillig School Bus
44) 1941 Chevrolet Special Deluxe
45) 1939 Oldsmobile Coupe
46) Military Commer Q4
47) Military GMC Truck
48) 1943 Dodge Military Ambulance
49) 1942 Diamond T Wrecker 969A
50) 1942 GMC 352 Military Truck
51) Berliet Military Truck
Comments