1933 MG J2 Star of Barons 8th February Auction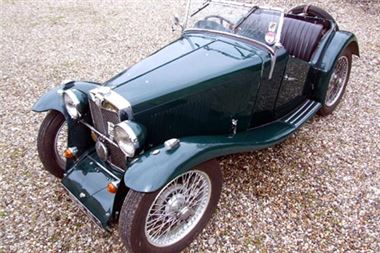 The star of the show at Barons' first sale of 2011 on February 8th was a charming 1933 MG J2 Midget, which came with five decades of history of ownership in the same family. This lovely old MG was bid to over top estimate, making a well-deserved £24,300.
The number of entries may have been a little down on February 2010, but the quality of the lots at Sandown Park was well up to standard and 80% of them found new homes.
The unique, Jaguar-based 1966 Dunsmore Racing Special also drove over top estimate, selling for £21,000, while the most powerful machine on offer - the AK427 Cobra Replica - which had covered just 950 miles from new and was an awesome beast, was a great buy at £35,000.
A beautiful Rolls-Royce MPW 2 Door Coupe, which had failed to sell at Barons in December, was re-presented correctly with reams of build history, looking like a different car and made £14,650, proving that good presentation and attention to detail makes all the difference when it comes to catching a buyer's eye.
And at the other end of the presentation scale, one buyer snapped up a challenging restoration project, described as 'not for the faint-hearted', when they acquired a 1973 Maserati Indy 4.7 for just £980.
Full results of the February 8th sale appear below. Barons' next sale at Sandown Park is its Classic, Collectors and Sports Cars auction, on March 15th. Early entries include a stunning Rolls-Royce Corniche convertible with just two owners and 24,000 miles on the clock, an immaculate, totally restored 1968 Sunbeam Alpine MkV, and a charming Wolseley 4-44 Saloon originally destined for the February sale but consigned instead to March.
Results, Barons Sandown Park, February 8th 2011
2007 AC (AK) Cobra 427 (Replica) £35,000
1933 MG J2 Midget £24,372
1966 Dunsmore Jaguar Racing Special £21,012
1967 Rolls-Royce MPW 2 Door Coupe £14,684
1997 Bentley (R-R) Brooklands LTP £10,316.00
1991 Porsche 911 Carrera 2 Coupe £9,644
1980 Rolls-Royce Silver Shadow II £8,188
1995 Mercedes E320 Sportline Cabriolet £7,964
1965 Daimler 250 V8 Saloon £7,852
1995 Mercedes S600 Coupe £7,852
1999 Mercedes SL320 £7,292
1968 Rolls-Royce Silver Shadow I £7,124
1994 Maserati Ghibli Bi Turbo £6,060
2000 Rover Mini Cooper £6,060
1966 MG MGB Roadster £5,500
1984 Mercedes 380SL £4,716
1995 Mercedes E220 Cabriolet £4,716
1999 Jaguar XJR V8 Saloon £3,932
1984 Porsche 928 S2 £3,372
1996 Volvo 960 Limousine £2,700
1997 Jaguar XJ6 Executive £2,028
1992 TVR S3 £1,972
1970 Fiat 124 Spider £1,916
1975 Triumph Stag £1,592
1970 Mercedes 200/8 115 Series £1,492
1995 Mercedes E320 Coupe £1,492
1991 Mercedes 300CE 24V Coupe £1,392
1973 Maserati Indy 4.7 £980
For further information or to consign a car to Barons' next sale, please visit www.barons-auctions.com, email info@barons-auctions.com or call 08454 30 60 60.
Comments