Barons final call for entries for February 8th classic auction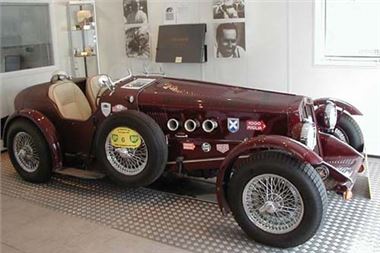 Barons has a packed Sandown Park sale calendar for 2011, starting with its Classic, Historic and Thoroughbred Motor Cars auction on February 8th for which late entries are still invited.
Barons' MD, Laurence Sayers-Gillan, said, "2010 was a strong year for Barons, with some fantastic results at all levels, ranging from the 'time warp' MKI Ford Escort that sold for £8,000, up to the 'lost' David Brown Aston Martin DB MKIII, which went for double estimate, at £206,000. We're now looking forward to kicking off our sale calendar on February 8th, and are still taking entries for this auction."
February 8th Head-turners
For those in the market for a spot of luxury, Sandown Park will be the place to be on February 8th, as Barons is offering four very fine Bentleys. There are two Red Label Arnages - a 2000 example (£25,000-£30,000) and a 2001 version (£28,000-£30,000) - plus a 1997 Turbo R L (£17,500-£19,000) and a 1997 Brooklands (£9,500-£11,500).
There's also a real head-turner of a BMW. The 2003 760Li was already loaded with a mass of standard equipment but the original owner further specified a wealth of extras, bringing the cost of the car when new up to in excess of £100,000. The vast equipment list includes front and rear telephones, a Champagne fridge, I-drive satellite navigation and entertainment system with TV and DVD front and rear, plus a run-flat wheel & tyres system. Estimate: £12,000-£14,000.
Something a little different comes in the form of the 1966 Dunsmore Jaguar Racing Special. Bill Hines, founder of Dunsmore, was a Midlands-based garage owner, who began crafting his own hand-built 'specials' in the early 1960s. These rare machines, based on Jaguar chassis and styled to reflect vintage racers, have their own enthusiast following. The example on sale at Barons is based on a MkVIII Jaguar chassis and powered by a 4.2 Litre XK unit, to E-type specification with triple 2" SU carburetors (£15,000-£17,000).
For a contemporary take on a legendary classic, there's a factory-built AK 427 Cobra replica that has covered 920 miles since being registered on 19th April 2007. Offered complete with the registration FA51 COB ('FAST COB'), it carries an estimate of £30,000-£35,000.
A touch of style and charisma
Classic elegance comes in the form of a 1967 Rolls-Royce Mulliner Park Ward 2 Door Coupe, which is thought to have covered 51,000 miles from new in the hands of just one registered keeper. This very early MPW Coupe offers outstanding value and is most unusual in having a Webasto sunroof. Estimate: £12,000-£14,000. Or, for some gentle British charisma, the charming Wolseley 4-44 Saloon, once owned by a Wolseley fitter, and cossetted all its life, should win some hearts (£5,000-£6,000).
First-time classic?
Starter classics are well represented on February 8th - and it's just the time of year to pick up a restoration project or dip a toe into the water of classic ownership. The 1975 Triumph Stag could provide an ideal buy for an enthusiast looking to tackle a restoration. It has been registered to the same keeper since August 1979 and comes complete with original owner's handbook and BL Passport to Service booklet, plus both tops, an excellent set of MKII Stag alloys and the original engine (£1,000-£1,500). Or perhaps the 1970 Fiat 124 Spyder might catch a first-time classic buyer's eye? (£1,000-£2,000).
For further information or to consign a car to the February 8th sale, please visit www.barons-auctions.com, email info@barons-auctions.com or call 08454 30 60 60.
The full Barons 2011 Sandown Park sale calendar
7th/8th Feb., Classic, Historic and Thoroughbred Motor Cars
14th/15th March, Classic, Historic and Thoroughbred Motor Cars
18th/19th April, Jaguar Heritage + Classic and Collectors Motor Cars
6th/7th June, Classic, Historic and Thoroughbred Motor Cars
25th/26th July, Classic, Historic and Thoroughbred Motor Cars
19th/ 20th Sept., Annual British Heritage + Classic and Collectors
31st Oct. /1st Nov., Classic, Historic and Thoroughbred Motor Cars
12th/13th Dec. - Annual Yuletide Classic+Collectors and Sports-cars
Comments