Bidders brave the elements to be at Brooklands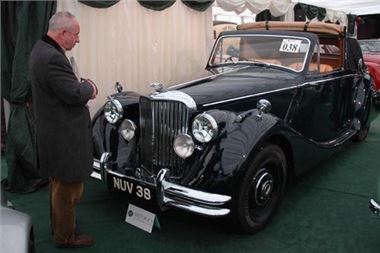 Despite a bout of wintry weather threatening to derail its festive sale, Historics' third auction of the year witnessed a flurry of activity, as scores of classic car enthusiasts and bidders flooded the saleroom in search of the ultimate Christmas gift, at Brooklands last Saturday, 4th December.
After brisk trading on the floor and with fervent activity post-sale - including the imminent conclusion of eight Lots - Historics is anticipating 56% of all consignments to have sold, grossing a total sale of approximately £1 million.
Star of the show was a 1958 Mercedes-Benz 190SL, which despite not making the sale due to the weather – along with four other cars – sold for £68,884, some 53% higher than its estimate.
The Park Ward-styled Alvis TD21 proved its growing popularity, with a two owner from new 1959 Drophead Coupé selling for a robust £54,757.
The Jaguar E-type, celebrating its 50th anniversary in 2011, was well represented at the sale, with 1964 and 1963 Series 1 3.8 Fixedhead Coupes fetching £26,820 and £58,000 respectively.
A pair of 1930's MG's also performed well, with a 1938 MG TA and 1933 MG J2 selling for £24,305 and £25,702.
With Historics having made a name for itself when it comes to selling Mokes – following the sale of three in its September auction - Lot 4, a 1966 Austin Mini Moke achieved the lofty price of £16,762.
A 1984 Lamborghini Countach represented real appeal to fans of the 1980's, thanks in no small part to its dazzling white paintwork and matching white leather interior, fetched a final sale price of £74,313.
Away from the glamour and the glitz but equally iconic, a 1961 Ford Zodiac Mk.II (206E) Convertible – complete with the power hood – soared to over two and a half times its estimate, reaching £6,662, whilst a 1963 Fiat Abarth 600D Saloon sold for £9,772.
Despite huge interest ahead of the sale in a Daimler DB18 used by Sir Winston Churchill, bidding fell short of the reserve price, with Historics continuing to work with the vendor and interested parties to conclude a deal.
Speaking after the auction, Historics at Brooklands Managing Director Liam Cardiff commented; "We had to overcome a number of obstacles for this sale to go ahead, and we were delighted to extend a warm welcome to so many people".
"Our first three auctions have seen superb attendance and we thank everyone for their ongoing support. Historics was established to create an exceptional environment in which to engage classic car enthusiasts, and we hope we've done that. We're now greatly looking forward to next year, when we'll be hosting five auctions at this iconic venue", he concluded.
The next sale is on Thursday 3rd March 2011, to which Historics has already consigned a blockbusting collection of cars, and further entries are invited.
For more information, and to consign cars to future Historics at Brooklands auctions, call 0800 988 3838, e-mail: auctions@historics.co.uk, or see the website, www.historics.co.uk.
Comments