'Lost' Aston Martin 2/4 'Finds' £206,000 at Classic Auction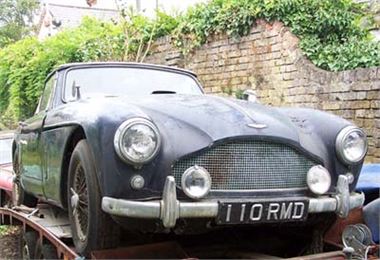 A 'lost' 1958 Aston Martin DB2/4 MkIII drophead, originally the property of former Aston Martin owner David Brown, which has spent the last 30 years hidden beneath a tarpaulin, sold for over £206,000 – more than twice its top estimate – at Barons British Heritage sale at Sandown Park on September 7th.
This extremely rare car - now a rolling restoration project - emerged after three decades to present investors with an extraordinary opportunity to acquire and restore a true piece of British motoring history, a vehicle originally owned by the man whose initials were given to the legendary Aston Martin 'DB' models. Interest in the car came from around the world, and bidding rapidly exceeded the £80,000-£100,000 guide price. When the hammer finally fell, the successful bidder, a private British collector, paid £206,866 (including premium).
"It was an amazing lot that attracted a huge amount of attention and exceeded all expectations," said Barons' Managing Director, Laurence Sayers-Gillan. "The final result goes to demonstrate how important it is to give these rare or special motor cars the correct level of promotion – when a car is consigned to us, we make sure that the world is told it's coming up for auction!"
With a sale total of around £700,000 plus premium, it was an outstanding result for Barons. Other notable results included 'KUU 333D', the actual 1966 Lotus Cortina used by Corgi as the basis for its popular Corgi Classics model, which achieved £40,250. Fittingly, the buyer also acquired one of the Corgi models of his new car in the same lot. And a fine 1957 Daimler Conquest Century DHC sold to an Austrian bidder for £29,000 – an exceptional price for the model.
Laurence Sayers-Gillan concluded, "We were delighted with the results of the sale and, in particular, with the strong level of international interest, demonstrating that British Heritage marques have a worldwide appeal. Bids on a range of lots came from across the globe, with cars going to Hong Kong, Austria, Poland, Germany and Switzerland. We believe this is a testament not only to the standard of the cars on offer but also to Barons' ability to publicise the cars in our sales, through our website, press office, communication with our database of potential buyers and our advertising activity. We may offer very competitive rates, but this doesn't mean that we skimp on any aspect of our business!"
Results – Barons' British Heritage and Classic & Thoroughbred sales, September 7th
1958 Aston Martin DB2/4 MKIII Drophead £207,866
1966 Ford (GB) Cortina MKI Lotus £40,241
2000 Rolls-Royce Silver Seraph £40,241
1972 Jaguar E-type S3 Roadster £33,536
1957 Daimler Conquest Century DHC £29,066
2003 Dax Tojeiro 427 S/C £25,000
1958 Bentley (R-R) SI Saloon £21,244
1966 Jaguar E-type SI 4.2 2+2 FHC £21,244
1947 Rover 12 Tourer £20,126
1972 Maserati Mexico £19,568
1963 Jaguar E-type S1 FHC £17,053
1960 Jaguar MKII 3.8 Saloon £16,774
1965 Mercedes 230SL Pagoda £15,768.
1997 Bentley (R-R) Turbo RL Saloon £15,656
1987 Porsche 911 3.3 Turbo £14,651
1987 Mercedes 300SL £14,539
1972 Jaguar E-type S3 FHC £13,701
1968 Daimler (Jaguar) 250 V8 Saloon £13,198
1990 Porsche 911(964) £11,857
1990 Bentley (R-R) Mulsanne S Saloon £10,963
1956 Mercedes 190SL £9,510
1972 Triumph Stag MKI £8,113
1971 Ford (GB Crayford) Capri 3000 Convertible £7,554
1967 Jensen Interceptor MKI £7,163
1968 Jaguar MKII 4.2 Saloon £7,052
1979 Rolls-Royce Silver Shadow II £7,052
1974 MG (BL) B Roadster £6,716
1966 Ford (GB) Cortina MKI GT Saloon £6,158
1972 Mercedes 350SLC £5,878
1993 Jaguar XJS 4.0 Convertible £5,500
1980 MG (BL) BGT £5,487
1984 Lotus Esprit S3 Turbo £5,152
1983 Daimler (Jaguar) Sovereign 4.2 Saloon £4,928
1967 Jaguar MKX/420G Saloon £4,481
1991 Jaguar XJS V12 Le Mans £4,481
1982 MG (BL) B Roadster £4,370
1933 Austin 10/4 De-Luxe Saloon £3,699
1987 Mercedes 560SEC £3,699
1980 Triumph Dolomite 1850 HL Saloon £3,476
1975 Jaguar XJ6 S2 Saloon £3,029
1982 Mercedes 380SLC £3,029
1985 Lotus Excel £2,693
1978 MG (BL) B Roadster £2,582
1982 BMW 316 £2,246
1981 Fiat 126 De Ville £2,190
1994 Jaguar XJS 4.0 Coupe £2,023
1997 BMW 323i Convertible £1,799
1992 Mercedes 320CE £1,588
1988 Volkswagen Golf Gti TSR 1900 £1,488
1994 Audi 2.6 Cabriolet £1,488
1987 Mercedes 300SE £1,413
1984 Jaguar S3 Sovereign £988
(all prices include buyer's premium plus VAT)
Next Classic Car auction in Surrey is Historics at Brooklands auction on the afternoon of September 25th, call 0800 988 3838, e-mail: auctions@historics.co.uk, or see the website, www.historics.co.uk. Entry by catalogue only, available prior to, or on the day of the auction.
Barons' next sale is at Sandown Park on October 26th. For further information, please visit www.barons-auctions.com, email info@barons-auctions.com or call 08454 30 60 60.
Comments