Rolls Royce Phantom DHC Sells for £195,500 at BCA Blackbushe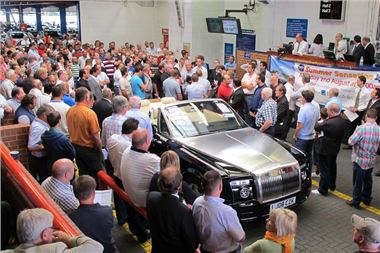 Lex Autolease and BCA combined for another successful special auction event earlier this month, with the star car - a Rolls-Royce Phantom Drop Head Coupe – selling for £195,500.
The 'Summer Sensation' sale of prestige, sporting and executive cars attracted over 400 buyers to BCA's Blackbushe centre on 2 August, with a further 152 dealers bidding over the internet via BCA's Live Online service.
The sale on behalf of Lex Autolease featured over 300 cars including a tempting selection of top-drawer vehicles such as Rolls-Royce, Aston Martin, Bentley, Lamborghini, Porsche and Maserati.
In total, 266 cars sold and generated a turnover of £4 million plus for an average selling price of £15,125. Values of up to 162% of CAP Clean were recorded in the sale and, in total, there were 178 different buyers on the day.
Top value was recorded by the 2008 Rolls-Royce Phantom Drop Head Coupe. With a lavish specification and finished in black with silver hood with the optional teak decking tonneau cover, the Phantom had covered just 4,000 miles from new and sold for £195,500. The 0857 Lamborghini Gallardo Spyder E Gear 2 also sold strongly, realising £90,000 at 6,000 miles.
More at BCA
Comments