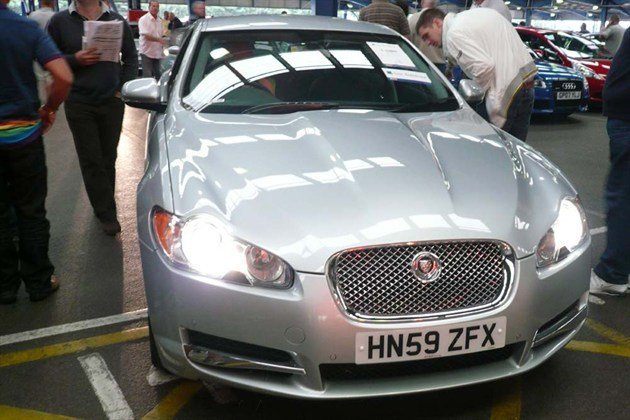 Jag XF Diesels £17,100 and £33,000 at Auction Today.
Two Jaguar XF diesels came under the hammer today. The first was a 2009/59 reg 3.0V6 240 Portfolio, list £43,000, and that sold for £33,000. The other, a 2008/58 2.7V6 Luxury, had somehow managed to clock up 107,000 miles in its short life and, though bids started at £14,000, some fierce counterbidding saw it eventually sell for £17,100.
There were at least four current model Jazz in today's sale. Three 1.4i-VTEC EX I-Shifts sold for between 9,150 and £9,350, but the bargain of the bunch was a 10k mile 2009/57 1.2i SE with a/c that sold for a sensible £7,400.
It may be the holiday season, but BCA Blackbushe always sees traders buying specific cars to order and that explains why bidding battles can develop that eventually see a car sell for what appears to be quite a high price. The Silver 08 Range Rover Sport 2.7TDV6 HSE was a case in point, selling for a strong £30,600, very close to trade book.
But BCA Blackbushe also helps to set prices. How often do you see an Audi RS4 come under the hammer? In this case an 07 with 34k miles that sold for £28,200, £2,000 under trade book.
(As usual, 's' means sold. 'p' means top provisional bid, 'pc' means provisional, but close. 'n/s' means not sold. 'n/w' means miles not warranted. 'MNW' means unknown mileage. 'dmg' means damaged. D/R means damaged and repaired. 'fl' means facelift. 'H/T' means hardtop. Extras like 'lthr' and 'sat' are specified when they are not standard.)
Audi A4 B7 2.0TDI 140 Avant S-Line, 2005/55, 158k miles £5,550s
Audi A4 2.0TDI 140 cabriolet, 2006/56, 77k miles £11,500s
Audi RS4 4.2 quattro, sat, 07 reg, 34k miles £28,200s
BMW 118d 2.0SE. 07 reg, 28k miles £9,850s
Ford Fusion 1.4TDCI Style Climate, 07 reg, 36k miles £4,800s
Ford Focus 1.6LX auto, 07 reg, 27k miles £4,700s
Ford Focus 1.6TDCI 90 LX, 06 reg, 56k miles £4,550s
Ford Focus 2.0TDCI 136 CC-3 cabrio, 2007/57, 19k miles £9,350
Ford Mondeo 2.0TDCI 130 Ghia, 2006/56, 96k miles £3,200s
Ford Mondeo 1.8TDCI 125 Zetec estate, 09 reg, 28k miles £10,200s
Honda Jazz 1.2i-VTEC SE, a/c, 2009/58, 10k miles £7,400s
Honda Jazz 1.4i-VTEC EX I-Shift, 09/58, 9k miles £9,150s
Honda Jazz 1.4i-VTEC EX I-Shift, 09/58, 7k miles £9,350s
Honda Jazz 1.4i-VTEC EX I-Shift, 09 reg, 15k miles £9,350s
Honda Civic 1.8i-VTEC EX, sat, 06 reg, 44k miles £7,050s
Honda Civic 2.0i-VTEC Type R, 08 reg, 28k miles £10,000s
Honda Civic hybrid CVT, 06 reg, 18k miles £5,850s
Honda Accord 2.2iCDTI Tourer Exec, sat, 06 reg, 54k miles £8,650s
Honda CR-V 2.0i-VTEC Sport auto, 07 reg, 37k miles £9,200s
Jaguar XF 2.7d V6 Luxury, sat, 2008/58, 107k miles £17,100s
Jaguar XF 3.0d V6 240 Portfolio, 2009/59, 11k miles £33,000s
Mazda MX-5 1.8, 07 reg, 37k miles £6,650s
MB C200CDI Avant Garde auto, -7 reg, 27k miles £11,700s
MB SLK200K manual, 2007/57, 9k miles £15,000s
MB E220CDI Classic auto, 07 reg, 9k miles £10,700s
MB ML320CDI SE, 07 reg, 33k miles £20,400s
Nissan X-trail 2.2DCI 136 Aventura, sat, 06 reg, 71k miles £6,250s
Peugeot 307 1.6HDI SE, 06 reg, 22k miles £4,800s
Range Rover Sport 2.7TDV6 HSE, sat, 08 reg, 20k miles £30,600s
Renault Kangoo 1.2 Expression MPV, 07 reg, 38k miles £3,450s
Renault Megane 2.0VVT Dynamique CC, 2006/56, 16k miles £5,000s
Renault Megane 2.0VVT Privilege CC, 06 reg, 21k miles £5,450s
Renault Laguna 2.0DCI 150 Priv Spt Tour, 06 reg, 81k miles £3,750s
Renault Laguna 2.0DCI 130 Dyn ST, sat, 07 reg, 89k miles £3,300s
Renault Grand Espace 2.0DCI, 07 reg, 92k miles £5,750s
SAAB 9-3 1.9TID 120 vector Sport, 07 reg, 54k miles £7,200s
Toyota Avensis 2.0D-4D T3-X, 06 reg, 62k miles £4,750s
Toyota Prius 1.5VVTi T3 hybrid CVT, 2007/56, 31k miles £5,900s
Vauxhall Astra 1.4 Life, 06 reg, 69k miles £3,450s
Vauxhall Astra 1.9 CDTI 150 SR, 07 reg, 27k miles £6,950s
VW Golf1.9TDI SE DSG, 06t reg, 43k miles £7,500s
VW Touran 2.0TDI 140 S, 06 reg, 74k miles £7,750s
VW Passat B6 1.9TFI PD 130, 05 reg, 99k miles £2,850s
VW Passat 1.9TDI 105, 2005/55, 91k miles £4,150s
VW Passat 2.0TDI 140 estate, 06 reg, 135k miles £4,650s
VW Passat 2.0TDI 140 estate, 06 reg, 104k miles £5,750s
VW Touareg 2.5TDI auto, 2007/57, 44k miles £14,800s
VW Touareg 3.0TDI V6 auto, sat, 07 reg, 30k miles £17.300s
Volvo C70 2.0T convertible, Y reg, 41k miles £2,400s
To view the full new Lex Autolease sales programme click on Lex Autolease
As always the best way to look for a specific car coming up at a BCA auction or to pre-check a day's sale is to visit Auctionview If you are a BCA account holder this service also now gives composite price information (average auction price, CAP and Glass's) and now allows you to buy a selection of cars directly on-line. Main British Car Auctions Website atBCA Website
Please Note BCA Now Charges All Private Buyers a £23.50 VCA New Keeper Transfer Fee. On behalf of the vendors, BCA is required to notify DVLA via the V5C of changes of ownership.
BCA Peterborough stages Motorbike sales on the last Friday of each month, with high volume Super Sales featuring 'bikes from Black Horse every two months. (Next Super Sale on 25th June). Sales start at 1pm and all are welcome to attend. There is secure motorcycle parking on the day and an expert and enthusiastic Sales Team on hand to answer questions. Viewing is on the morning of the sale and BCA can arrange transport to anywhere in the UK. Full catalogue details and a picture of every motorbike entered for the sale will be available online in advance through BCA's exclusive Commercial Auction View service (http://www.commercialauctionview.co.uk ).
For future police sales at West Oxfordshire Motor Auctions. Visit WOMA , click on 'stocklist', then click on search, or use the faxback on 0906 3080 953 at 60p per minute. Sales are held on Tuesday and Thursday evenings from 5.30pm.
Brightwells HUGE WEEKLY 4x4 SALE takes place every Tuesday at Easter's Court on the A49 by-pass, Leominster, Herefordshire, start time 11.00am, phone: 01568 611325, website: Brightwells
Last year Motorpoint launched auction4cars - an online fee-free alternative to the traditional car auction. It currently sells over 400 cars a week, mostly taken in part-exchange, from its four collection points - Burnley, Derby, Newport and Peterborough. For more information visit Auction4Cars
For Manheim auctions click on: Manheim