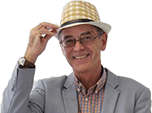 Barn Find Rolls to Star in Sandown Park Auction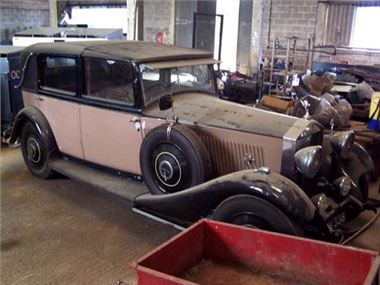 Power and style headline Barons' sale at Sandown Park on July 27, with
a mixture of sporting classics and timeless elegance - plus some very
rare vehicles.
No Barons sale would be complete without a selection of stylish
Jaguars. Notable 'big cat' entries for next week's sale include a
magnificent 1958 Jaguar XK150 Roadster which was the subject of a
major restoration by Grace Jaguar and subsequently upgraded by
Vicarage (£75,000-£90,000) and a truly superb 1952 XK120 Roadster,
which has covered just 250 miles since the completion of a 3 year, nut
and bolt restoration, using all new panels from Guy Broad (£55,000-
£65,000). Other Jaguars on offer include a totally original 1968 MkII
3.4/340 Saloon with automatic transmission and just 20,800 miles on
the clock (£19,500-£25,000).
One rarity is the 4.7-litre 1972 Maserati Mexico which has been on
display in the Bentley Motor Museum in East Sussex for the past two
decades (£30,000-£40,000).
Another unusual entry is the steel-bodied 1956 Ford E83W Step-Side
Pick-Up, one of just a handful known to remain in the UK. This
particular example was fully restored in the early nineties and
finished in the livery of an Orsmkirk builder (£6,000-£7,000).
Elegance is personified by the handsome trio of Rolls-Royce 20/25s,
including a 1935 Limousine by Thrupp and Maberley. This significant
machine was one of the first cars ever painted with a pearlescent
finish - achieved using fish scales suspended in the paint (£43,000-
£48,000). The 1933 Sedanca de Ville with coachwork by Barker has been
barn stored for many years and is presented in totally original
condition, so presents an outstanding restoration opportunity (£15,000-
£20,000). And the 1930 Open Tourer with Keeble bodywork has been in
the same ownership for 30 years (£30,000-£35,000).
Power comes in the potent form of a fully restored 1966 Ford Mustang
(£12,500-£14,000), a 1969 Chevrolet Camaro 'show car' (£33,000-
£37,000) and two Dax Tojeiros – one 2010 unregistered example (£32,500-
£37,500) and a 2003 427SC (£26,500 - £28,500)
Would-be first time classic owners have much to choose from, with a
great array of affordable classics, including MGs, Morris Minors and a
1985 Mini, described as 'a modern interpretation of the Cooper S
racer', which has been rebuilt from a bare shell into a fast road car
(32,500-£3,500).
A full list of cars entered to date appears below. For further
information or to consign a car, please visit www.barons-
auctions.com, email info@barons-auctions.com or call 08454 30 60 60.
Entries: Classic & Collectors' Cars
1985 Alfa Romeo Spider 2000 £4000-5000
1999 Aston Martin Dunhill Volante £22500-275000
1985 Austin Mini £2500-3000
1969 Chevrolet Camaro 427 Coupe £33000-37000
1967 Daimler Sovereign 420 Saloon £4000-5500
2010 Dax Tojeiro 5.7 £32500-37500
2003 Dax Tojeiro 427SC £26500-28500
1986 Ferrari Mondial 32 Valve £11000-14000
1985 Ferrari Mondial QV £14500-16000
1981 Fiat 126 De Ville £2500-3000
1982 Fiat X1/9 £5500-7000
1956 Ford E83W Step Side Pick-Up £6000-7000
1989 Ford Escort XR3i Cabriolet £2500-3500
1966 Ford Mustang Coupe £12500-1400
1968 Jaguar MKII 3.4/340 Sports Saloon £19500-25000
1986 Jaguar S3 Sovereign 4.2 £4750-6000
1984 Jaguar S3 4.2 Sovereign £2250-3000
1990 Jaguar S3 V12 Sovereign £4500-5500
1989 Jaguar XJS V12 Convertible- £4000-5000
1952 Jaguar XK120 Roadster £57000-65000
1958 Jaguar XK150 3.4 Roadster £75000-95000
1972 Maserati Mexico 4.7 £30,000-40,000
1983 Mercedes 380SL £5750-6750
1988 Mercedes 420SEC £TBA
1986 Mercedes 560 SEC £3000-4000
1973 MG BGT £6000-7000
1979 MGB GT £1500-2500
1974 MG MGB Roadster Race Prepared £4500-6000
1981 MGB Roadser £6000-7000
1960 Morris Minor 1000 Saloon £3000-4000
1966 Morris Mini Minor 850 Super DeLuxe £4000-5000
1985 Porsche 911 3.0 Cabriolet £10000-13000
1998 Renault GTA V6 Turbo £1500-2000
1933 Rolls-Royce 20-25 Sedanca deVille £15000-25000
1935 Rolls-Royce 20-25 Limousine £43000-48000
1930 Rolls-Royce 20-25 Open Tourer £30000-35000
1978 Triumph Stag MKII £10000-12000
1970 Wolseley 1300 Saloon £1500-2000
Entries - Sports and Prestige
Cherished Registration Numbers:
F10RET-On Retention £1200-1500
A3 OFA £500-1000
C1PAN-On Retention £800-1200
516KOB on retention £1000-1500
1997 Bentley Turbo RL £15000-18000
1996 BMW 328 Convertible £2500-3500
1998 BMW M3 3.2 Evo Individual Convertible £5000-7000
1993 Jaguar XJ12 6.0 Insignia £2000-3000
1995 Jaguar XJ12 6.0 Saloon (X300) £2500-3500
1993 Jaguar XJS 4.0 Convertible £5000-70000
1992 Jaguar XJS 4.0 Coupe £2500-3500
1997 Lotus (Kia) Elan £6500-7500
1990 Mercedes 190E 2.7 £1500-2000
1993 Mercedes 300SL £4500-6000
Comments